With an (almost) endless supply of beer bashes and food fests, September is a strong contender for Chicago's Biggest Party Month of the Year (BRING IT ON, JULY). So do it right with these 12 must-do events that run the gamut of September awesomeness, from bacon parties to beer fests to rib-a-que smokeouts.
Recommended Video
This Is A Real-Time MRI Scan of an Opera Singer
When: September 5-6
Where: The Hideout
Everyone's favorite hole-in-wall dive bar figuratively explodes into the street (and parking lot around it) during this annual end-of-season party, which is also always one of the best festivals of the summer. This year, check out acts ranging from indie mainstreamers Death Cab For Cutie, psych folk-freaks The War on Drugs, and legendary funk masters The Funky Meters.

Explore the nerd-gaming underworld at Bit Bash When: September 6
Where: Threadless West Loop HQ
Indie clothing retailer Threadless is putting on what might be the most unique new addition to this year's festival scene, with this celebration of video game nerdery featuring 30+ under-the-radar video games that're hand-selected by local game developers, including a game about stacking hats. Things get underway at 2pm, and then REALLY underway at 7pm, when they go full-on-party with live music and Arcade Brewery beer until midnight.

When: September 6
Where: Union Station Great Hall
They've got bacon s'mores. They've got bacon & goat cheese pinwheels. They've got bacon trivia. They've got bacon-wrapped bangers & mash. They've even got bacon-wrapped sushi. And you've got... to get tickets. Like, now.

When: September 6
Where: Damen & Roscoe
While it may not be as celebrated as, say, bacon, the oyster still gets its due at STOF, where top-of-the-line bivalves are shucked by upscale local restaurants, and paired with, um, Irish dancers and Irish rockers Gaelic Storm. Right.
When: September 12-14
Where: Humboldt Park
Yes, there are loud punk bands like The Offspring, and even louder metal bands like Slayer, but at this year's more sonically diverse 10th anniversary of Chicago's annual punk rock carnival, there are also acts ranging from The Cure to The National to Cheap Trick to Wu-Tang Clan -- not to mention The Flaming Lips, Weezer, plenty of freaky carnies, and people with mohawks.

When: September 13
Where: Union Station
Union Station is having a busy month in September, with bacon and beer flowing through the tunnels at a rate significantly faster than your average Metra commute. Grab a tiny beer stein tasting glass, and hit the station for the Chicago Beer Festival: home to obscure brewers such as Pig Minds, Hopothesis, and Big Bay, in addition to local brews from Argus, Finch's, and Ale Syndicate. Anticipate heavy drinking. And an even heavier volume of selfies.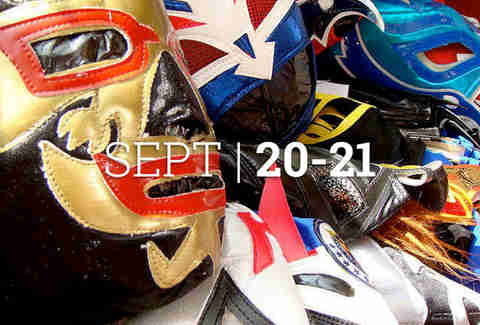 When: September 20-21
Where: Southport and Addison
Finally: the taco gets its own festival. All manner of strange creations from ahi tuna tacos and rotisserie chicken tacos to more traditional offerings, including Mongolian beef tacos and tequila shrimp tacos, will be on hand at Sammy Adams' Lakeview Taco Fest, as will local '90s funk legends Liquid Soul and crazy masked Lucha Libre Mexican wrestlers. A dangerous combo, to say the least…

When: September 20
Where: Moonshine
This Wicker Park brewpub's parking lot will turn into a Top Chef-style set for pro and amateur BBQ chefs to showcase their skills before being judged via audience vote, with the winner taking home the "Gilded Grill" trophy. Watch local 'cue-ers -- including Top Shelf BBQ, JD's Smokehouse, and Banh Mi & Co. -- present their unique takes on BBQ baby back ribs. Then eat them. All of them.

When: September 20
Where: Local Bars; TBA
Yes, there is a bar crawl themed around the lovable, afro-coiffed Joy of Painting PBS star from the '80s (check this video for a refresher). Last year's event hit local bars like Lottie's and John Barleycorn via a rental trolley packed full of people dressed as Ross, complete with afros, beards, and plenty of painting easels. Expect more of the same this year.

When: September 20
Where: Goose Island Fulton Street Brewery
The Hideout may throw the best block party of the year, but Goose Island is home to the best URBAN block party, with your pick of the usual brews in addition to rarities like Recommended Pils (brewed with the folks from Pitchfork) and SVE Kolsch (brewed with Pitchfork Fest artist Sharon Van Etten). Also on tap: '90s throwback act The Breeders, and barrel-aging seminars educate. Yay learning!
When: September 26-28
Where: St. Alphonsus Church
Now's your chance to get all beer-ed up in church without pissing anyone off: St. Alphonsus in Lakeview turns into a German beer hall (inside and out) for Oktoberfest. So strap on a pretzel necklace and get ready for beer, 'kraut, brats, and German bands with names like Die Musikmeisters, plus Talking Heads cover act This Must Be the Band.

Ditka Dash When: September 27
When: Soldier Field
If you can't be Ditka and flip-off the cameras from inside Soldier Field, wearing a Ditka mustache and a pair of Aviators while racing around Soldier Field might be the next-best thing. This Ditka-costumed 5K concludes with a "mustache bash" and an awards ceremony for things like "best super-fan costume" and "best seven-person 'Ditka-Pede'" -- Iron Mike's version of the human centipede.
Sign up here for our daily Chicago email and be the first to get all the food/drink/fun in town.
Jay Gentile is the publisher of Chicago INNERVIEW Magazine and a Chicago-based freelance writer who was unharmed during the creation of this list. Follow him on Twitter.