The Weekend Playbook: Gelato doughnut sandwiches, beer-lesque, and BBQ at Soldier Field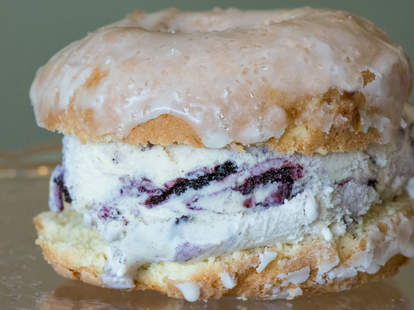 Freebie of the Week Plain old doughnuts just don't cut it anymore, so if you're not upping the ante with a cronut or doughscuit, you've been left behind (making Kirk Cameron cry). For today only, Black Dog Gelato has teamed with Glazed & Infused to offer four varieties of ice cream doughnut sandwiches -- lemon/blueberry french toast, chocolate pretzel/Nutella, toffee/milk stout, and apple fritter/salted peanut -- at both their Belmont and Damen locations starting at 5p until they're sold out.
We're giving away four gelato sandwiches via Twitter. If you want in on the contest (and you do), tweet us by 3p today with your best idea for a dessert mashup here (for example, "croissant plus doughnut = cronut" or "danish plus bagel = dangel").
Thursday, August 29thThe Garage gathers the Best of Chicago Food Truck Rally with eats from The Salsa Truck, The Fat Shallot, Husky Hog BBQ, Jerk 312, Beaver's Coffee & Donuts, and The Gladwell Company, 530-830p. Park it here
Lake Effect Brewing releases their third beer, Cruisin for a Brewsin Belgian IPA with a tapping at Paddy Macs, 6p. Party with a spicy Belgian
Burger Bar has a five course beer dinner pairing Deschutes brews with dishes from Mercat a la Planxa, Saigon Sisters, Sono Wood Fired Pizzeria, and more, 7p. Woody the Beer Wagon will also make an appearance
Friday, August 30thUntitled stages a beer-lesque revue with Deschutes Mirror Pond Pale Ale, Black Butte Porter, and Chainbreaker White IPA on their patio with the Dolls of Doom burlesque troupe gracing their stage, 6-9p. The emcee's name is Naughty Pierre
Saturday, August 31stSweet Baby Ray's Smokehouse preps for a national rib competition by offering a selection of specialty ribs (Texas spare ribs, short ribs) with deals on Kentucky Bourbon Barrel Ale, beer barrel aged bourbon, and John Daly's, 11a-11p. It's a rib-stravaganza
Sunday, September 1stThe Windy City BBQ Classic pits 30 pit masters head-to-head at Soldier Field for the title of grand champion smoker in four categories: pork, ribs, chicken, and brisket, noon-9p. Who's BBQ is best?
OngoingTakito Kitchen has a new brunch menu including Spanish ham and eggs and pork belly sope with ghost pepper salsa, Fridays through Sundays noon-3p. Here's what to grab post-brunch
Artist-driven kicks collective Bucketfeet has a pop-up shop/ gallery at Block 37 that'll be showcasing 35-plus styles (including exclusive pre-Fall launches) and hosting events and live art demos through September 23rd. As a bonus, there's a launch party tonight