The Weekend Playbook: Free Italian booze and the Best Night of Your Life
Chicago Freebie of the Week
One of Chi's most beloved spirits purveyors, CH Distillery, is now making its own vodka- and milk-based limoncello, thanks to a collaboration with a Naples, Italy native who wants to share her family's recipe. A bottle of the buzzed-about limoncello is up for grabs, and can be yours... just tweet THIS extra-sexily.
Thursday, December 19th - Saturday, December 21st: National Hamburger Day hits on the 21st, and Stout Barrel House is igniting celebratory festivities early with a week-long special featuring its off-menu gem, the half-pound Stoutastic Classic, along with trusty standbys like the Stout Burger and Stout Sliders. Get more info here
Continue Reading
Thursday, December 19th, 5p-1030p: If National Hamburger Day isn't enough for you, don't fret -- Nacional 27 is keeping the excitement alive with a one-night-only National Sangria Day celebration. The restaurant will offer $8 glasses of house-made sangria all night, with half-priced tapas and ceviche from 5-7p in the lounge area, and complimentary salsa dancing lessons out on the dance floor at 8p.



Friday, December 20th, 8p: Hang at The Pony's Adult Christmas Party -- where it's perfectly acceptable to sit on Santa's lap for a photo while gripping a $4 candy cane shot in one hand and a $3 Heineken in the other. Post aforementioned Santa photos on Facebook for a chance to win a free two-hour, 10-person party. Get the 411

Friday, December 20th, 630p: Step into The Hideout to watch comedians, storytellers, and musicians hilariously tackle and dissect three of life's most compelling (and controversial) topics at the God, Sex, Death Variety Show with Danny Black. Tickets are $5 at the door


Saturday, December 21st: It's guaranteed to be the longest night of the year, but it's also going to be the Best Night of Your Life -- provided you spend it taking in all the best Thrillist-approved madness around town, from happy hours, to craft cocktails, to late-night face-stuffing. Build your itinerary now, grab some friends, and make it happen.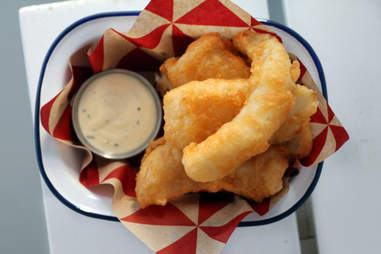 Ongoing, Saturdays and Sundays 9a-3p: Parson's Chicken and Fish is unleashing an all-new brunch menu flaunting a variety of hunger-satisfying dishes like the Monte Cristo with pork belly, and chicken and biscuits. Wash it all down with the infamous Hamms-and-OJ Beerdriver or a Bloody Mary (or dude, the infamous Hamms-and-OJ Beerdriver). Get your grub on