5 new must-try Chicago brunches, including one with bacon Pop-Tarts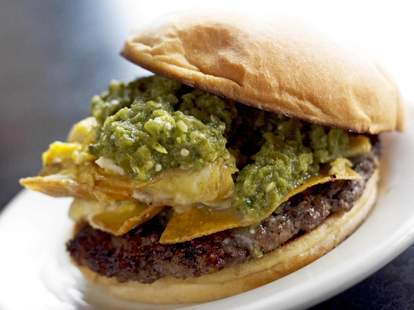 Chicago Because no man can be satiated on 26 Chicago brunches alone (but pretty much all men can be totally satiated on 31!), here're five brand-new ones.
DMK Burger Bar (Lakeview & Lombard locations), Saturdays & Sundays, 11:30am-5pm: Okay, so this is just one new brunch item and not an entire new brunch, but does it really matter, when it's a Chilaquiles Brunch Burger? The $10 bun-stuffer balances beef, breakfast-y scrambled eggs, and Jack cheese with lunch-y jalapenos, tortilla chips, and tomatillo salsa verde. Continue Reading
Lettuce Entertain You
Bub City, Saturdays & Sundays, 10am-3pm: The Melman Bros' one-stop-shop for whiskey, BBQ, and country music has a brand-new brunch menu full of hangover-curing, Southern comfort fare (see: beef brisket benedict served with gravy, poached eggs, and cheesy grits), plus a hangover-restarting $10 Bloody Mary bar.



Nico Osteria, Saturdays & Sundays, 9am-3pm: They've got new sweets and savories over at the next-big-thing in the Viagra Triangle, including a chestnut coffee cake with ricotta, and a Swiss chard Strata with prosciutto, Fontina, creamed leeks, and a poached egg.

Links Taproom, Saturdays, 11:30am-3pm & Sundays, 10:30am-3pm: Wicker Park's new beer and sausage stop is roping in the ravenous brunch crowd with meaty delights that include 1) bacon/apple butter-stuffed Taproom Pop-Tarts topped with candied bacon and meringue, and 2) sliced breakfast sausages fried in sweet waffle batter and drizzled in Vermont maple syrup. And if you're more of a liquid brunch guy: 11% Brickstone Brewery Dark Secret.

Spritz Burger, Sundays, 9am-3pm: This new restaurant concept from the Hearty Boys and Pastry Chef Gale Gand is doing Chicago brunch proud, with just-now-available seltzer cocktails (Smokey Mountain Ricky with Catdaddy Moonshine, cranberry, lime, and spritz!), gourmet burgers, and blueberry-ginger hand pies.