A free bottle of new-recipe Malort, and an epic dive bar crawl returns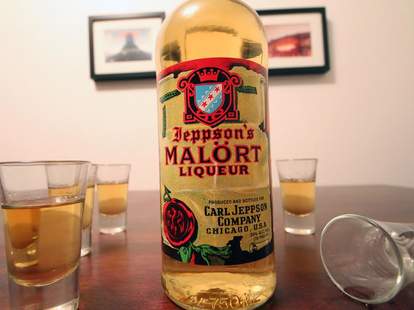 Chicago Freebie of the Week
Just when you thought your tastebuds had evolved to withstand the brutal bitterness of Malort, Jeppson's goes and amplifies the wormwood inside its latest distribution of bottles. If you're brave enough to try the more full-bodied flavors of lighter fluid and nail polish remover before everyone else, we're giving away a free bottle of it to one reader who tweets THIS!
Thursday, January 23rd, 6-8pm: Head to Stout Barrel House and Galley for a taste of Crimson Rye IPA, a beer created by September's "Be a Brewmaster" contest winner Adam Harth and Goose Island. Harth and Brewmaster Nick Barron will be around to give you the scoop on the recipe and brewing process, and Stout will be raffling off a VIP tour of Goose Island Brewery, plus other Goose Island swag. We'll drink to that.


Continue Reading
Friday, January 24th - Thursday, February 6th: In the name of Chicago Restaurant Week, more than 280 great local restaurants are offering prix fixe tasting menus that showcase their signature dishes. Lunch will run you $22 a pop, and dinners are available for $33 or $44, excluding tax and gratuity. Check out the massive list of participating spots

Friday, January 24th, 11am-midnight: On this day in 1935, Gottfried Krueger Brewing Company became the first brewer to sell canned beer in the United States, starting a nationwide trend. Join Franklin Tap in saluting the "Canniversary" of canned beer with more than 20 varieties of $6 canned brews and bar snacks... all, day, long.

Sean Cooley
Saturday, January 25th, 2-7pm: Wicker Park welcomes Won Kim and Co.'s popular Brew Hahahahahahahahahaha back to the neighborhood, along with an expanded list of up-and-coming local brewers, food pairings courtesy of Chop Shop, and a photo booth you will definitely remember taking pictures in. Definitely. Featured brewers include Destihl, Low Dive, Roshambo, and many more. Get tickets

Sunday, January 26th, noon-7pm: Lottie's Pub's sixth annual Old-School Dive Bar Pub Crawl is back by extra-popular demand. $15 gets you bus transportation to four mystery Bucktown dive bars, refreshments, and some post-crawl buffet eats at Lottie's.