The Weekend Playbook: We're giving you first crack at this sweet taproom in Wicker Park
Chicago Freebie of the Week
The brand-new Links Taproom opens this Saturday in Wicker Park at 430p, decked with growler light fixtures and armed with artisanal sausage goodness, fries with bacon-apple-butter, and 36 beers on tap including Revolution, Two Brothers, and Founders. You can be one of the first to eat there and also be the only one doing it FOR FREE, because we're giving away $50-worth of grub on the house. Just tweet THIS to enter.
Other Freebie (And Discount!) of the Week: Wicker Park's Prasino is offering a 22% dining-discount to 60622 locals, all-month-long. You can cash in on the deal Monday through Friday until 4p -- just make sure to have proof of residence handy. Not a 60622 resident? The restaurant is also offering complementary aperitivos with cocktail purchase, Monday through Friday, 4-8p for anyone and everyone.


Continue Reading
Opening of the Week: North Center welcomes Ravenswood Q, a new barbecue installment brought to life by Owner Dean Grozdich and Chef Gregory Michael Roffe. Make the trip for brisket, their signature wings, and a 10oz Q burger topped with crispy onions and Swiss. Check out the menu

Thursday, January 9th - Sunday, January 19th: Laugh it up at the 13th annual Chicago Sketch Comedy Festival hosted at Stage 773. Over the course of its 10-day run, more than 150 comedy troupes will take the SketchFest stage, including local favorites like Oh Theodora, Exquisite Corpse, and That Just Happened. Tickets range from $14-$15 a day, and an All-Festival Pass will run you $150. Get tickets here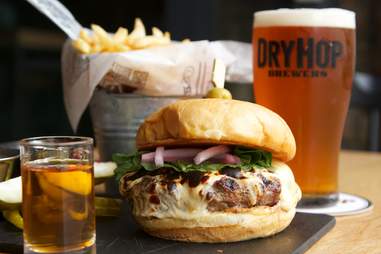 Tuesday, January 14th, 6p-2a: Celebrate whiskey by drinking it and marveling at art inspired by it at Dryhop's Whiskey and Art event, where they'll pour three Van Winkle wheated bourbons from Buffalo Trace Distillery in Kentucky, and show off local artist Andrew R. Wright's "The Whiskey Images" installation. Check it out