5 boozy Irish foods for St. Patrick's Day consumption
Chicago St. Patrick's Day is kind of a big deal in Chicago (see: green river). Helping you up the ante on the 277th public celebration of St. Paddy's, here're five ways to eat your Irish drink, come March 17th.
Bailey's Cupcakes, Sprinkles: The geniuses behind that cupcake ATM Downtown are now also the geniuses behind that Belgian dark chocolate cupcake topped with Bailey's Irish cream cheese frosting, and a giant shamrock sprinkle. Available now through March 20th.
Continue Reading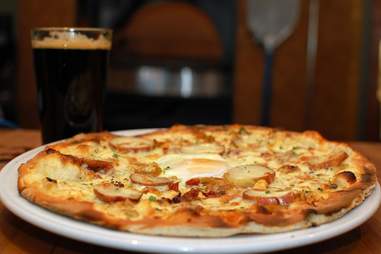 Frasca
Guinness Pizza, Frasca: For one day only (Monday, March 17th), Frasca is resurrecting its famous wood-fired Guinness Pizza. The pie comes with an Irish stout crust, Béchamel sauce, fingerling potatoes, bacon, roasted onions, three kinds of cheese, and an egg. We're pretty sure this is actually what's at the end of a rainbow.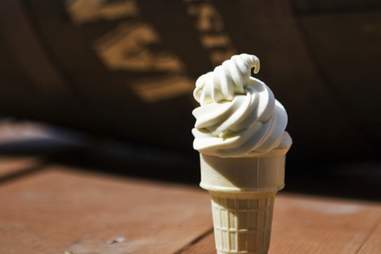 Sean Cooley
Jameson Ice Cream, The Boiler Room & Cone: Who needs a shot of Irish whiskey when you can devour a cone of The Boiler Room's equally potent Jameson soft serve? Especially when it comes from Chi's one-and-only authentic Irish ice cream shop and's called the Hair of the Dog sundae, which includes scoops of Guinness, Jameson, and Bailey's ice cream, chocolate syrup, homemade whipped cream, and a cherry sprinkled with chocolate flake on top.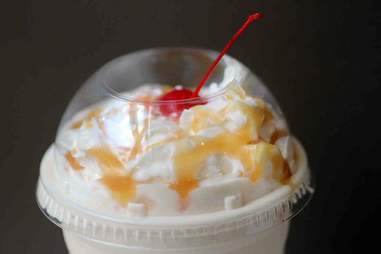 Sean Cooley
Boozy Irish Milkshakes, 25 Degrees & Cone: In addition to boozy sundaes, Cone also spins a mean Jameson milkshake topped with homemade whipped cream, caramel, and a cherry, too. Or hit 25 Degrees -- they're playing it a little less safe with seven spiked-shake varieties, including an Irish Car Bomb spiked shake with Guinness, Bailey's, Jameson, vanilla ice cream, and house-made chocolate sauce.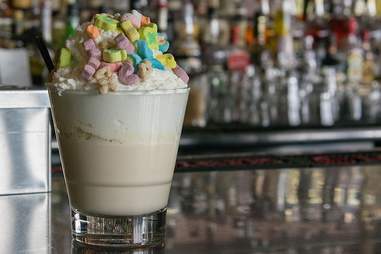 Kailley Lindman
Irish Breakfast Cocktails, Twisted Spoke & The Gage: Typically made with Cap'n Crunch, Twisted Spoke's aptly named Breakfast of Champions cocktail (with Sweet Lucy Bourbon Cream Liqueur, Ancient Age, half and half, and whipped cream) gets a festive makeover, thanks to a marshmallowy mountain of Lucky Charms. Looking for something a bit more refined? The Gage is pouring a "Drink Me, I'm Irish" cocktail with oak whiskey, mead, tangerine juice, lemon juice, a blueberry syrup float, and a mint sprig garnish.