Eat a burger for every meal this weekend
Chicago Because you just read that headline and were like, "Whoa, I totally should eat a burger for every meal this weekend", here're five limited-time specials from some of the city's biggest, baddest burger purveyors.
Kailley Lindman
The Anniversary Burger, Leadbelly: This innovative burger joint teamed with Pete's Pizza #2 to create this Big Mac-style burger with two juicy beef patties, arugula, roasted tomatoes, and a miniature ricotta- and pancetta-stuffed deep dish pizza in the middle. It's monstrous in both mass and flavor, and despite its limited run, has already cemented its place in Chicago burger history. Continue Reading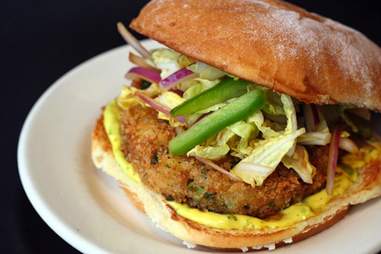 DMK Burger Bar
Coconut Curry Shrimp Burger, DMK Burger Bar/DMK Burger & Fish: Because beef burgers are soooooo last paragraph, DMK is doing a fried shrimp burg smothered in aromatic yellow curry mayo and topped with cilantro and sesame-ginger slaw on a toasted bun.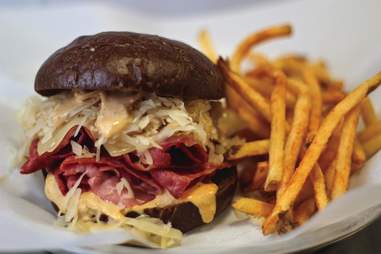 Burger Boss
The Irish Boss, Burger Boss: Who says St. Paddy's Day has to end? The Irish Boss foregoes the patty altogether, and replaces it with a heap of corned beef, melted Swiss, sauerkraut, and house-made Thousand Island on a dark rye bun.

Rockit Ranch Productions
Beer-Battered Fried Bacon Burger, Rockit Burger Bar: This week, Rockit is embracing the three B's (beer, bacon, and burgers) with a meatwich that sports a black Angus patty, blue cheese crumbles, celery sprigs, beer-battered fried bacon, and a generous dousing of Buffalo sauce, along with a side of curly fries. And if you're looking for a well-balanced meal, start with a special, fried bacon appetizer.

Howell's & Hood
The Reuben Burger, Howell's & Hood: Also inspired by Ireland's iconic corned beef and cabbage, this rye bun-clad burger comes with a house-made ground chuck & corned beef patty, sauerkraut, dill pickles, Russian dressing, and horseradish. Be bold and pair it with one of their 114+ beers on tap.