Believe it or not, the South Side of Chicago isn't the heaping pile that the national media has made it out to be, something you know if you're from here, and one of the many things you don't if you're not. Well, it's about time we got you up to speed, starting with these 23 South Side truisms.

1. We're pissed that the Red Line only goes to 95th
South Siders hate a commute as much as anyone, but the Red Line goes all the way up to Evanston. Can we get to Blue Island at least?

2. We despise the nickname Chiraq
Of course the South Side has its problems, but comparing it to a war-torn foreign country is just dumb.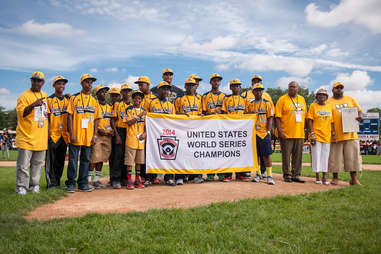 3. We've known about how great Jackie Robinson West is for decades
The rest of the world just caught up.

4. We go to Indiana to buy gas and cheap cigarettes
In your face, Cook County taxes!

5. The best estate and garage sales are here
Englewood, South Shore (Jackson Park Highlands = goldmine), Hyde Park, and Pill Hill are some of best spots to pick up discarded gems in the entire city.
6. A pickup game is as easy to find as a Walgreens
That's because we love basketball more than life itself.

7. Those soccer games in Marquette Park though...
I'm not saying the soccer leagues in Marquette Park rival the intensity of World Cup games, but that's actually kind of exactly what I'm saying. Related: same goes for the cricket games in Washington Park.

8. We laugh when people say the South Side is a scary place
Trust me, Lincoln Park and Wicker Park are scarier between the hours of 10pm and 2am.
9. We were sad to see Evergreen Plaza go
Even though many of us hadn't shopped there in years.

10. We had to harbor Ernie Banks during his career
Due to how things were here in Chicago (and still are in some places), Mr. Cub couldn't live anywhere near Wrigley, so he parked it in South Shore for a number of years.

11. Dibs is non-negotiable
You mess with someone's spot, you might find a rock in your front seat. Just saying.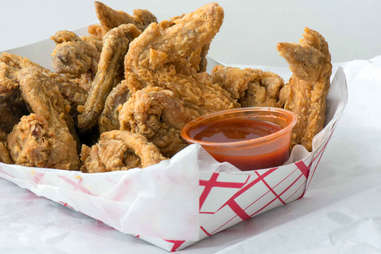 12. Harold's Chicken is the best fried chicken in the world
Don't even try to argue this one in the comments, 'cause you're wrong. Harold's is even on Groupon now, which means the world will know what mild sauce is.

13. The South Side might be the most religious place outside of the Vatican
I doubt you'll find more churches per capita anywhere else -- I grew up within walking distance of five churches with different denominations.

14. Your favorite band probably ripped off a South Side artist
Starting with Led Zeppelin taking "Whole Lotta Love" from Willie Dixon and Muddy Waters.
15. The Bud Billiken Parade is the city's best
Our back-to-school parade is the only place where you can get a hot dog, a can of MGD, loose cigarettes, and a Young Jeezy snowman (the one wearing a White Sox cap) T-shirt without leaving your block. Parade sponsors raise money for college scholarships for local youth. See? We DO care about education, Mayor Rahm.

16. We're not all gangbangers
But we do know what gang is in each neighborhood for safe passage purposes.

17. We used to have our own pro football team
The Chicago (now Arizona, and before that, St. Louis) Cardinals were the South Side's NFL team way back when. They played at Comiskey while the Bears played at Wrigley.
18. We often argue over who has the best BBQ -- Leon's or Lem's
People will go for days without speaking to each other after arguing about this.

19. We throw the best house parties
Whether sending a cousin off to prom or throwing a quinceañera, ain't no party like a South Side party.

20. Gately Stadium is one of the best places to watch a football game
At the corner of 103rd and Cottage Grove, Gately Stadium is where most public and Catholic leagues play their games and one of the best places to see the next Donovan McNabb or Simeon Rice in the making.
21. The block club people are passive-aggressive
Block club signs aren't cosmetic. Those signs are a nice way of saying "leave your B.S. at home, we've got a good thing going here."

22. You'll find the best shopping deals at the 87th/Dan Ryan stop
Socks, bags of candy, bootleg movies, and white T-shirts, all on the cheap.

23. Believe it or not, we like living here
It's true -- we love it. The collection of diverse neighborhoods that makes up our side of town is one of our city's best kept secrets.
Sign up here for our daily Chicago email and be the first to get all the food/drink/fun in town.
Evan F. Moore is a South Side resident whose work has appeared in The RedEye Chicago, ChicagoSide, Huffington Post, Time Out Chicago, and Community Media Workshop's We Are Not Alone/No Estamos Solos project on youth violence. Follow him on Twitter @evanFmoore.