The 11 Men You Will Date in Chicago
Ask any single woman in Chicago about their dating experiences in this city and you're bound to hear about some pretty, um, interesting men. From hipsters to douchebags, here are 11 types of single men in the city that nearly every woman will date at least once (and hopefully only once) in her lifetime.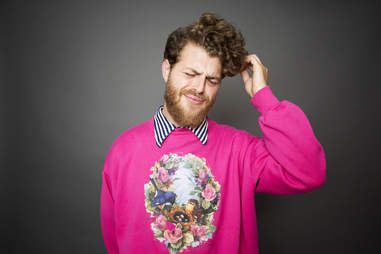 Jim Vondruska/Thrillist
The Insufferable Hipster
Logan, age 31
Neighborhood: Humboldt Park
An Art Director at Leo Burnett, he's lived in the neighborhood since 2006 when he arrived in Chicago from Wyoming to attend -- and subsequently drop out of -- the Art Institute. In his spare time he enjoys homebrewing, rock climbing, and riding his vintage Schwinn bicycle after-hours on the 606.
Your first date: A party inside an abandoned warehouse where everyone in attendance seems jaded by abandoned warehouse parties.
The inevitable breakup: After he goes on an angry spiel over the gentrification of "his" neighborhood while sipping on a $6 artisanal coffee and munching on a gluten-free bacon donut, it dawns on you that that "ironic" and "interesting" are two different concepts.
Jim Vondruska/Thrillist
The Overgrown Frat Boy
Matty B., age 23
Neighborhood: Wrigleyville
Recently graduated from Ohio State, Matty B. moved straight to Chicago to live with his Alpha Fappa Deltoid brothers. He manages to hold down some sort of corporate job by day, but only because his boss hasn't figured out a way to legally fire him just yet. He spends his work days in a red-eyed, hungover stupor (last night at Moe's was WICKED, brah!) and spends more time attempting to sext girls than he does doing actual work.
Your first date: Any beercade in the city you want... because, of course.
The inevitable breakup: He'll make out with a drunk sorority girl at Sluggers, then call you crying hysterically at 4am to slurredly beg for your forgiveness. Strangely, you'll be more annoyed by your sleep being disturbed than you are by the end of your relationship.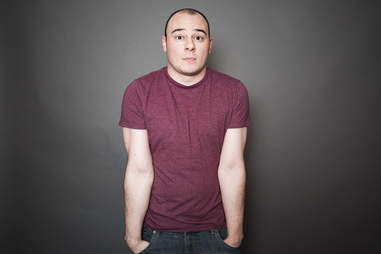 Jim Vondruska/Thrillist
The Die-Hard Suburban Guy
Jeff, age 32
Neighborhood: Lisle (technically it's a village)
Jeff likes long walks on the beach, small children, cuddling, and is more than willing to watch romantic comedies. He has a stable job, owns his own condo, and his Facebook page is filled with pictures of his nieces and nephews.
Your first date: Dinner at Maggiano's followed by a "romantic" walk around the streets of Woodfield.
The inevitable breakup: He'll stubbornly refuse to visit you one too many times because he "HATES going Downtown!" and refuses to accept the fact that Logan Square is not even close to "Downtown."
Jim Vondruska/Thrillist
The Native Chicagoan
Mikey, age 27
Neighborhood: Bridgeport
He lives on his own... next door to his grandmother, and across the street from his mom. He lists his union affiliation on his OKCupid profile instead of actual job title -- Union Pipe Fitters Local 597, in case you were wondering. He spends his free time holed up in Shinnick's talking with his uncle's friends. 
Your first date: He'll charm you over dinner at Sapori Trattoria.
The inevitable breakup: Just when you begin to daydream about what married life will be like with this nice, NORMAL guy, he'll break up with you without warning and will start dating a girl from "da nayber-hood." You have a sneaking suspicion it's because you wore a Cubs shirt to bed one night.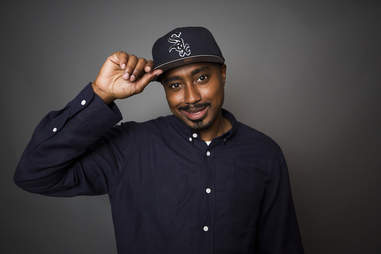 Jim Vondruska/Thrillist
The Temporary Resident
Antoine, age 27
Neighborhood: Hyde Park
He just moved to Chicago from Washington (DC you're pretty sure?) by way of Michigan after stopping in to complete his masters degree. He's "looking to make new friends," enjoys "taking advantage of everything this amazing city has to offer," and has recently enrolled in improv classes at The Second City. 
Your first date: A tour of the Art Institute, followed by drinks at The Signature Room, a romantic walk along the lakefront, and a passionate kiss in front of Buckingham Fountain.
The inevitable breakup: After a series of incredibly romantic dates, you'll work up the courage to initiate "the talk"... and he'll refer back to that "looking to make new friends" disclaimer from his dating profile. FRIENDZONED.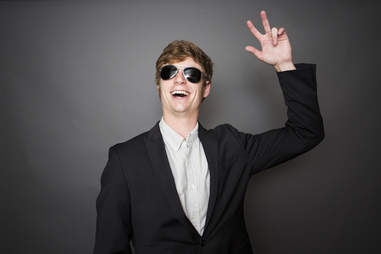 Jim Vondruska/Thrillist
The Classic D-Bag
Chad, age 32
Neighborhood: River North
Corporate salesman by day, professional d-bag by night. He picked up a copy of The Game after his high school girlfriend dumped him 10 years ago, and it's been downhill ever since.
Your first date: After-work drinks at Hubbard Inn paired with oysters from its raw bar (because "you know... oysters are an aphrodisiac... *wink*"). You'll spend the entire date trying to decide if he was really staring at your waitress' ass every time she walked by, or if he just has the attention span of a goldfish.
The inevitable breakup: You'll text him after your date to thank him. His response: "Wanna fuck?" followed by several dick pics. Several months later, you'll come across a very in-depth Tinder profile created by his ex girlfriend warning women to stay away from "this sociopathic, lying cheater." Bullet = dodged.
Jim Vondruska/Thrillist
The White Collar Bore
Gregory, age 35
Neighborhood: South Loop
A Blackberry-using corporate accountant, Greg (he really prefers "Gregory") takes pleasure in biographies of dead politicians, 5am morning runs, CNN, and The Wall Street Journal. He dislikes having his 9pm bedtime routine disturbed.
Your first date: Ravinia, of course. His mother recommends an "absolutely darling artisan cheese shop" in Winnetka, which you visit beforehand to select a charcuterie and cheese plate and wine.   
The inevitable breakup: You'll dump him after having several nightmares about giving birth to tiny pleated pants-wearing accountants. *SHUDDER*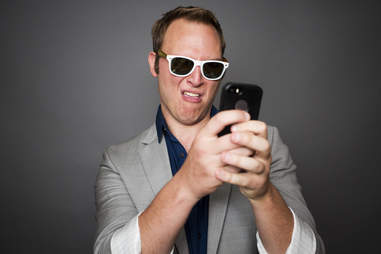 Jim Vondruska/Thrillist
The Industry Guy
Wes, age 36
Neighborhood: West Loop
You'll meet him at the Chicago Scene Boat Party when the friend who dragged you there subsequently abandons you to go make out with the boat owner. He's incredibly charming, funny, charismatic, and you love spending time with him... when you're actually able to spend time with him. While you're binge-watching episodes of Friends on a Tuesday night, he's DJing at Sound-Bar, or Smart Bar, or something-Bar.
Your first date: Dinner at RPM Italian followed by drinks at Paris Club. Fifty percent of your date will be spent sitting with an awkward smile plastered on your face while he catches up with everyone he bumps into.
The inevitable breakup: Your worst fear will be confirmed when your best frenemy will send a Snapchat video of him canoodling with a heavily spray-tanned girl at Industry Night at El Hefe.
Jim Vondruska/Thrillist
The Superfan
Hector, age 28
Neighborhood: Pilsen
It's like he's the distant offspring of one of Bill Swerski's Super Fans, minus the Ditka 'stache. In fact, around 90% of his thoughts are eerily similar to the lyrics of Dennehy: Bears, Hawks, Sox, Bulls. His weekends are spent tailgating at Soldier Field or the Cell, grilling  brats, chops, dogs... onions, onions, onions, onions. That being said, that never-ending "rain or shine" level of devotion is a huge bonus.
Your first date: He explains the entire history of Original Six hockey over chicken wings and makes it clear that anyone without a Tony Amonte sweater is a Blackhawks bandwagoner.
The inevitable breakup: You'll break up with him after realizing that he'll never be quite as passionate about your relationship is he is about Chicago sports.
Jim Vondruska/Thrillist
The Struggling Comedian
Billy, age 41
Neighborhood: Ravenswood
He took his first class at iO in 2001, and has been trying to make it as a comedian ever since. He supports himself by working part time at an independent bookstore along with income earned from performing at children's parties, though that money is usually spent on props.
Your first date: An improv show that you genuinely enjoy... until he explains to you how "that missed Detlef Schrempf callback in the third beat" was a huge let down.
The inevitable breakup: You'll get worse and worse at pretending to find his ridiculous jokes funny. Hearing his shtick about last year's run-in with foot fungus one too many times will be the final nail in the coffin.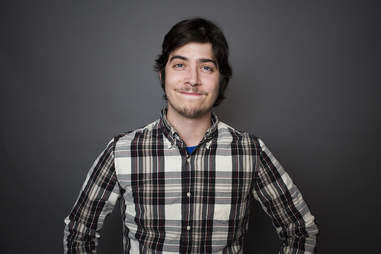 Jim Vondruska/Thrillist
The Nice Midwestern Guy
Jeff, age 26
Neighborhood: Lincoln Park
He's the type of guy that grandmas love to flirt with: tall, handsome, has a nice smile, and looks as if he were raised on fresh milk and eggs from his father's farm in Iowa. He loves beach volleyball, brunch, his golden retriever Samantha, and playing on his company's dodgeball team.
Your first date: Painting class at Bottle and Bottega.
The inevitable breakup: His college girlfriend (AKA "the one that got away") will move to Chicago. Six months later, she'll move back to Iowa... with him in tow, and a ring on her finger. 
Sign up here for our daily Chicago email and be the first to get all the food/drink/fun in town.
 
Lisa Marie Chatroop is one of the founders of Chicago-based lifestyle blog Daily Urbanista. Thankfully, she hasn't encountered all of the men on this list (yet). Say hi to her on Twitter via @Chicagoista or @DailyUrbanista.