A lot has changed over the past three months: we now live in a frozen tundra, we now drink a more bitter version of Malort, and we now have to avoid a bottomless bear mascot come baseball season. One thing, though, has remained as slow and steady as ever: our tried and true measure of civic futility, Ventra. Since we last checked in on the transit fare payment system that nobody asked for, it has continued to bilk everyone from students to non-profits on its way to performance benchmark failure. Before your Chicago Card is ripped from your cold, dead hands, here's a recap of the Ventra hate, by the numbers:
2.5 seconds -- Ventra's satisfactory "tap time" goal for buses and rail turnstiles, which is actually a long time for something that used to be... instant.
$1.21 million -- Lost fare revenue from Ventra's defective equipment during October and December, including an outage at 145 train stations in one day.
1 -- Yelp stars for the Ventra Customer Service Center. Sure, Yelpers can find a reason to dump on anything, but this overwhelming hatred seems pretty sincere. As user Frank Z. eloquently puts it: "Ventra is a piece of crap."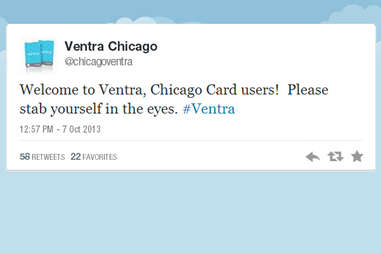 137 (and counting) -- Spot-on tweets by the fake Ventra account, @ChicagoVentra.
$454 million – Amount the CTA has agreed to pay Cubic Transportation Systems for Ventra.
15 - Number of different NBA franchises the CTA could've bought instead of Ventra. Seriously, we could've bought the Timberwolves and traded Kevin Love to the Bulls.
8 – City transit systems around the world that Cubic has previously screwed over with glitches (San Diego, San Francisco, Miami, Los Angeles, Atlanta, Vancouver, Brisbane, and London). Ventra is like the Wade Phillips of transit: moving from city to city, ruining everything.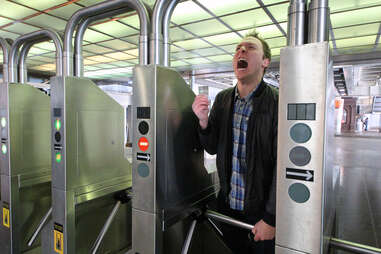 11 -- Days-in-a-row that now-ex-Ventra employee Nickole S. McDaniels had been working at a Ventra call center (in San Francisco) when she was fired, on her birthday (12 days before Christmas) for truthfully admitting Ventra was kinda terrible.
3:10 -- Length of local comedians Alan Linic and Ollie Hobson's rap song "V.E.N.T.R.A.", which tears into the transit payment system. You see what you've done, Ventra?!? The people of Chicago have resorted to rapping!
274 – Fare cards mailed to Chantal Sudbrack in Cleveland at once. So that's where your card got mailed off to…
? – Your current Ventra card balance as you tap the reader. You used to get a balance check at card readers, now it's a mystery with just a remedial "Stop" or "Go".
How has your experience been with Ventra? Drop us a line in the comments...