A new year means another opportunity to take stock of your life, AND WHAT COULD END IT AT LITERALLY ANY GIVEN MOMENT. Well, this year, we seized the opportunity. Here are 15 everyday Chicago death traps that are lurking in plain sight. Don't say we didn't warn you. (Especially since we just did.)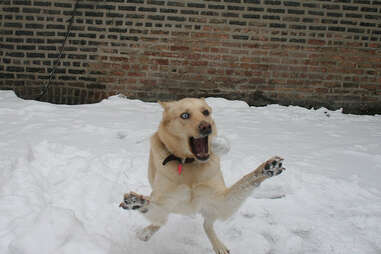 2. The donut on the right
Having a donut now and again isn't going to kill you. Having a donut from South Side's Dat Donuts that's the size of a basketball now and again? Yeah, see, that totally will.
3. 12 days of Porn and Chicken
You say "best 12 days straight of partying ever." We say nothing, because we never heard you say anything, because you're dead from the best 12 days straight of partying ever.
4. Polar Bear Club
Any event that bills itself as "a Celebration of Shrinkage" should be approached with extreme caution. Especially when said event involves you jumping into a lake that's currently one degree above freezing.
"Bro, this is so sick! It's like we're floating in air! That crack is supposed to be there, right? Wait, I don't think it is! Dude, it's spreading! AHHHHHHHHHHhhhh... hhhh... hh... h...!"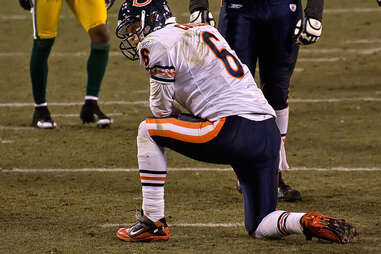 7. Jay Cutler
According to the American Psychological Association, chronic stress is linked to the six leading causes of death. According to the People Who Watch The Chicago Bears Association, Jay Cutler is the leading cause of chronic stress.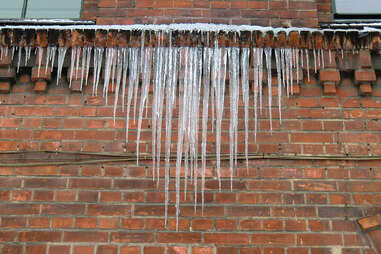 8. Chicicles
Aka, could-fall-at-any-moment-murder-daggers.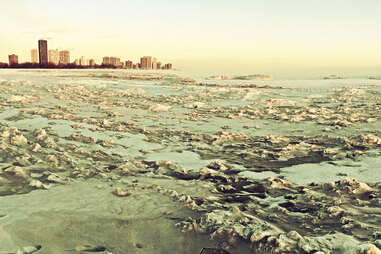 10. The Quad Burger at Choppers
Eating a burger with four patties would probably just seriously injure you. But the Quad Burger inexplicably has five. Game over. Sorry dude.
But extra-especially the one pictured.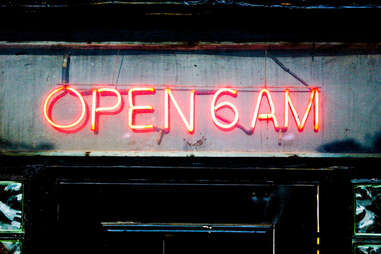 Here's how it'll happen: you'll be standing behind a bachelorette who's sucking face with a complete stranger, both of whom are unfazed by the guy trying to simultaneously pee in a garbage can AND order a round of shots RIGHT NEXT TO THEM. Pee guy will spill some, you'll slip on it and into bro with a backwards cap, he will try to fight you, you will lose. Forever.
13. St. Patrick's Day
There's only so much green beer the human body can tolerate. And, at some point, you will break that hallowed barrier.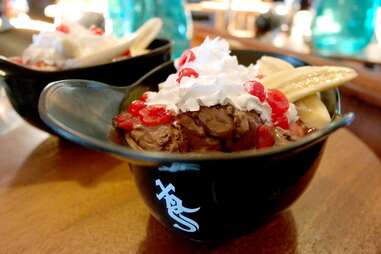 14. The Chicago White Sox banana split sundae helmet
A 3lb, 12-scoop, banana split sundae in a full-size batting helmet. If this doesn't kill y... oh who are we kidding, this will kill you.
15. The El
Could be the third rail. Could be stress caused by waiting for signal clearance.
Sign up here for our daily Chicago email and be the first to get all the food/drink/fun in town.
Jay Gentile is Thrillist's Chicago Editor and on the lookout for escaped zoo animals this winter. Follow him @ThrillistChi.