Sometimes, the only thing better than living in Chicago is leaving Chicago. Weekend getaways are essential to survival in any large metropolitan area, and Chicago is certainly no exception. So put your stress-packed urban lifestyle on hold for a few days and venture out into the wider world to see how the other half lives for a while... all while boating on the lake, drinking in the forest, and kicking back on the beach. To assist you in your quest for peace and relaxation, we've broken down the best weekend getaways from Chicago, sorted by destination and activity type. Don't worry -- all of the fun stuff going on in town will still be here when you get back.
Recommended Video
Please Don't Hang Up: The Best Things to See, Eat, and Do in Seattle, WA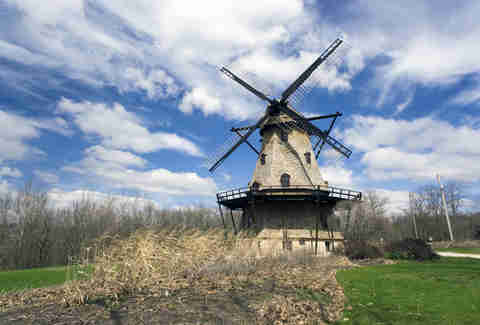 Best Small Town Getaway: Geneva, Illinois
An easy one-hour drive or about-the-same Metra ride provides the quickest escape from the city, dropping you off in the relentlessly charming small town of Geneva. Located on the banks of the Fox River, the town is technically a suburb of Chicago -- but it sure as hell doesn't feel like it. Start your excursion strolling the outdoor restaurants tailor-made for al fresco dining in Geneva's alarmingly cute downtown district, where you'll find The Patten House (located in an 1857 red brick structure) and Bien Trucha, one of the best restaurants in the state. Grab a romantic B&B-styled room at the posh yet cozy Herrington Inn, sip a cocktail from your balcony overlooking the river as birds jump between branches, and wonder how the hell you're only an hour from the city.
Get out Geneva's Island Park for some quality nature time or take a trip to nearby St. Charles, where you can catch a show at the historic Arcada Theatre or sip vodka lemonades on Salerno's on the Fox's massive outdoor patio while watching old-timey paddle wheel boats drift past. And if you're here in summer (which you absolutely should be), make a trip to Northwestern Medicine Field to see minor league baseball's Kane County Cougars do their thing in an awesome little ballpark.
Distance by car: One hour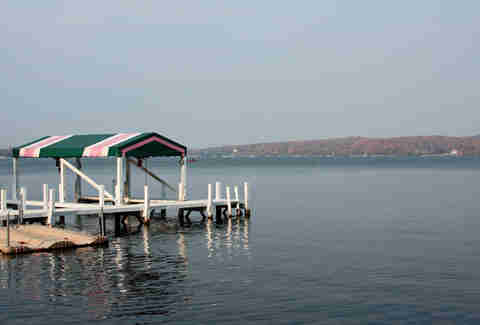 Best Lake Getaway: Lake Geneva, Wisconsin
There's a reason why Lake Geneva has been Chicago's number one vacation destination for generations. Quite simply, there is nowhere this cool this close to Chicago. It's got everything you could possibly need in a weekend oasis… all 90 minutes from the city. As one of America's best lake towns, it boasts an array of activities from booze cruises and hot air balloon rides to a stomach-satisfying food and drink scene led by the old-school brilliance that is the epic Mars Resort on nearby Lake Como.
 
Sip cocktails at downtown spots like the 1885 Victorian mansion Baker House or the local dive Fat Cats before walking the entire length of the lake shore amidst stunning lakefront homes along the town's uniquely open-to-the-public Lake Shore Path. In addition to the town of Lake Geneva, you will also find the adorable town of Williams Bay along the lake as well as Fontana, home to the spectacular summer retreat that is the Abbey Resort. Meanwhile, nearby Lake Delavan offers a quiet lakeside arboretum as well as some of the finest dive bars in the state. Hogan's Goat is a locals-heavy must-visit as is the Inn Between, where all you need to do to start the party is dock your boat.
Distance by car: An hour and a half
Best Nature Getaway: Starved Rock State Park, Illinois
The historic town of Ottawa, located at the intersection of the Fox and Illinois Rivers, is best known as the entryway to Starved Rock State Park, where tall bluffs and canyon waterfalls provide one of the finest outdoor experiences near Chicago. While it is the most popular state park in Illinois, Starved Rock still manages to create one of the finest hiking and camping destinations around. But the hard-boozing town of Ottawa (and nearby towns like Utica and LaSalle) itself is also worth a visit, especially the lively waterfront hangout Red Dog Grill.
Escape the crowds of Starved Rock with a trip to see the equally cool bluff-side expanses of Matthiessen or Buffalo Rock State Park. Oh, and if you're staying the night at Starved Rock, the cabins are nice, but if you can swing a room at the Starved Rock Lodge, by all means you should do so. Grab a drink at sunset on the lodge's Back Door Patio overlooking the bluffs as live bands fill the air with music on summer weekends and consider yourself lucky.
Distance by car: An hour and a half
Best College Town Getaway: Madison, Wisconsin
The Big 10 region is home to a ridiculous number of amazing college towns, and you could make a case for pretty much any of them winding up on this here list. But nowhere can you find the unique combination of good-time college vibes, bustling mid-sized city life, and gorgeous surrounding nature better on display than at the University of Wisconsin-Madison. Wisconsin's capital city is just a cool place to be even when school isn't in session, thanks to its downtown district lined with bars and restaurants paired with the city's close proximity to huge bodies of water like Lake Mendota and Lake Monona.
 
Madison also boasts one of the most underrated music scenes in the country and also happens to be, you know, the best college town in America. Get a drink overlooking the lake at the picturesque Memorial Union Terrace, take in a beer-soaked afternoon in a sea of red with 80,000 of your closest friends at the raucous Camp Randall Stadium, tour the Wisconsin State Capitol, party it up in the State Street pedestrian zone (Halloween is particularly nutso), and maybe do a little fishing on one of the lakes while you're here. Not a bad weekend, eh?
Distance by car: Two and a half hours
Best Culture Getaway: Saugatuck, Michigan
Saugatuck is famous for the pristine Oval Beach (cited by the Tribune as the Midwest's best beach), where you can rent kayaks, cruise on sailboats, and kick back along 10 miles of prime Lake Michigan real estate. Sand dunes and paddleboat rides also vie for your attention at this Hampton-style retreat, but Saugatuck's arts scene is what really sets it apart from the region's numerous beach towns. Known as "the art coast of Michigan", Saugatuck and the nearby towns of Douglas and Fennville are home to dozens of art galleries and unique shops tailor made for a laid-back meander through the gallery-lined downtown district. Art classes and vibrant summer fairs are also on hand, with the community home to the famous Art Institute of Chicago-founded Ox-Bow School of Art & Artists' Residence.
Art is great and all, but even if you failed art class you'll have a chance for redemption at a local brewery like Saugatuck Brewing Company... where you can brew your own beer. The open-minded community is also extremely accommodating to all lifestyles, with more than 140 LGBTQ-owned and gay-friendly businesses making it one of the most queer-friendly small resort towns in America.
Distance by car: Two and a half hours
Best Historic Getaway: Galena, Illinois
As one of the best small towns in America, Galena has you covered if you're into strolling cobblestone streets amidst historic mansions and scenic rolling hills. With the entire Galena Historic District (home of more than 1,000 buildings constructed before 1900) listed on the National Register of Historic Places, you won't have to wander far to realize why Ulysses S. Grant chose to make his home here (which you can still visit, naturally). Take a trolley tour with the family, check out the historic DeSoto House Hotel (the oldest hotel in Illinois), kick back with a drink at a romantic local restaurant like Vinny Vanucchi's, or take down one of the best burgers in the state at the notorious Durty Gurt's.
 
If you're feeling more active, Galena also offers plenty of activities for the more adventurous including rafting trips along Mississippi River, an excursion to the fun nearby ski resort of Chestnut Mountain, and a number or cool bluff hikes overlooking the Mighty Mississippi. Stay off General Grant's beaten path at the LeFevre Inn, nestled on 100 acres of land just outside of town, where you can either chill in the outdoor hot tub or paddleboard on the private lake.
Distance by car: Three hours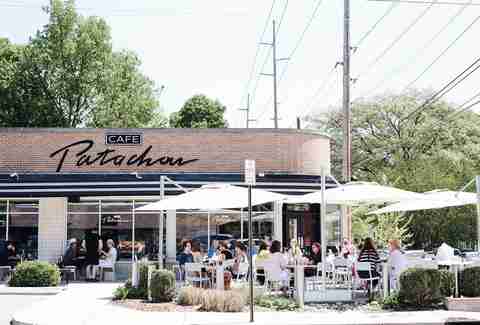 Best Food Getaway: Indianapolis, Indiana
Everyone in Chicago thinks they're too cool for Indianapolis. Until they actually go to Indianapolis. While Indy's compact and highly walkable downtown district makes it a popular site for conventions and large sporting events, Indiana's capital city largely eludes the radar of most vacationing Chicagoans. On one hand, this kind of makes sense, as who wants to leave the city to vacation in another city? On the other hand, those who abide by such a philosophy are seriously missing out. Get out of the downtown tourist district to explore some of the Circle City's lesser-known charms like the bowling alley/rooftop bar at the historic Fountain Square Theatre Building, the beer garden-equipped art museum/nature garden campus of Newfields, a cool local music venue like Hi-Fi, or an A+ dive bar like Dorman Street Saloon.
 
The city's perennially underrated food scene is also clearly on the rise thanks to a holy trio of local powerhouses including the hip Bluebeard (named after a novel by Indy native son Kurt Vonnegut), the universally adored "fine diner" Milktooth and the seductively cozy Tinker Street. Old-school purists will find much to like at downtown's iconic St. Elmo Steak House, while one of the best burgers in the state can be found off the beaten path at the cash-only Workingman's Friend. Grab an excellent bottle of spirits at the veteran-owned distillery Hotel Tango or step into a more healthy lunch at the sustainable food-focused Café Patachou. Luckily, those homesick for a massive Kuma's burger will also be pleased to discover the only non-Illinois location of the beloved local heavy metal burger outpost in Indy's hip Fountain Square district.   
Distance by car: Three hours
Best Beer Getaway: Grand Rapids, Michigan
Consistently making appearances on "Best Cities to Live" lists, Grand Rapids is "so hot right now." You already know about its status as one of America's best beer cities, but the hometown of Founders and Brewery Vivant offers so much more. Check out the historic homes of the Heritage Hill district, admire the cityscape along the banks of the Grand River, catch a summer concert at the Frederik Meijer Gardens Amphitheater or a comedy show at The B.O.B., or stop by Uncle Cheetah's Soup Shop to choose from a dozen made-from-scratch soups (preferably with a beer in hand).
While we have nothing against consuming plenty of beers, you also need to get out and explore the surrounding nature via the area's excellent bike trails, or take a canoe trip on the river. (And you can always fill up your water bottle with Founders.) Grand Rapids is also home to the best food scene in the state, which pairs particularly well with its booming craft brew scene.
Distance by car: Three hours
Best Romantic Getaway: Door County, Wisconsin
Known as the "Cape Cod of the Midwest," Door County is a picture-perfect assemblage of more than a dozen great little towns situated on a beautiful 75-mile peninsula surrounded by the shimmering waters of Lake Michigan and Green Bay. With 53 public beaches, five state parks, and 300 miles of shoreline, there's a lot to like (and do) here. From ferry trips, to a car-free island campsite (Rock Island State Park), to a secluded beachside getaway (Newport State Park), let's just say it's well worth the trip. Even if you have to drive through Green Bay to get here. There are few things better in life than sitting on patio furniture in the huge yard at Fred & Fuzzy's Waterfront Bar & Grill and watching the sun set over the water with a drink in your hand.
 
While you're in Door County, be sure to rent a pontoon boat, check out the goats on the roof of Al Johnson's Restaurant (where, naturally, they have a "goat cam"), grab ridiculously fresh seafood from The Shoreline Restaurant at the laid-back port town of Gills Rock (where you can also watch fireworks over the water on the Fourth of July), visit the spectacular Schoolhouse Beach on the old fishing village of Washington Island (only accessible by ferry), sit out under the stars with a bottle of wine at night, and just in general have the greatest vacation of your life.
Distance by car: Four and a half hours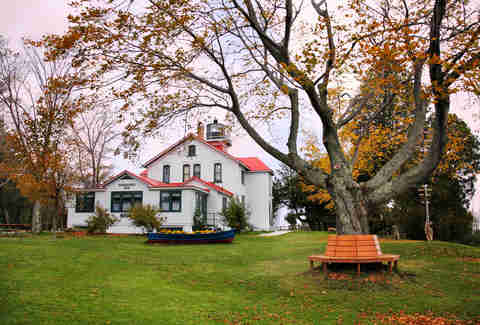 Best Beach Getaway: Traverse City, Michigan
There's no shortage of nice beaches near Chicago. Then again, there are no beaches quite like the absolutely stunning Sleeping Bear Dunes National Lakeshore. Yet one of the most gorgeous locations in the Midwest -- complete with 35 miles of scenic coastline, forests, dunes, bluffs and plenty of massive mounds of sand to roll around in -- is not alone when it comes to eye-popping beach hopping near the charming resort town of Traverse City, located at Michigan's northern tip. From the popular Clinch Park and Bryant Park beaches to the more remote Haserot and North Bar Lake beaches, stunning views of the Grand Traverse Bay await from a number of locations in town. You're also within a stones throw of the coastal M-22, one of the most scenic drives in America.
If you find yourself having Wrigley withdrawal, spread out a blanket in the friendly confines of the outfield berm at Pit Spitters Park (formerly Wuerfel Park), home of recently rebranded independent baseball club the Traverse City Pit Spitters. You'll also find Willy Wonka-approved chocolate vodka at Grand Traverse Distillery as well as one of the finest chef-focused restaurants in the Midwest at The Cooks' House. In the words of Poison, Traverse City ain't nothin' but a good time.
Distance by car: Five hours
Best Underrated Getaway: Shawnee Hills Wine Trail, Illinois
No one is going to mistake Illinois for Napa, but the Land of Lincoln has one ace up its sleeve: Shawnee National Forest, a brilliant expanse of approximately 280,000 acres that covers a large portion of the southern tip of Illinois. In other words, it's the perfect spot for the Shawnee Hills Wine Trail: a 35-mile scenic drive meandering through the forest featuring 11 award-winning wineries dotted throughout scenic countryside towns like Cobden, Alto Pass, and Pomona. Check out live bands at peaceful wineries like Rustle Hill, where you can also check into a cabin if (and when) you over-imbibe.
 
Another great reason to visit the area is to experience the fun college town of Carbondale, home of Southern Illinois University and one of the most perennial underrated locations in the state. Take in the laid-back vibes at a local watering hole like The Cellar, PK's, and Hangar 9 before you venture into the surrounding nature, thanks to an astounding 14 parks in the vicinity. Once you've had your fill of the great outdoors, nearby Murphysboro is a must visit for one reason and one reason alone: 17th Street BBQ, the finest BBQ joint in the state.
Distance by car: Six hours
Best Family Getaway: Mackinac Island, Michigan
Sometimes you really want to get away from it all. And Mackinac Island is about as far away from "it" as you can get. Sandwiched between the northern tip of Michigan and the Upper Peninsula, the only way to get around on the car-free island is by bike or horse-drawn carriage. With rugged, unspoiled beaches and towering white mansions, it's an ideal family-focused destination if you don't mind a long time in the car a la The Griswolds. But if you don't feel like driving (and you happen to own a boat), you can race your sailboat the entire length of the 300-nautical-mile trip during the Chicago Yacht Club's annual Race to Mackinac.
 
While you're on the island, do as the islanders do by gawking at the beautiful Victorian-era homes and mansions, eating a ridiculous amount of fudge in the "fudge capital of America," checking out the landmark 1887-opened Grand Hotel, firing a canon (yes, a canon) at the historic Fort Mackinac, and getting weird at iconic local tavern Pink Pony.
Distance by car: Six and a half hours (plus 30-minute ferry)
Sign up here for our daily Chicago email and be the first to get all the food/drink/fun in town.