Perfect Spring Road Trips for When You Need to Escape Chicago
There are plenty of day trips near the Windy City when you need a quick reset.
Now Springtime is upon us, it's time to thaw out and embark on a mini road trip just a stone's throw away from the Windy City. Whether you're up for glamping under the stars, setting out on a restorative hike amidst budding and blooming flora, or wanting to be horizontal on an airbnb couch for a few days, there's lots of opportunities to take a break and recharge this spring. So ditch the winter coat, and head out to these destinations perfect for a quick getaway.
Distance from Chicago: 95 miles, 2 hour drive
South Bend sits just 95 miles from Chicago, which makes it a perfect day trip destination if you don't want to commit to a whole weekend away. One of the must-see attractions in the area is the breathtaking Basilica of the Sacred Heart, which was completed in 1888 and boasts the world's biggest collection of 19th-century French stained glass in the world. Meander along the St. Joseph River on the East Bank Trail, indulge in some sweets at South Bend Chocolate Company, or admire some vintage automobiles at the Studebaker Museum. You can also take a walking tour of the downtown area which is filled with historic homes, and for a truly unique overnight experience, book a room at the historic landmark Oliver Inn, a charming bed and breakfast. If you're craving nature, nearby Potato Creek State Park offers plenty of hiking trails that take you along woodlands, prairies and wetlands.
Stay: Find a great Airbnb near South Bend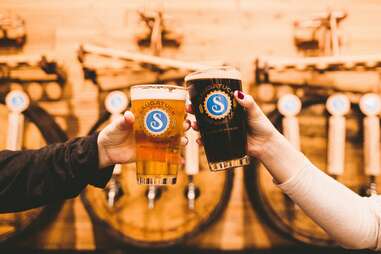 Distance from Chicago: 180 miles, 3 hour drive
Grand Rapids, once known as "furniture city" for its fine wood furniture manufacturing, is now known as "Beer City", because, well, all the beer. Throughout the metropolis you'll find countless breweries like Founders Brewing, Grand Rapids Brewing, Company, Brewery Vivant, and Saugatuck Brewing Co., and more. There's also no dearth of restaurants either, like Terra GR, a downtown farm to table favorite, and Forty Acres Soul Kitchen, an elevated soul food and cognac bar. Hike and bike through Millenium Park, marvel at butterflies at Fred & Dorothy Fichter Butterflies Are Blooming exhibition at Meijer Gardens through April 30th, or catch a live show with The Grand Rapids Symphony. Nothing here sounding appealing? Check out this ultimate weekend cheat sheet.
Stay: Find a great Airbnb near Grand Rapids
Distance from Chicago: 133 miles, 2.5-hour drive
Ever wanted to say, "Screw it all," get rid of all your earthly belongings, and hole up in a hygge-ified tiny house in the middle of nowhere? Live out all your reclusive fantasies without actually tossing your stuff by booking a weekend in Grand Junction, a pastoral sliver of western Michigan about 15 minutes outside the lakefront hamlet of South Haven. That's where you'll find Getaway Barber Creek, a 79-acre dog-friendly glamp-ground outfitted with a handful of secluded cabins complete with parking spots, picnic tables, Adirondack chairs, and fire pits for all your marshmallow-melting needs. Each matte black hideaway is as practically appointed as it is aesthetically pleasing, stocked with a plush, super comfy bed, gorgeous floor-to-ceiling window, compact table, kitchenette with running water, and full bathroom with, yes, a real-deal shower.
Outside the confines of your oasis lies plenty of outdoorsy and less-outdoorsy activities, from hiking the converted railroad Kal-Haven Trail or sand-strewn Van Buren Park Dunes Trail to checking out the historic South Haven South Pierhead Light or stuffing yourself silly at area farm-to-table eateries and top notch breweries. Whatever you choose, embrace your new lifestyle—however temporary—by stashing your phone in the lockbox provided, cozying up with a good bottle of whiskey (preferably something camp-ready like Stillhouse), and reveling in the simplicity of it all.
Stay: Find a great Airbnb near Illinois Beach State Park
Distance from Chicago: 147 miles northwest, 2.5 hour drive
Madison, Wisconsin is special because it has all the city perks, like quality restaurants and historic venues, while also being surrounded by a plethora of nature-filled spring activities. Hike until your heart's content, and then order a cocktail or beer from any of the local bars (Robin Room, The Malt House, Working Draft Beer Company, Cask & Ale). There are plenty of drivable country activities, but the University of Wisconsin Arboretum is nestled closely within the city proper and has a variety of diverse paved and dirt trails. You don't have to be an architecture nerd to appreciate Frank Lloyd Wright's famous estate, Taliesin, and on your way back, you can visit Blue Mounds State Park, to enjoy some stellar views from the tallest point of this region of Wisconsin.
Stay: Find a great Airbnb in Madison, Wisconsin
Distance from Chicago: 164 miles northwest, 3-hour drive
As one of the best small towns in America, Galena has you covered if you're into strolling cobblestone streets amidst historic mansions and scenic rolling hills. With the entire Galena Historic District (home of more than 1,000 buildings constructed before 1900) listed on the National Register of Historic Places, you won't have to wander far to realize why Ulysses S. Grant chose to make his home here. If you're feeling more outdoorsy, Galena is a great place to enjoy winter outdoor activities boasting a number of cool bluff hikes overlooking the Mighty Mississippi. Another hiking option includes the historic Stagecoach Trail outside town and nearby Apple River Canyon State Park. Stay off General Grant's beaten path at the snug LeFevre Inn which is nestled on 100 acres of land just outside of town.
Stay: Find a great Airbnb near Galena
Distance from Chicago: 150 miles north, 2.5-hour drive
This charming little hideaway about 30 minutes west of Sheboygan is often overlooked but shouldn't be. The laid-back, pretense-free 292-acre lake boasts some of the clearest waters in Wisconsin, in addition to some A-plus fishing. The AAA Four Diamond Osthoff Resort is a popular choice, but the area also offers a wealth of nature to get lost in thanks to its location near the gorgeous 30,000-acre Kettle Moraine State Forest. Hike sections of Wisconsin's 1,200-mile Ice Age National Scenic Trail, explore the area's rolling hills via bike on the 17-mile Old Plank Road Trail, and be sure to spend some on your keister enjoying the view from the Osthoff's private beach or the public Fireman's Park. Fall classics include brew tastings, hiking, biking, and no one ever hated on a crisp drive through Kettle Moraine.
Stay: Find a great Airbnb near Elkhart Lake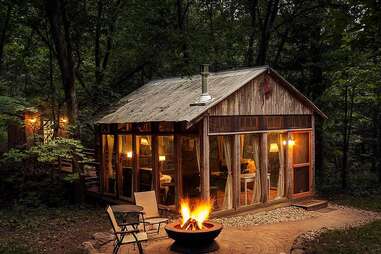 Distance from Chicago: 208 miles northwest, 3.5-hour drive
With seven spectacular cabins including the stunning glass-walled Meadow House, Candlewood Cabins in rural Richland County located about an hour west of Madison is a nature escape tailored for your fall getaway. Each private cabin looks out into the rolling hills and scenic fields that surround the grounds, with some walking trails like The Ridge Road starting right at the foot of your cabin. Spot wildlife including birds and deer, or explore the 15-mile Pine River Recreation Trail by bike over an abandoned railroad line dotted with bridges. The area also boasts five state parks within an hour's drive, including the 100-mile Lower Wisconsin River Scenic Byway.
Stay: Find a great Airbnb in Richland County
Distance from Chicago: 300 miles, 5 hour drive
Louisville might be known for, you know, Kentucky fried chicken, and the Kentucky Derby, but there are actually so many more reasons to put this town on your bucket list. Warm up by walk through the bourbon district and sip your way around the many distilleries, from family-run favorite Peerless to well-known giant Evan Williams, or opt for the lighter stuff and get your fill of the bottomless breweries around town, like Chimera Brewing Company, Falls City Beer, Akasha Brewing Company, and more. Besides drinking, you can meander through Louisville's vibrant historic Frankfort Avenue, a 2.5-mile stretch of boutiques, galleries, restaurants, and bars, get cultured and visit one of their outstanding museums like Roots 101 African American Museum, Louisville Slugger Museum & Factory, or seek some winter serenity at nearby parks The Parkland of Floyd Fork and Cherokee Park.
Stay: Find a great Airbnb near Louisville
Distance from Chicago: 311 miles northwest, 5.5-hour drive
If you're looking for the great Wisconsin Northwoods experience, it's time to point your GPS towards under-the-radar Vilas County. The charming tourist communities of Eagle River and Minocqua are essential area attractions, but for a better and more off-the-beaten path experience, check out the unrelentingly awesome Coadys' Point of View Resort in the town of Phelps near Wisconsin's border with Michigan's Upper Peninsula. Tucked away on the peaceful shores of North Twin Lake within the massive 661,000-acre Nicolet National Forest, the resort offers everything from cozy cabins to luxury glampsites.
Stay: Find a great Airbnb in Vilas County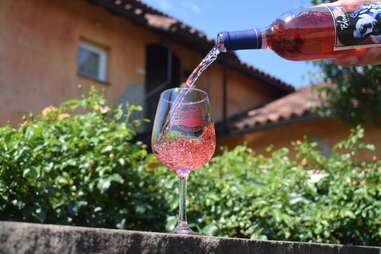 Distance from Chicago: 351 miles southwest, 5.5-hour drive
No one is going to mistake Illinois for a natural wonderland, but the Land of Lincoln has one ace up its sleeve: Shawnee National Forest, a brilliant expanse of approximately 280,000 acres that covers a large portion of the southern tip of Illinois. In other words, it's the perfect spot to take a much-deserved break from the endless crush of bad news for a few days. Bask in the solitude of the national forest's epic Garden of the Gods Wilderness (one of seven wilderness areas in the park) before making a peaceful meander through the Shawnee Hills Wine Trail: a 35-mile scenic drive featuring 11 award-winning wineries dotted throughout rural countryside towns like Cobden, Alto Pass, and Pomona.
Stay: Find a great Airbnb near Shawnee National Forest
Elanor Bock is a Chicago born, New York-based professional dancer, writer, and renaissance woman, excelling at philosophy, mathematics, outdoor adventuring, and balancing six martinis on a tray in a crowded bar.
Jay Gentile writes about food & drink, travel, events, entertainment, and culture for Thrillist.