Plenty of you live in Chicago neighborhoods, plenty of which (arguably) suck. But what about the suburbs? Do some of THEM suck, too? What a fascinating question! Let's investigate. Is your suburb missing? Feel free to defend (or roast!) it in the comments.
Evanston
Shouldn't a town with a Big 10 university situated on a gorgeous piece of lakefront directly North of one of America's greatest cities be... better? You should be better, Evanston. Is it the Northwestern kids? It might be the Northwestern kids. Also, we know you have craft breweries now, but you still haven't been forgiven for helping get Prohibition started.

Park Ridge
A delicate blend of old money and new, Park Ridge is most easily recognized by its lingering smell of freshly injected Botox and the onyx black leather specific only to brand-new Acuras. That said, the Maine South football team is historically prolific, with regard to both wins and drug busts.

Niles
This is where you live if your parents grew up in the city and proudly moved just beyond city lines to raise their children and give them a better life. To your parents' utter disappointment that they're terrible at hiding, there's been an ever-increasing creep of "ethnic" restaurants and We Buy Gold joints.

Skokie
See Niles.

Winnetka
If your dream in life is to open a Land Rover dealership that also sells lacrosse equipment, make sure it's near Winnetka. But not IN Winnetka. You can't afford it.

Wilmette
They also couldn't afford Winnetka. Still plenty pretentious though!

Kenilworth
They were actually scared to live in Winnetka. Probably. Or maybe they're Bond villains? Has anyone ever actually met anyone who lives in Kenilworth?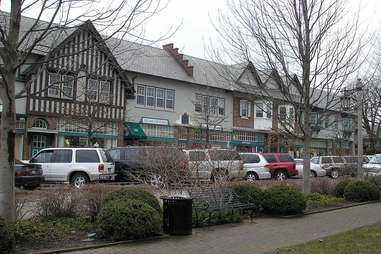 Lake Forest
Would be thoroughly worthy of scorn even if it WASN'T ground zero for the Bears' enduring ineptitude. But (sigh) it is.

Libertyville
If you're more apt to head to Milwaukee for a Cubs game because it's so much of an easier trip... your suburb status is teetering on the edge. That goes for you too, Grayslake. And you, Mundelein.

Northfield
Thanks, Chief Keef, for putting this indistinguishable, hybrid suburb of Northbrook and Deerfield on the map. Surely your waspy neighbors Geoff and Cary will miss you and your landscape-ruining ATVs as much as they'll miss Obama.

Glenview
The rest of the North Shore is LAUGHING at you, sweet, adorable little Glenview.
Highland Park
Every summer, people flock to Ravinia to see-and-be-seen with their finest artisanal cheeses and Williams Sonoma wine gadgetry while they listen to James Taylor or Hootie or... whoever, really. This feels like a good metaphor for Highland Park.

Buffalo Grove
Your dad works there. What? He doesn't? Double check. Just transferred there? TOLD you so.

Lake Zurich
Did you know Lake Zurich is ALSO the name of a lake in Switzerland? You should go there, as it is SUPER far from Lake Zurich, Illinois.

Schaumburg
It's like a hotel lobby during an insurance convention manifested itself as an entire town.

Hoffman Estates
One of those places that sounds fake the first time you hear it, and then you're surprised to find out it actually exists.

Barrington
This is the kind of place where a girl can't decide if she wants a Jeep or a horse for her 16th birthday. Spoiler alert! She got both.

Palatine
Barrington just called the police on you for looking suspicious.

Elmhurst
Yawn.

Glen Ellyn
Remember in Swingers, when Jon Favreau is awkwardly trying to order Scotch in Vegas and just blurts out "any of the Glens". Replace the cocktail waitress with a realtor and that's how you end up in Glen Ellyn.
Oak Park
Looking to start a family, but have a part of you that still desperately wants to cling to some semblance of city life? Oak Park has a single family home waiting for you at the low price of... wait, it just went up another 50K.

Berwyn
Remember in Mean Girls, when Gretchen kept trying to make "fetch" happen, only it wasn't ever going to happen? Shut up, you know you do. Well, Berwyn is the "fetch" of suburbs.

Brookfield
The zoo? Nice. The rest? Questionable.

Cicero
Al Capone making Cicero the center of his criminal empire notoriously put the town on the map, but surely things got better from there. (Checks.) Nope.

Hinsdale
It's like a piece of the North Shore accidentally got lost and wandered down to the West suburbs, but acquired zero humility in the process.
La Grange
The author of this post attended high school in La Grange, ergo that town must produce cynical asshats who use words like "ergo" when a simple "so" would have done just fine.

Downers Grove
Founded by a community of opiate addicts looking to start a new life away from the big city... okay fine, that's not true, but if you live here you will surely consider drug use just to liven things up.

Darien
In the Crayola box that is the suburbs, Darien is beige.

Westmont
A friend once described Westmont as "the city that refuses to die". He was not praising Westmont's perseverance.
Naperville
Your friends who used to be fun moved out there. "We don't even have much reason to come to the city anymore", they say. "There's actually a really great restaurant scene here". There isn't. They're bored. They're all cheating on their spouses.

Wheaton
Home to the least-fun college in America and a bunch of other people who... aren't really that much better.

St. Charles
There's no suburb with a wider gap between how it views itself versus how everyone else sees it than St. Charles. It's that casual acquaintance at a party with whom you are constantly trying to end your conversation, but who refuses to notice. Or, as an alternative slogan, Jenny McCarthy's runner-up choice as a marriage destination.

DeKalb
Are you 100% sure you aren't in Iowa? Prove that you aren't Iowa...
Aurora
Hey, Wayne's World was set in Aurora! They decided not to film it in Aurora. This is pretty much everything you need to know about Aurora.

Orland Park
Land of chunky highlights, jeans with intentional fading, and the men who find them irresistible.

Tinley Park
Like Orland Park, but with more Dave Matthews concerts!

Lockport
You could argue that this is a suburb of Joliet, which is SO much sadder.

Mokena
There's something there. Probably.

Homewood-Flossmoor
Your high school needs to pick a lane, and your residents need to heed the emphatic dental hygiene advice contained within the name of the second town.

Chicago Heights
You, or someone you know, is in a biker gang.

Country Club Hills
Despite the name, it isn't all that nice, with a shocking lack of both hills AND country clubs.
Alsip
Looking to acquire a velvet portrait of Black Jesus, MLK, and Tupac all sitting together? The Swap-O-Rama in Alsip is where those dreams come true. Seriously. That product exists. There are witnesses.

Munster
The one NW Indiana town Chicago has to pretend it likes, because, 3 Floyds.

Valparaiso
Nope. Not a suburb. You're embarrassing yourself, Valpo.
Sign up here for our daily Chicago email and be the first to get all the food/drink/fun in town.
Matt Lynch is a senior editor at Thrillist who actually has much love in his heart for all of Chicago's suburbs. Except maybe Hinsdale (go LTHS Lions!). Tell him he's wrong about your hometown @MLynchChi. Special thanks to @jill_frank and @stasiakatie for their extra suburban insights.