Normally you make great life choices: you spring for extra bacon, you know your "L" stop's quickest exit, and you pick the exact bar where the tamale guy shows up. But occasionally you're not at your finest, and you make one of these 27 worst possible Chicago decisions ever:

1. Falling asleep while riding the "L"
Next stop: someone yelling you awake.

2. Asking for a "chocolate shake" at The Wieners Circle
It's not what you think it is, unless you're thinking of char dog-quality boobs.

3. Coming into contact with Chicago River water
It doesn't matter how convincing your buddies are post-Lollapalooza.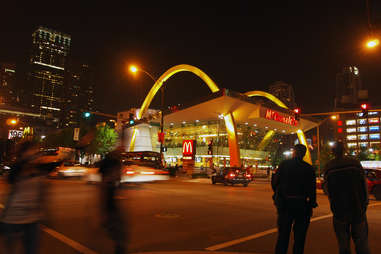 4. Hitting Rock N Roll McDonald's after last call
Nightclub crowds don't do well with florescent lighting, orderly lines, and places where you're not to supposed to shout at each other like gibbons.

5. Moving into a building without a laundry room
Plan to stretch that "clean" underwear up until Spring.

6. Winding up in a 4am bar
7. Comcast
8. Leaving your expensive Chicago Fire Festival floats out in the rain before you plan to burn them
Arson can't possibly be that difficult.

9. Divvying onto an expressway
This is stillhappening. Don't be that guy (or girl).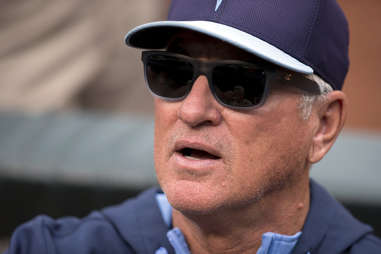 10. Neglecting your long-term memory as a Cubs fan
2014: Joe Maddon's gonna change eeeeeeeeeverything! 2006: Lou Piniella's gonna change eeeeeeeeeverything! 2003: Dusty Baker's gonna change eeeeeeeeeverything!

11. Renting a garden unit apartment
You've ignored the red flags and what you saved in rent you'll make up for with flood damage, permanent shade, and the cavalcade of unwelcome sidewalk noises.

12. Parking Downtown
Aka paying the ransom our city owes to a company in Abu Dhabi.

13. Starting a tab in a Wrigleyville bar
You will forget your card. If only you could forget what went on inside that country bar.

14. Accidentally getting on the Purple Line Express
"I swear that train's sign was brown just a second ago!"

15. Arguing that NYC is superior to Chicago in any way
It's an island of rats eating stale pretzels led by new ambassador Taylor Swift.
16. Thinking the polar vortex was dead and buried
It's the Michael Myers of weather patterns.

17. Getting that late-night slice of Bacci Pizza
Have some self respect.

18. Thinking City Hall was really going to refund tampered red light tickets
Hahahahahaha.

19. Counting on any form of transportation on New Year's Eve
Your DD will go incommunicado, public transit will be covered in puke/people about to puke, and car share rates will be in the triple digits. When you do flag down a cab, someone will be there steal it.

20. Dating someone in the suburbs
This isn't going to work out.

21. Failing to notice that sign for rush hour parking
"I wonder why there are so many spots available?!"

22. Entering Lakeview during TBOX/Pride/Cubs games
Do not follow that trail of cereal/beads/Anthony Rizzo bobbleheads.
23. Meeting at the Michael Jordan statue
Everyone tries this, now you're stuck in a sea of people and you missed introductions. And that's the best part!

24. Letting your Uber driver stray from GPS
You're going into the nearest congested six-way intersection.

25. Forgetting gloves
Mom raised you better.

26. Accidentally getting on the Skyway
Time for an impromptu visit to Indiana.

27. Never exploring the city
If you were going to stay within a three-mile radius of your apartment, you should have stayed on your Big-Ten campus.
Sign up here for our daily Chicago email and be the first to get all the food/drink/fun in town.
Sean Cooley is Thrillist's Chicago Editor and if you break up in his mailroom he might live Tweet it. Follow him @SeanCooley.