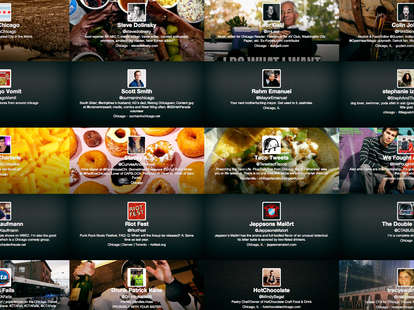 Twitter
Twitter
Because Twitter can be used for things other than selfies and accidental crotch shots, we hit up local social media editors at the Chicago Tribune, RedEye, Sun-Times, and Chicago Reader to compile a master list of 50 Chicago Twitter feeds actually worth following. They run the gamut -- from CTA mockers, to ones that'll help you find awesome tacos, to hilarious parody accounts about not-sober Patrick Kane. Here they are, in no particular order...
1. @Drunk_Kane88
"Parody account for the bro-iest athlete this city has ever seen. Bless you, Patrick Kane." - Jessica Galliart, RedEye
2. @MindySegal
"Mindy Segal is Pastry Chef and Owner of Hot Chocolate. If you're hungry and looking to satisfy your sweet tooth, she's a sweet account to follow." - Scott Kleinberg, Chicago Tribune
3. @CTABUS22
"The foulest mouthed bus in the entire CTA system." - Gwynedd Stuart, Chicago Reader
4. @ourmaninchicago
"A South Sider who always has something interesting to say." - Brandon Wall, Sun-Times
5. @MarkLazerus
"He's got a solid track record live-tweeting the Blackhawks for the Sun-Times." - Emily Miller, Sun-Times
6. @RexHuppke
"The Tribune's class clown, but in a good way. Hilarious, down-to-earth, and a great all-around follow if you want to laugh." - Scott
7. @RiotFest
"Whether or not you're an attendee of the actual Riot Fest in September, this Twitter account is worth a follow for its zero-effs-given responses to randoms tweets of dumb questions or demands." - Jessica
8. @iamenidcoleslaw
"Professional funny person, she got me with 'Birds do it, bees do it, even educated fleas do it. Let's do it. Let's live in a homeless man's beard.'" - Brandon
9. @joeschmitt
"Here's Joe Schmitt's bio: 'The second T is silent'. He's somehow never had a Pulaski Day off." - Scott
10. @Swasko
"Mick is a reporter at RedEye, but he's really found his stride in live documentation of things like Lollapalooza -- he was on 'bro tracker' duty and even went undercover by going shirtless and writing his Twitter handle as a tramp stamp." - Jessica

11. @JeppsonsMalort
"Their booze is bitter, but their social media person is sweet (like the sexy pic of Lemmy from Motorhead they tweeted to @KumasToo for their birthday)." - Gwynedd
12. @cta
"I tweeted a joke about them improving cell service in the subways (something to the effect of, yay, more people on phones), and their social media person responded so immediately. And so earnestly." - Gwynedd
13. @CTAFails
"The CTA Twitter feed is very good about tweeting delays/etc. Of course, if you're going to mention @cta, you can't not mention @CTAFails." - Emily
14. @sbn_ricky
"My go-to sports guy." - Brandon
15. @StephAndTheGoat
"Stephanie Izard is the girl behind Girl and the Goat. Not only is she an amazing cook, she's hilarious." - Scott
16. @TracySwartz
"Tracy is RedEye's CTA columnist and the creator of RedEye's homicide map. She's a go-to person to follow for the latest happenings and the queen of puns." - Scott
17. @cabbie_chicago
"An enraged cab driver on a mission... and pictures, too!" - Gwynedd
18. @justinkaufmann
"WBEZ producer and part of Schadenfreude, a Chicago comedy group. His humor comes through in his tweets." - Scott
19. @peternickeas
"Pete is the Tribune's overnight crime reporter. He's definitely a must if you're interested in crime/violence/gang stuff. " - Brandon
20. @tehawesome
"The perfect source for commentary on technology and burritos." - Scott
21. @Rick_Bayless
"Rick Bayless makes queso fundido like no other. Somehow, he finds time to travel, and his food photos are nothing short of mouthwatering." - Scott
22. @TweetsofTacos
"A Twitter account dedicated to sharing one's wealth of knowledge about where to get the best tacos in Chicago. Good human beings who like tacos will follow." - Jessica
23. @baomouth
"The little red guy is the voice of Wow Bao, but he's more than just hot buns. He's up on current events and pop culture. Not following @baomouth makes you 1/9837274th less Chicagoan." - Scott
24. @whet
"Whet is writing super-fascinating pieces all the time for Chicago Magazine; his tweets are just as good." - Brandon
25. @ChicagoVomit
"Most active during St. Patrick's Day and Halloween or whatever, @ChicagoVomit accepts submissions for tracking puke piles throughout the city." - Jessica
26. @FlintSkinny
"Colin Joliat is the alcohol and food editor at @Guyism. I've followed him for ages, at first because I really wanted to be associated with someone who is an alcohol editor." - Scott
27. @MayorEmanuel
"The fictional 'Mayor Emanuel' is presumed dead, after the conclusion to this narrative Twitter account more than three years ago. But a tweet in binary code will (very) occasionally go out and be immediately deleted, so I keep my mobile alerts on for it, just in case." - Jessica
28. @robertloerzel
"I swear, this guy doesn't sleep. He's constantly retweeting other folks, so he's a great person to follow to get a feel for what Chicago is talking about." - Brandon
29. @ChicagoFoodAuthority
"If you can get through the filtered selfies and borderline bragging posts about the free stuff she gets, her Chicago food pics are as food-porny as they come." - Jessica
30. @phillipfoss
"Great food and wine photos -- someone who is passionate about food in Chicago." - Scott

31. @StatsChicago
"The owner of the account is basically anon, and he does a great job of making up some really clever and funny stats about our fair city." - Jessica
32. @steveGOgreen
"All about the food and personality. He's the guy behind #foodiechats, and everyone on Twitter has seen that hashtag." - Scott
33. @imLeor
"Come for the Chicago hip-hop knowledge, stay for the seapunk counts during festival season." - Gwynedd
34. @HeartyBoys
"Steve McDonagh and Dan Smith will feel like friends from the moment you follow them. And they just recently closed their popular restaurant Hearty and reconcepted it as Spritz Burger." - Scott
35. @CurvesandNerves
"She's a Chicago bartender with really good taste who is not afraid to dole out the sass when appropriate." - Jessica
36. @justyn
"Justyn Howard is the CEO of Sprout Social. A recent tweet about Ikea had me laughing. Anyone who can appreciate a good Ikea joke is okay in my book." - Scott
37. @Britticisms
"Britt Julious is one of Chicago's most underrated and unrecognized voices -- she muses on feminist topics (as well as femininity), issues in the black community, Chicago and the general BS that comes with being a twentysomething." - Jessica
38. @stevedolinsky
"Steve Dolinsky is ABC 7's Hungry Hound. He's a food guy who always tells it like it is." - Scott
39. @JeremyScheuch
"He may or may not be the person responsible for several of the accounts on my list." - Jessica
40. @SennettReport
"Works for Crain's Chicago, always tweeting interesting things." - Emily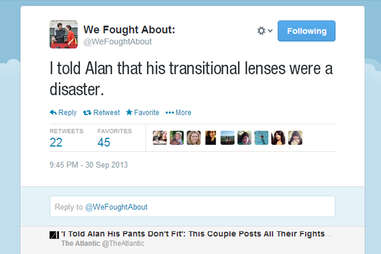 41. @WeFoughtAbout
"I was skeptical about this account's authenticity from two iO comedians for a while, but it looks like the real deal now that they're engaged. The couple tweets what they fought about that day, relatable to absolutely everyone." - Jessica
42. @chefartsmith
"Art Smith is not only a great chef, he's a funny and outgoing guy. And he's a natural on social media, always responding to people." - Scott
43. @ErnestWilkins
"My work spouse at RedEye. If you're not following Ernest on Twitter already, please just give up." - Jessica
44. @CSTearlyoften
"This new Sun-Times account is good for straight-forward updates on local and state politics." - Gwynedd
45. @thekatylynch
"Katy Lynch is President and Founder of @SocialKaty, so she's all about social media. But she knows all about great music and cocktails and she's funny. Great combo when it comes to clicking follow on Twitter." - Scott
46-50. Be sure to follow our esteemed social media panel: @scottkleinberg, @JessicaGalliart, @emmillerwrites, @Walldo & @gwynnstu
Follow the full list here. Have a Twitter handle you think should've made the cut? Share it in the comments or with us on Twitter @ThrillistChi.
Sean Cooley is Thrillist's Chicago Editor, and doesn't believe Bear Grylls' tip that Ranch dressing can dislodge a stuck bowling ball from your fingers. Follow him @SeanCooley.