What do you really know about Cleveland? If you're not from here you probably know that LeBron plays here (again!), or maybe that it's an underrated food town, and… that's about it. But if you're lucky enough to be from the "Mistake on the Lake," you'd better know A) that we're pretty tired of all that Mistake on the Lake crap already, and B) all of the other 19 things on our list of things you don't understand about Cleveland unless you're from here. Or else...
1. We really are that excited about LeBron coming back
We idolized him at first, burned his jersey when he left, and a few years later, welcomed him home with open arms. Sure, our relationship is complicated, but we're truly happy that LeBron came back. Especially if his return means Cleveland will soon be celebrating a championship.
 
2. Calling us the Mistake on the Lake isn't funny anymore...
Sure, our river caught on fire. Our sports teams have struggled. But in recent years Cleveland has been going through an impressive renaissance. As home to national events such as the 2014 Gay Games and 2016 Republican National Convention, our city is a fine example of true revitalization.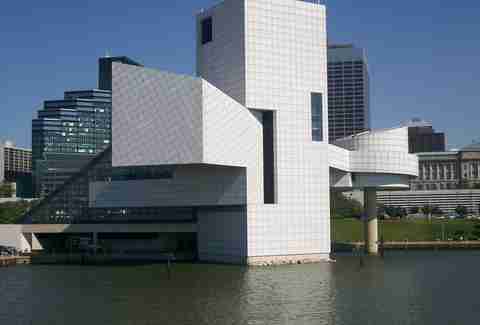 3. … But shouting out "Cleveland Rocks!" gets us every time
Yeah, it really does.
 
4. On that note, visitors can't make fun of Cleveland. Only we can.
Cleveland jokes… there are just so many! But those who aren't from Cleveland can't make fun of Cleveland. That job's for us. And then it's really funny.
 
5. No, Drew Carey doesn't live next door
But we're proud of our hometown funny man, and it would be totally cool if he did.
 
6. Our restaurant scene is truly fantastic
In recent years, well-known chefs such as Michael Symon and Jonathon Sawyer have been putting Cleveland on the national food map. However, these celeb chefs are only the tip of the iceberg when it comes to the wealth of superb local chefs that'll totally knock diners' socks off.
 
7. We will never give up on the Browns. Ever.
Sure, we complain about our football team's lousy performance year after miserable year. But Cleveland Browns fans are diehard fans for life. Plus, our epic pregame tailgates definitely help to soothe those inevitable postgame blues.
8. We don't hang out at Cedar Point every weekend
Of course, there's absolutely no shame in indulging in a nostalgic love for funnel cakes and Ferris wheels, but for the sake of variety, we don't visit our local amusement park on a weekly basis. We promise: there are other, equally entertaining places to go around here.
 
9. There's so much more to Cleveland than Downtown
Don't get us wrong, Downtown is great. But what about places like Tremont, Ohio City, or Gordon Square? These little neighborhoods are just a short drive away and offer some of the best local shopping, dining, and entertainment the city has to offer.
 
10. We love to complain about traffic, even though there isn't any
Sure, compared to most big cities, navigating Cleveland traffic is a total breeze. But sitting in any traffic still pisses us off, and we want to whine about it.
 
11. We're East Siders or West Siders... there is no in between
Cleveland's East Side and West Side residents claim to be a world apart -- in distance and in culture. And we're really proud of those differences. Crossing sides is commonly treated as a huge ordeal, even though our destination is usually less than 45 minutes away. If only it weren't for all that damn Cleveland traffic...
12. We really don't mind the winter
Actually, who are we kidding? We totally mind the winter.
 
13. Our rent really is that cheap
In Cleveland, we pay for rent what our big-city friends pay for parking. It's awesome!
 
14. We might say we're from Cleveland, but most of us aren't
Suburban neighborhoods are plentiful in the Cleveland area, and that's where most of us grew up. But when asked where we're from, we'll more than likely say "Cleveland." It makes us sound more authentic, right?
 
15. We're really not that picky about our beer
From Great Lakes to The Brew Kettle, in recent years, Cleveland's craft beer scene has absolutely exploded, making us one of the best beer cities in the nation. However, we're not too proud to guzzle a few cans of Bud Light every now and then. In fact, sometimes we kind of prefer it.
 
16. Sorry, we don't know where Progressive Field is
Looking for The Jake? The Cleveland Indians' baseball stadium opened as Jacobs Field in 1994. The name has long since changed, but most fans refuse to give up the stadium's original, much-loved nickname.
17. We're not sure what the "FREE" Stamp means either
Cleveland is home to the world's largest rubber stamp, which sits downtown in Willard Park. We don't get why it's there either, but it's cool if visitors want to take their picture with it. At some point, we probably did too.
 
18. Ballpark mustard is the only mustard
This Northeast Ohio original is brown, mildly spicy, and absolutely delicious. Run-of-the-mill yellow mustard simply cannot compare.
 
19. We really do love living here
Most of us live close to family and keep the same group of close friends for life. Cleveland has a lot of big-city amenities, yet the cost of living can't be beat. Who wouldn't want to live here?
Sign up here for our daily Cleveland email and be the first to get all the food/drink/fun in town.
Beth Phillips is a Cleveland-area writer who adores good food and large glasses of wine. You can find her on Twitter @CraveableCLE.