The Indians Fan's Guide to Hating the Chicago Cubs
In case you've been living under second base, the Chicago Cubs and Cleveland Indians are playing in the World Series, beginning Tuesday night. The implications are massive: The Cubs haven't appeared in the World Series since 1945, let alone won since 1908, and the Indians haven't won since 1948. Both of my parents are retired, and they haven't seen these hapless franchises win anything in their entire lives.
Cleveland's seemingly on the come up after the Cavs broke the city's championship drought earlier this year. But that still doesn't entirely wash away The Catch, Red Right 88, The Drive, The Shot, the 1997 José Mesa Meltdown (I cried into my pillow on Oct 26th, 1997), or the fact that the Browns are the Browns. And just because sports are always more fun when you can hate on the opposing team, let's take a look at a few reasons to bash the Cubs, beyond the common knowledge that Cubs fans are objectively the worst.
The Cubs don't have to care about money
Because North Siders will show up and slug beers regardless of literally anything that's happening on the diamond, the Cubs have oodles of cash they typically squander. Most years, the Indians have one of the smallest payrolls in all of baseball (allegedly $96,304,400 in 2016), and the Cubs have one of the largest (allegedly $171,611,834 in 2016). Essentially, the two teams play a different game: The Indians have to pinch pennies and find undervalued assets, while the Cubs can just set $100 bills on fire and throw $155 million contracts at the top players in free agency and still lose. If it doesn't work out for the Indians, their team is sunk; if it doesn't work out for the Cubs, they can probably just trade their problems to the Dodgers.
"Lovable losers" should not be embraced
This team's entire identity is tied up in the idea that fans don't give a shit whether the home team wins or loses -- blasphemy against the time-honored "Take Me Out to the Ballgame." They'll show up at the Friendly Confines if Slammin' Sammy is hitting steroid-fueled homers onto Waveland in first place, or if Andre Dawson wins NL MVP for a last-place team.
Meanwhile, when the Indians finally got good 20 years ago, they sold out 455 games in a row from June 12th, 1995, until April 4th, 2001. Things have tailed off since, but everyone who lived in Northeast Ohio in the '90s will tell you how magical a time it was.
Chicago dogs are dumb
Just shut up about them already. I do enjoy them. But honestly, anybody who nitpicks the condiments another person puts on cased meat of unknown provenance deserves the miserable winters they suffer through. I will take Bertman Ball Park Mustard over nuclear-radiation relish or sport peppers every day of the week, and for a doubleheader on Sunday. We're talking about hot dogs, not foie gras.
Curses don't beat abject awfulness
While the tales of the Billy Goat and Bartman are well known, let's keep something in mind: The Cubs have been sporadically competitive throughout their history. Every few years, they'd come in second or third, or even blind-squirrel their way into first. The Indians, comparatively, came in third place exactly once between 1960 and 1993. They were horrendous. But...
Cubs fans love whining about their curse
Although the Wrigley faithful trumpet a bar owner with a beast problem and a dweeb in a turtleneck reaching for a foul ball (90% of you would have done the same thing), the Indians' lesser-known but still-running curse ties into a bona fide personnel flub: the Curse of Rocky Colavito.
After winning the home run crown in 1959, the Indians' best player was traded to the Detroit Tigers for batting champ Harvey Kuenn. They then proceeded to finish no better than 11 games out of first for the subsequent 33 years. Plus, Hollywood made chicken salad from the chicken shit that was the Tribe: Major League.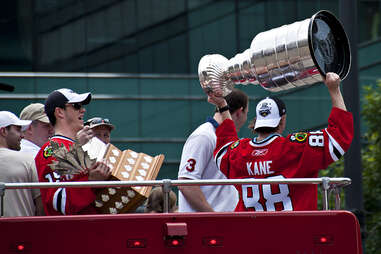 Chicago still has way more titles
The Blackhawks have won three Stanley Cups in the last six years. The Bulls won six titles in the 1990s. The Bears won the Super Bowl in 1986 and appeared in another in 2007. The White Sox (gross) won the World Series in 2005. It's only the Cubs that really suck. Let's make this a fraction pandering to millennials (beginning in 1982): 11/36.
Cleveland's hockey team was the last to fold up shop entirely in the four major American sports. The Cavs have won one title in 46 years. The Indians haven't won a World Series since the Truman administration. The Browns are honestly too embarrassing to even discuss. Cleveland's fraction: 1/36.
Screw you, Cubs fans, and your one-team misery fetish.
Cubs games are just gross frat parties
Ask any Chicagoan over the age of 27 if they'd choose to live in Wrigleyville; they wouldn't. If you've ever seen puke on a Red Line train, you can safely assume it originated somewhere around the intersection of Addison and Sheffield.
Wrigley Field is kind of a dump
Admittedly, Wrigley is a sports bucket list experience. But it's also older than Methuselah, and people act like not having lights in your house until 1988 is an accomplishment. Imagine if somebody bragged about not having indoor plumbing in the 20th century, or having a cellphone in 2016. While we're at it: about that indoor plumbing thing...
This urinal-dive guy exists
If that doesn't convince you of the frat fest that is a Cubs day game, nothing will.
Cubs management is annoying
Reasons:
I always spell Joe Maddon's last name wrong
I can't help but think of that one twin from Good Charlotte when I hear "Joe Maddon"
"Maddon dyes hair black" was once a real ESPN headline
He seems like he'd tell you stories about his Steely Dan vinyl collection
If Theo Epstein reverses this and the Red Sox curse, we'll never hear the end of it
Could you even name the Indians GM?
Major League is objectively better than Rookie of the Year
Look, the antics of Henry Rosenbagger and Chet Steadman made me laugh enough when I was 10. But the ending where a slugger nearly bites his tongue off swinging at an underhand floater can't hold a box of Cracker Jack to Jake Taylor laying down that bunt. I still tear up at that entire scene.
Seriously, try not getting goosebumps when Bob Uecker erupts. That'll be every Tribe fan if (and when) it finally happens. Plus, coked-up, pre-peak Charlie Sheen > coked up post-peak Gary Busey.
Some Cubs players are legit turds
Aroldis Chapman: Holds the MLB record for fastest recorded pitch at 105.1mph. Also holds record for being first player suspended under the league's new joint domestic violence, sexual assault, and child abuse policy for allegedly choking his girlfriend and firing eight gun shots. Nothing here is funny. Screw this abusive dickhead.
Kyle Schwarber: Kyle Schwarber's shoulders start at his ears. He looks like if he didn't play baseball, he'd drive a pickup with truck nuts. He probably already does.
John Lackey: John Lackey is an asshole. Literally no one will argue about this, except maybe his immediate family, and even then, they're probably quietly thinking it, too.
Jason Heyward: "The J-Hey Kid" used to be the most exciting young player in baseball. Now if you Google him, this is what shows up:
Yeah, that's not ending well for anybody.
Jon Lester and Anthony Rizzo: Both of these guys beat cancer. And that's incredible. But that makes it impossible for me to root against them. I want to hate the opposing team's players. I can't. This sucks.
Whoever wins this World Series is going to thrill its fan base in ways they never imagined. But quite honestly? Cleveland needs this way more than Chicago. If we're just talking about Cubs fans, sure, they've suffered plenty. But they also get to wake up in Chicago the day after and probably go to an all right job. The people in Cleveland live in a city that's the butt of jokes -- but nobody'll be laughing if it holds down both the NBA and MLB titles at the same time.
OK, that's not exactly true; the Browns are still the Browns. But we can always hope, right?
Sign up here for our daily Cleveland email and be the first to get all the food/drink/fun in town.
Ryan Craggs is Thrillist's Senior News Editor. He grew up in suburban Cleveland and lived in Chicago for 2.5 years. He believes the devil is feeling chilly. Follow him @ryanrcraggs.