Dallas's ingesting and imbibing imperatives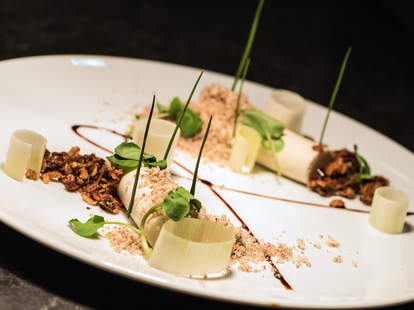 In 2013, quit listening to your dietitian's take on "must eat", and head to the joints that our panel of experts feel absolutely compelled to hit in the coming year. Tiffany Derry, Private SocialI want to try the trio of high profile spots that just opened -- FT33, Spoon Bar & Kitchen, and Stampede 66.Josh ValentineI have to go to NY and eat and drink my face off. Here locally I want to try Lucia, Driftwood. When I find some time that is.Chef DAT, Underground ChefThe Establishment (coming soon)
, the Tasting menu at FT33
, snacks and margaritas at Stampede
 66, Geaux (coming soon).John Tesar, SpoonSake and fish heads at Tei An, mussels and white burgundy at Boulevardier, and everything on the menu at Spoon.Jerry de la Riva, Terrace BistroRestaurants: Stampede 66, The Grape, Boulevardier. Bars: Social House, The Porch, Veritas.Brian C. Luscher, The GrapeNumber one is Cafe Pacific, and... Luscher's Post Oak Red Hots, of course!Danyele McPherson, The GrapeDriftwood, Tei-An, and my all-the-time favorites: Maple and Motor, Cane Rosso, AllGood Cafe, and Chuy's.Lisa Garza, Sissy's Southern KitchenI have been dying to try Boulevardier, Zio Cecio, Woodshed and Driftwood.Patrick Russell, Max's Wine DiveFT33, Stampede 66, and Oxheart in Houston.