Dilemma: you're pursuing love while your bank is pursuing overdraft fees. Solution: getting creative in order to date around Dallas on the cheap. Save face and some cash with these 12 date ideas that cost less than $20.
1. Be one (or two) with nature at Loyd Park at Joe Pool Lake
One of the many hidden treasures in South Dallas, Loyd Park is a great place to get out and finally enjoy some decent weather with that very special Tinder match in your life. Admission is $10 per car so if you're super cheap, make it a double date. Once inside, there's plenty of hiking, camping, and swimming options scattered throughout the park.

2. Eat a giant steak at a place with a huge cow on the roof
Presumably, your date is as big a King of the Hill fan as you are. If that's the case, it's hard to beat Oak Cliff's Charco Broiler. It's almost impossible to spend more than $20 even if you tried at this old-school cafeteria-style steakhouse. The most expensive thing you can order is a 14oz T-bone steak that will set you back a whopping $16.99. Meals come complete with a basic salad and loaded baked potato. Keep your Bob's and Al Biernat's. Charco Broiler is where romance lives.
3. Make pretentious comments about art & sip 'tails at the Dallas Museum of Art's Late Nights
Once a month, the Dallas Museum of Art keeps the doors open until midnight, sets up some bars, gets some bands to play, and turns the museum into the ultimate hipster pickup bar. Impress your date with made-up facts about the painting American Gothic, if nothing else.

4. Go explore a world where science doesn't exist at the Creation Evidence Museum
For a mere $5 per person, you can take your date to the Creation Evidence Museum in Glen Rose. In the entryway, you and your date will be greeted by T-Rex heads and other fossil "evidence" that "proves" the theory of Creationism. But don't worry, no need to get too deep. A date with a good sense of humor will appreciate this kitschy and truly bananas "museum."
5. Take a stroll along the Continental Avenue Bridge
The foot-traffic-only neighbor of the Margaret Hunt Hill Bridge (aka "Large Marge") features breathtaking views of the Downtown skyline, Trinity Groves, and the river. On warm days, it's even got misters, and what's sexier on a first date than misters?

6. Couple skate at White Rock Skate Center
Just think of the story you could tell your kids one day. How you knew it was real love when s/he offered to disinfect your skates for you. And maybe if it's a first date and you don't like the other person, you can just pretend you're a roller derby player. At $9 per person for admission and skate rental, it's a win/win situation.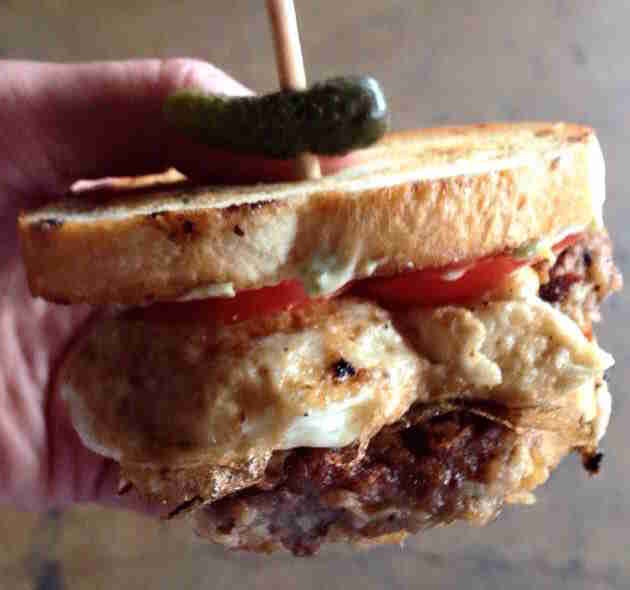 7. Get an early (or late) start to your date at Double Wide's Late Brunch
Typically, Sunday brunch is what happens when a Saturday night goes very well and your date stretches into day two. However, what about flipping the script on that? Why not start at the Late Brunch at Double Wide? Eat some sliders, pound some Tang mimosas, or a PBR or three, and then once the sun starts to go down, see where it goes from there.

8. Have a Big Lebowski quote-a-thon at Red Bird Lanes
Monday nights are a mere $1.50 a game, so there's absolutely no reason not to make the trip to South Dallas and try to see how many White Russians a person needs to wash away the pain of remembering how terrible they are at bowling.
9. Dance with the stars, literally, for free in Klyde Warren Park
The park regularly features all kinds of free nighttime events ranging from movie screenings to concerts. But one of the staples of its free programming is salsa dancing lessons. If you want to eventually dance like Morticia and Gomez Addams together, this might be a good place to start.

10. Re-enact Lady and the Tramp at Lovers Pizza & Pasta
Because what you really want to do while on a date is carbo-load. You never know when you and your date might want to spontaneously organize an impromptu half marathon. For $9 a person, Lovers has all your oversized bowls of buttery pasta needs covered. All dates should end in pasta-fueled naps.
11. Make out in a car at a drive-in movie like your parents did at the Galaxy Theatre in Ennis
With tickets priced at just $7 a movie, this theater beats out most in town on cheapness alone. But there's the added bonus of experiencing how dates went in the days before two people kissed goodnight while staring at their respective smart phones.

12. Swing dance at a real honky tonk in the heart of Deep Ellum
Sure, everyone raves about the burger at Adair's. And yes, it's worth the raves. But on any given Friday or Saturday night, you and your date can squeeze into this narrow and graffiti-covered honky tonk dive to see live music and join the dozen or so couples that fill the area in front of the stage. Just don't go Road House on anyone, okay?
Sign up here for our daily Dallas email and be the first to get all the food/drink/fun DFW has to offer.