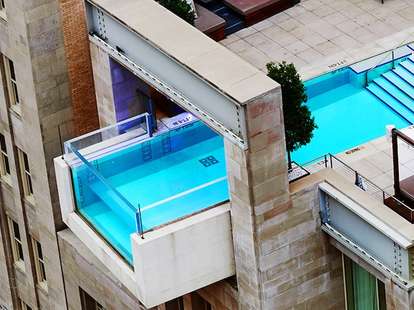 Courtesy of The Joule Hotel
Why leave town to go on vacation when you could stay put and enjoy an epic staycation? Sure, it's hot as hell here, but that's what rooftop pools and frozen margaritas are for. While others are dropping thousands of dollars vacationing in some exotic location you'll be saving money and your sanity right here at home. Here are the seven best hotel staycations in Dallas.
Oak Cliff
Once a historic motor court hotel, this place is now a quirky boutique hotel perched on a rocky Oak Cliff hilltop. With its Art Deco curved stucco walls and eclectic décor you might even feel like you're not in Dallas for a minute, which is sorta the whole point.
What to do: Enjoy much-needed alone time by the pool and read a book for once. Yes, an actual book.
What to eat: The BBQ spare ribs from award-winning Southern eatery, Smoke Restaurant
What to drink: The Woodshed margarita with cedar wood-infused tequila, Cointreau, lime juice, and agave nectar at adjoining Bar Belmont and then enjoy skyline views of Dallas.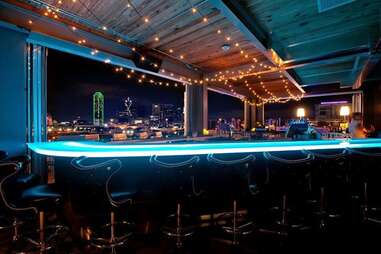 South Side
This boutique hotel in the artistic-chic South Side neighborhood has pretty much everything you want in a good vacation (besides a beach, of course). There's an amazing rooftop pool with beautiful people, a killer bar, and even an adjoining delicious restaurant. You won't ever need to leave except to sleep but who needs sleep when you're having this much fun?
What to do: Head straight to the rooftop SODA Bar and pool, the views are great both in and out of the pool.
What to eat: The sea bass at Terrace Bistro
What to drink: Dos Equis with lime. Lots and lots of Dos Equis. Just because you aren't in Mexico doesn't mean you can't drink like you are.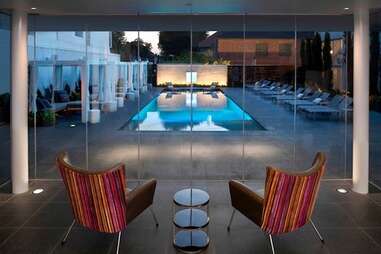 University Park
This mid-century-styled gem was once a '60s motel and it has retained its original charm along with a Miami vibe. Located across from prim and proper SMU University in University Park, the hotel almost seems misplaced, but we can assure you it's not. There's a shimmering blue pool at the center of the hotel, which is good because that's where you will be spending a lot of your time.
What to do: Drink by the pool
What to eat: Walk to the Front Room Tavern and order anything, Chef Michael Ehlert's menu is on point and why not splurge a bit, you're on a staycation after all.
What to drink: A craft cocktail from Front Room Tavern
Downtown
The Joule is nestled (literally) in the heart of burgeoning downtown Dallas. The handsome hotel designed by award-winning designer Adam D. Tihany, features uber-fancy suites, multistory penthouses, a spa by ESPA, a library by Taschen, and an artisan coffee shop called Weekend. Joule also houses the acclaimed CBD Provisions restaurant and the ultra-cool lounge, Midnight Rambler. In short, this luxury hotel is like a playground for adults.
What to do: The question really should be, what to do first? No vacation is complete without some spa action, so start your day off with a trip to ESPA for a hot stone massage then head over to Weekend for a double espresso, you'll need the energy to enjoy the world-class pool that literally hangs off the side of the building.
What to eat: Anything at CBD Provisions, it's amazing. Don't miss it.
What to drink: Walk down to Midnight Rambler for a cocktail (or three), after all you're walking distance to your room.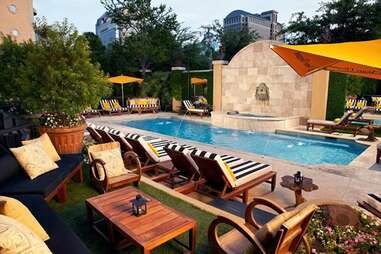 Uptown
If you live in Dallas and you haven't stayed here at least once, you're missing out on life. ZaZa is one of the coolest hotels in the world. Stay in one of the concept rooms like the Bohemia with a French European feel or the Erotica with an oversized whirlpool soak bath, and lots of velvet and fur (companions not included). If the rooms aren't enough reason to stay here, there's an amazing pool, bar, and restaurant to boot.
What to do: Relax at ZaSpa and follow it with a nap in your room to prepare for the all-nighters you'll be pulling poolside at ZaZa.
Where to eat: Don't miss brunch at Dragonfly.
What to drink: Mimosas. See above.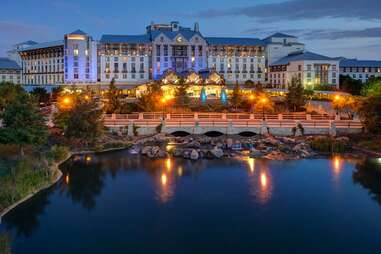 Grapevine
This resort is everything you would expect from a Texas hotel, especially its size; it's huge, almost unnecessarily so, with 4.5 acres of lush indoor gardens, winding waterways, a fitness center, spa & salon and over 400,000sqft of meeting space. If you're looking to never leave your hotel then this is the place.
What to do: Choices, so many choices. Hit the spa for some relaxation and then the pool. Note, this hotel is more kid-friendly than the others, so if you have little ones you'll be in good hands.
What to eat: Tex-Mex at Riverwalk Cantina, it's like going to San Antonio without actually going to San Antonio.
What to drink: Red bull and vodka at Glass Cactus Nightclub (no fist pumping allowed)
Dallas
This sophisticated and cool luxury hotel is located in the heart of Dallas and although it's a Hilton, it feels more like a boutique hotel. Knife, Chef John Tesar's stylish steakhouse, adjoins the hotel and that's a good thing because you will be spending a lot of time there. Besides a killer steakhouse, there's a spa, infinity pool, and 24-hour fitness center to keep you occupied.
What to do: Energize yourself in the 24-hour fitness center then sip cold cocktails in a cabana by the outdoor infinity pool. Finish up by relaxing in the adjoining Exhale Spa.
What to eat: Steak from Knife. Thank us later.
What to drink: Belly up to the bar at Knife and have the mixologist create a unique cocktail just for you.
Sign up here for our daily Dallas email and be the first to get all the food/drink/fun DFW has to offer.