The 12 things you absolutely must do in Dallas this Spring
Spring is so close you can smell it. At least, that's probably Spring. Did you bathe with Irish Spring this morning? That could be confusing things. Regardless, the season of promise, rebirth, and busted brackets will soon be upon you. To make sure you make the most of your Dallas Springtime, here are 12 things you must do, from saying goodbye to a beloved bar to saying hello to 90-day-aged steaks...
What: Untapped Festival
When: March 8th
Where: Panther Island Pavilion
Untapped Festival's gonna be in FW with a bunch of excellent indie bands, and probably some less excellent indie bands, but you won't care on account of all the excellent beer (Rahr, Oskar Blues, Real Ale…).
What: Luna's Tortillas Reopening
When: March
Where: Luna's Tortillas
Remember when fire wiped out the most prestigious tortilleria on the planet last summer? Luna's is bouncing back in a big way with new digs for the first time in a few decades, which means it's definitely time to load up on tamales. 

What: PDQ Opening
When: Mid-March
Where: Frisco
PDQ (that's People Dedicated to Quality, acronym fans!) is arriving in the Metroplex, bringing nothing but gloriously hand-tossed chicken tenders and sandwiches. Well, also fresh-cut fries and hand-spun malts, obviously.
What:Savor Dallas
When: March 20th-22nd
Where: The Arboretum, other locations on the 21st and 22nd
Savor Dallas is back, and this time it's showcasing 60 chefs and more than 400 different wines for you to try, which definitely won't affect your taste buds by the time you get to Sunday's Chllin 'N Grillin session in Main Street Garden.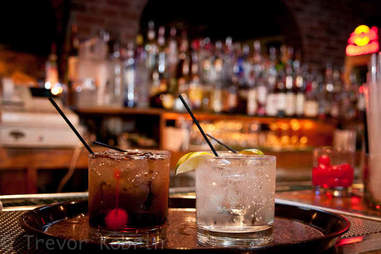 What: The Loon Closing
When: Before March 31st
Where: The Loon
Go to the Loon one last time before it shuts down at the end of March. Seriously. That The Loon is going to be a CVS sucks about as much as whatever ailment might cause you to seek out a CVS, and it's little comfort knowing that the owner's opening up a new bar, because it won't be The Loon.
What:Texas Rangers Opening Day
When: March 31st
Where: Katy Trail Icehouse
You may not have noticed in the midst of the Cowboys' annual late season implosion, but the Rangers just paid $130 mil for Shin-Soo Choo. Hit up the patio at Katy Trail Icehouse post-game to either celebrate or soothe the agony of defeat. Again...

What: Big Texas Beer Fest
When: April 5th
Where: Fair Park Automobile Building
Last year's celebration of fine brews both Texan and not-Texan (nobody's perfect) drew 90 breweries and more than 400 beers. This being Texas, expect them to go bigger this year.
What: The Final Four
When: April 5th-7th
Where: Christie's Sports Bar
Just because your bracket's busted doesn't mean you can't enjoy the Final Four at Jerry World, unless of course you couldn't land tickets. Either way, get close to the action (or enjoy a few beverages pre-game) with some burgers and beers at Christie's. 

What: North Texas Taco Festival
When: April 26th
Where: To be revealed!
The second-ever North Texas Taco Festival is going on, and there's another Taco Throwdown, which means you're going to throw down a bunch of tacos. Like, into your mouth. Throwing them on the ground would be both stupid and tragic. 
What: Knife Modern Steak Opening
When: Mid-April
Where: Hotel Palomar
Whenever John Tesar announces he's gonna open a new place, it's newsworthy, and doubly so if he's naming it after an eating utensil. With 90-day-aged steaks, Knife Modern Steak should be the best resto in Tesar's arsenal until he opens Spork sometime in 2015.
What: Cinco de Mayo at Mariano's
When: May 5th
Where: Mariano's Hacienda
You could celebrate Cinco de Mayo anywhere, but you have a deep and abiding appreciation for history and slushies, so you're paying homage at the home of the original frozen margarita.
What: Potato Flats Opening
When: Mid-May
Where: Trinity Groves
Phil Romano's assault on Trinity Groves is continuing, and the trend is definitely getting starchy, thanks to Potato Flats. Picture the best part about Souper!Salad! (the potato bar), then press the potatoes into a 1.5in-thick steak shape, and open up the toppings bar. Think Chipotle, but potato-ier.