10 Great Vacation Spots Within Driving Distance of Dallas
Take a weekend trip to Marfa for an artsy getaway, or hit the road for the wine-drenched city of Fredericksburg—you can't go wrong with any of these road trips from Dallas.
Driving across the vast expanse of North Texas can often feel like a road trip, but Dallas is a great jumping off point to destinations within the Lone Star state and beyond. There are vacation spots and weekend getaways aplenty when you feel like taking a proper road trip out of Dallas. Whether you want to leave town for a weekend or a week, you've got your pick of national parks, beaches, and fun-loving cities, all within a day's drive.
To help you get from point A to point B, we've rounded up 10 vacation-worthy destinations, with details on what you'll find—restaurants, museums, wineries, hiking trails—once you arrive. So pack some snacks, create the perfect playlist, and slide behind the wheel: It's road trip time. (Note that we're skipping a few obvious spots like Austin, Houston, and San Antonio because you don't need us to send you their way.)
Roads Trips From Dallas to Take for a Weekend Getaway
Marfa, Texas
Distance from Dallas: 513 miles, 8 hours
This small West Texas town draws travelers from all corners of the country who descend on Marfa to visit its art museums, galleries, impressive restaurants, and the mysterious Marfa Lights. You, too, can spend a long weekend basking in the desert landscape. Book a room at the historic Hotel Paisano or the modern Hotel Saint George, or stay at the exceedingly charming El Cosmico, a casual property with safari tents, vintage trailers, and yurts. The McDonald Observatory hosts occasional star parties, where you can take advantage of dark skies to explore the cosmos via telescope. And fans of the iconic James Dean and Elizabeth Taylor western, Giant, can visit an artist's highway-90 roadside tribute to the 1956 movie, which was filmed in the area.
Galveston Island, Texas
Distance from Dallas: 290 miles, 5 hours
The Texas coast sports a handful of beach destinations, but for an all-around good time on the shoreline, it's hard to beat Galveston Island. It spans more than 30 miles and includes some of the area's best beaches, including Jamaica Beach, East Beach, and Crystal Beach. When you're done playing in the waves, the island offers countless activities. Walk through the Strand, a National Historic Landmark neighborhood filled with Victorian architecture and 19th century buildings. Eat fresh seafood at Gaido's, Black Pearl Oyster Bar, and Fisherman's Wharf. Or spend a day at Moody Gardens, the massive entertainment complex housing a golf course, lazy river, and two pyramids—one filled with rainforest plants and animals, and another containing an aquarium full of penguins, sharks, and tropical fish.
Fredericksburg, Texas
Distance from Dallas: 260 miles, 4.25 hours
This German settlement is the epicenter of the Texas Hill Country, with wineries, shops, and restaurants everywhere you look. Stroll along Main Street to visit tasting rooms and boutiques, then score a good dinner at popular eateries like Sage or Hill & Vine, before following your ears to live music on a nearby patio or spilling out of a bar. When it's time to retire for the evening, you've got your pick of B&Bs and quaint hotels, but don't feel like you have to stay in town for the duration of your trip. With Fredericksburg as your homebase, you're a short drive to other Hill Country towns worth visiting, including charming Wimberley and brewery-and-distillery-heavy Dripping Springs.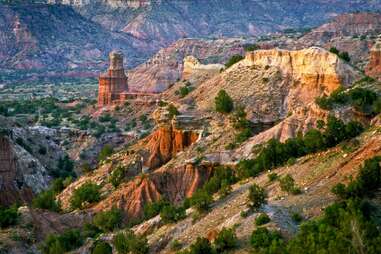 Palo Duro Canyon State Park, Canyon, Texas
Distance from Dallas: 380 miles, 6 hours
The Grand Canyon never gets old, butPalo Duro Canyonis the second biggest canyon in the country—and it's a lot closer than its Arizona counterpart. This Panhandle treasure is rugged and scenic, with more than 30 miles of hiking, biking, and equestrian trails. It's an easy day trip from Amarillo, but for the full effect, stay inside the park and camp for a couple nights. You can pitch your own, or book one of the luxury tents and cabins available viaPalo Duro Glamping.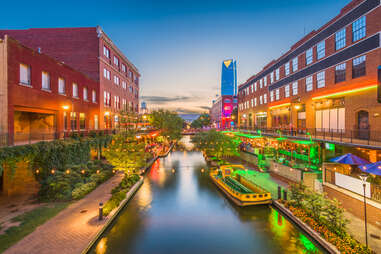 Oklahoma City, Oklahoma
Distance from Dallas: 206 miles, 3.25 hours
Most Dallas road trips involving the much-maligned I-35 head south to Austin and San Antonio, but point your car north, and you'll hit Oklahoma City in just over three hours. It's worth exploring this often-overlooked destination, as Oklahoma City's growing population keeps giving visitors more to do. Check out happening hotels like the artsy 21C and the National, which rehabbed a 1931 landmark building into a luxe property. Then explore thriving neighborhoods, such as Automobile Alley which evokes Deep Ellum vibes and a fun collection of restaurants, galleries, and shops. Downtown's Scissortail Park is a 70-acre oasis, with lush landscaping, a farmers' market, food trucks, a free concert series, and a lagoon where you can rent paddle boats. And don't miss the museums. From the somber Oklahoma City National Memorial to the National Cowboy and Western History Museum and First Americans Museum, there's culture around every corner.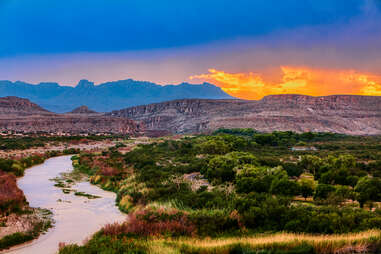 Big Bend National Park, Texas
Distance from Dallas: 535 miles, 8 hours
Set right against the Texas-Mexico border, Big Bend National Park stretches for 800,000 acres and encompasses cacti-strewn desert, imposing mountains, and the Rio Grande river. Choose your own adventure and explore the park's 150 miles of hiking trails, or take a scenic drive along River Road. Whatever you choose to do, look up once the sun goes down—Big Bend has some of the country's darkest skies, which makes it a prime spot for stargazing. And if you're up for a one-two punch, Big Bend is relatively close to Marfa, so you can swing through for a couple nights on your way back to DFW.
Carlsbad Caverns National Park, New Mexico
Distance from Dallas: 480 miles, 7.5 hours
Located just across the Texas-New Mexico border, Carlsbad Caverns National Park is a natural wonder that dates back more than 260 million years, when the area was covered by an inland sea. Today it's a popular stop for amateur spelunkers who want to explore its 120 known caves or share space with a Brazilian free-tailed bat colony, whose population exceeds 400,000. Stroll through the labyrinths on your own with a trek to the Big Room, which is the largest single cave chamber in North America, or book a ranger-led tour and plunge deeper into the caves, with expert commentary on rock formations and the park's history.
Northwest, Arkansas
Distance from Dallas: 330 miles, 5.5 hours
There's a reason they call Arkansas the "Natural State." It's teeming with state parks, national forests, and hot springs, so there's always an outdoor adventure just around the corner. If you like your nature with a dose of culture, head to Northwest Arkansas. Bentonville is known as the birthplace of Wal-Mart, but don't hold that against it. The small town outpunches its weight class in multiple visitor-friendly categories, including food, art, and mountain biking trails. And Fayetteville is home to the Walton Arts Center, which draws touring Broadway shows and musicians, and the Ale Trail, which takes you to all the area's breweries.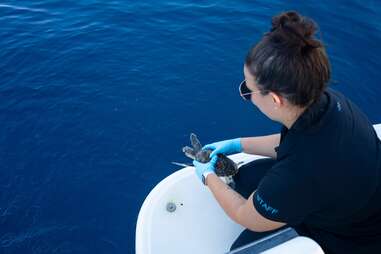 South Padre Island, Texas
Distance from Dallas: 550 miles, 8.5 hours
South Padre Island sports one of Texas's best beaches, but don't let its reputation as a spring break party spot keep you away (though you might want to avoid March, if that's not your scene). Situated off the tip of Texas's Gulf coast, South Padre Island is home to sandy beaches and gentle waves, and it's equally appealing to adrenaline-seeking kitesurfers as it is to laid-back sunbathers. If you want to spend time on the water, book a fishing charter and drop a line into the ocean to catch your dinner. Or stay firmly on dry land, and visit the Sea Turtle Rescue Center before posting up at Wanna Wanna Beach Bar with one of its famous Piña Coladas.
Kevin Gray is a freelance writer and editor covering all things food, drinks, and travel. He's written for The Dallas Morning News, Forbes, Liquor.com, Men's Health, and Wine Enthusiast, and his extensive home bar is turning into a real Hoarders situation.