David Maez
David Maez
Dallas is full of secrets, and thankfully they're not all dirty, Jerry Jones sex stuff. Some of them you can eat, and some of them you can physically visit -- like these 10 that you probably didn't know about. Until now!
Turtle Creek
Turtle Creek Park is a secluded, 39-house neighborhood framed by Turtle Creek and the Katy Trail. The architecturally significant homes are strategically hard to get to, so if someone asks if you live there while you're gawking, say you got lost. They might actually believe you.
South Dallas
The Millermore Mansion is the most impressive Victorian home in Dallas Heritage Village at Old City Park, with one downside -- it's haunted. Rumor has it, employees and guests have felt a sudden drop in temperature in the nursery and sick room. An apparition of a woman has also been spotted in several other rooms, so before you visit, bring your camera and your Proton gun.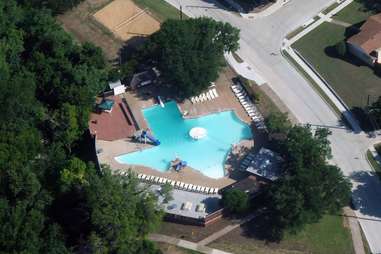 Plano
Well, kind of... today it's for members only, which is highly encouraged just for the pure fact that you will have a membership to a giant (168,000gal) pool in the shape of Texas. Who has that? You will.
Highland Park
Didn't have a Teddy Ruxpin as a kid? You can make up for lost time and walk amidst giant teddy bear statues in the middle of Highland Park. Unfortunately, they will not read you a bedtime story. If they do, you might want to check whatever meds you've been taking.
Deep Ellum
This tiny and quirky museum is devoted to preserving the bygone 8-track format, along with thousands of tapes and reel-to-reels. While you're there, chat up founder Bucks Burnett and hear his interesting music stories, which are almost as plentiful as the eight-tracks.
Harwood
The Ann & Gabriel Barbier-Mueller Museum collection contains more than 1,000 objects, many of which are Samurai armor. This is the largest collection of Samurai armor outside of Japan. See? You just saved yourself a trip to Japan!
Oak Lawn
Dragon Park isn't just the best-named park in Dallas, it's also a minuscule hidden gem in Uptown with a bunch of eclectic statues, like dragons (duh), angels, fairies, gargoyles, and Buddha heads. There are no magic mushrooms in sight, but you may find yourself wondering if any were prominently involved in the park's conception.
Fort Worth Ave
Yes, it's true that the final resting place of Clyde Barrow is located in Western Heights Cemetery in Dallas. Rumors say you may have to scale a fence to catch a glimpse of the gravesite, so mind the law. We appreciate history, but not so much that we'll follow in Clyde's footsteps. Sorry Clyde.
There are buried underground railroad tunnels Downtown
Downtown
Built in 1924, the underground railroad tunnels beneath the former Santa Fe Freight Terminal were used to carry merchandise to the Fashion District. The tunnels were also undoubtedly used to transport bootlegged booze during prohibition -- booze that was surely used by the University Club, previously located in the penthouse suite of Santa Fe building No. 4. The club was known as a playground for the debaucheries of the Dallas elite. Today, it is boringly known as SoCo Lofts.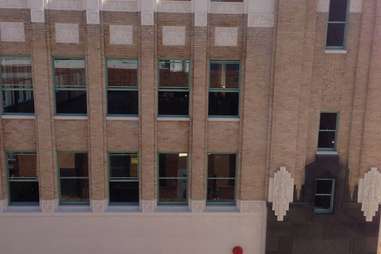 Harwood
508 Park Ave, once a film exchange and studio owned by Warner Bros, is where Delta Blues legend Robert Johnson recorded 13 epic songs in 1937. These songs went on to influence... just about everyone -- from Led Zeppelin to Eric Clapton, who recorded his own ode to Robert Johnson there in 2004. Today, the once-dilapidated building is currently undergoing a face-lift and will feature a community garden, amphitheater, and art space.
Sign up here for our daily Dallas email and be the first to get all the food/drink/fun DFW has to offer.