People tend to love their Dallas neighborhood. The also love to occasionally hate on other Dallas neighborhoods. This will appeal more to the latter.
North Oak Cliff/Bishop Arts District
Ten years ago, the chances were extremely high that a trip to North Oak Cliff might result in a light-to-moderate stabbing. These days, the chances are much greater that a weekend visit to Bishop Arts will result in a frustratingly endless and ultimately fruitless search for a parking spot, followed by artisanal desserts prepared specially for you with local ingredients by someone with an ironic Nintendo character tattoo. If the weather is nice outside, find a good patio spot and eavesdrop as graphic designers and yoga teachers bemoan the incoming gentrification of the neighborhood. What it lacks in any practical grocery stores or non-niche retail boutiques, North Oak Cliff makes up for in stray dogs roaming freely down Jefferson Blvd.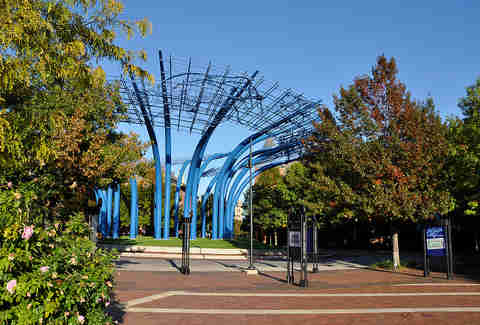 Addison
Did you know that Addison contains more restaurants per capita than any city West of the Mississippi? Did you also know that 90% of those restaurants are either an Olive Garden or a breastaurant? They are also known for their Fourth of July KaboomTown fireworks display each year. That's where minivan after minivan full of family fun stare at the sky for an hour, then destroy traffic flow all across North Dallas for the next four hours. There's also nightclubs galore in Addison. Do not go to these nightclubs unless you had a blood transfusion in which all your actual blood was replaced with the drugstore generic version of Drakkar Noir.
 
Park Cities
If you live in Highland Park or University Park, you probably aren't reading this right now. You're almost certainly too busy eating caviar off ivory spoons or using human servants as footrests. The average home price in the Park Cities is $1,202,369, which is approximately $1,202,365 more dollars than you have in your wallet at the moment. DFW urban legends talk of drivers being pulled over in Highland Park for crimes such as Suspicion of Driving a Toyota Camry. But the same urban legend also tells of Highland Park police offering jail inmates their choice from the McDonald's combo meal menu, so it's not all bad.
 
M Streets/Lower Greenville
Tree-lined streets and Tudor bungalows never mix well with all-age dance clubs and 'roided-up nightclub patrons who like to participate in 4am knife fights just for fun. Such was the scene a few years ago on Lower Greenville. But where there once was the vomit of a thousand young'uns who just wanted to listen to Ke$ha and fistfight, there is now a Trader Joe's. But don't worry, if you still have a fondness for constantly dodging puddles of bodily fluids belonging to irresponsible revelers, there's always the Greenville Ave St. Patrick's Day Parade. Oh, and you'll still be a prisoner in your own home approximately 35 weekends of the year due to all roads being closed off for whatever marathon is coming through your neighborhood that particular weekend.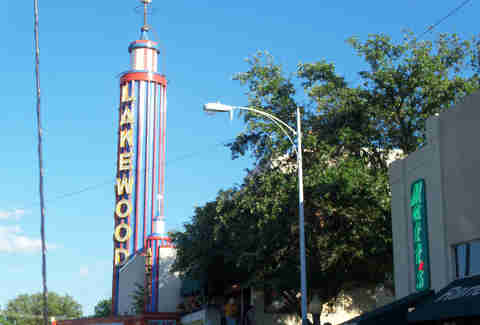 Lakewood/East Dallas
Oh look at you, you Lakewooder or East Dallasite. Aren't you just SO cool? You're wearing your "Keep Little Forest Hills Funky" T-shirt, and you'll tell anyone within earshot that you've been going to the FOE pool WAAAAY before it was cool. You got your panties all knotted up when you thought that mean, greedy developers were going to tear down the Lakewood Theater marquee. You haven't been to the Balcony Club in years, but you always post impassioned pleas on Facebook to save it when it is threatened with closure every two or three months. You couldn't be more Lakewood-y if you wore a Woodrow letter jacket while kayaking around White Rock singing Reverend Horton Heat songs at the top of your lungs. But admit it, it just hasn't been the same since you stopped being able to smoke inside the Landing.
 
Garland
What can you say about the city that gave us LeAnn Rimes, Mike Judge, one of the main actresses from the TV show Wings and... well, that's pretty much it. Garland is home to a lot of solid thrift stores and bánh mì sandwich shops and affordable houses. If Dallas is the sparkly Cowboys cheerleader of the family, Garland is the hardworking, slightly overweight but kindly older sister of Dallas. If you guessed that Garland is the most Roseanne-esque suburb of the DFW area, you wouldn't be wrong. Plus, Garland has 100% more water parks than Dallas so, suck it, Dallas.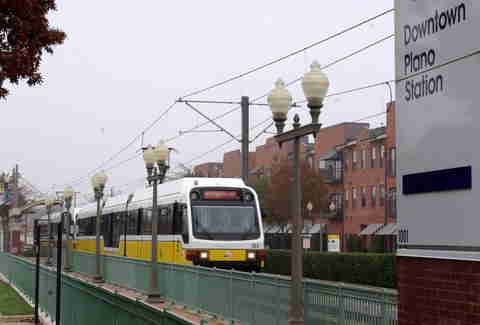 Plano
The dream of the '90s might be alive in... Plano? Once upon a time, Plano was nationally famous for a Kurt Loder-hosted MTV expose on the town's exploding heroin problems that were plaguing rich kids with too much time and disposable income on their hands. And if that isn't the most '90s sentence that could be typed, I don't know what is. Nowadays, it has lost some of its affluence to Frisco and the further Northern edges of Colin County. But it still has its Costco and you can pry that out of its cold, non-heroin-addicted hands.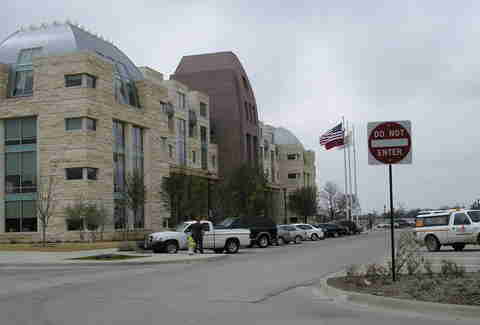 Frisco/The Colony
New money. Flashy, young things. Big expensive Range Rovers driven by surgically enhanced cougars. These are all things that Jerry Jones loves. These are also on the city crest of Frisco. So it's no surprise that Jerry Jones chose Frisco as the home of the new Dallas Cowboys practice facilities and Cowboys HQ. You know that terrible, awful cliche that out-of-state relatives and lazy sports broadcasters say about how "everything's bigger in Texas?" Well, not to be outdone by Frisco's Ikea, The Colony recently welcomed the furniture store that is an affront to God himself, the 1.3 million square foot Nebraska Furniture Mart. It appears that the city planners of Frisco and The Colony took Mike Judge's Idiocracy as a serious and thought-provoking documentary about city-planning.
Arlington
Poor, sweet Arlington. On paper, it's got everything. It's got Cowboys Stadium, the Rangers Ballpark, Six Flags, Hurricane Harbor. It's right in between Dallas and Fort Worth. It might as well rename itself "Fun City." And yet, no one takes it seriously. Arlington truly is the "always the bridesmaid, never the bride" of the Metroplex. Hell, it's even got canals like it's Venice or something. You almost certainly know it as the city you go to when you want to attend a game or go to an amusement park or the suburb you grew up in and later moved out of. It's pretty unlikely that it's the city you currently call home. I mean, maybe you do.  Hell, someone's gotta live there. I naturally assume most Arlington residents are all ballpark concession vendors and waterpark-slide lifeguards.
Deep Ellum
The long-celebrated live music and nightclub mecca of Dallas has returned with a vengeance. It's the same vengeance that the neighborhood once had for traffic jams on Elm St in the 1990s and then, in the 2000s -- tumbleweeds, vacancy and crime.The Deep Ellum renaissance has been nothing short of miraculous and means that hordes of Patagonia fleece- and cargo shorts-wearing SMU kids now feel perfectly safe bringing their bros and all their girlfriends who simultaneously shriek "wooooo" every time they do a shot with them to check out all the hip new cocktail joints. And maybe they'll even get a naughty tattoo with their parents credit card if they're feeling extra bad.
 
Uptown
Located just outside of Downtown Dallas, Uptown has gained a reputation as the playground of the $30,000 millionaire set. Mostly because it's pretty much inhabited entirely by 20- and 30-somethings who lease luxury cars and try to live beyond their means on a $30k-a-year marketing associate's salary. If a part of town could be a popped collar, hair extensions and daddy issues, it would be Uptown. But fair is fair: the trolley is pretty awesome and free to ride. And a bonus if it grazes a BMW with a vanity plate driven by a marketing consultant, pharmaceutical rep, or "entrepreneur."
 
Oak Lawn
Known as the "gayborhood" by people who either still think Bruce Vilanch is clever or are your 65-year-old aunt who considers herself the edgy one in the family, Oak Lawn is the home to Dallas's annual Pride Parade. In keeping stereotypes alive and well, Oak Lawn is relatively cleaner than the rest of Dallas, people are friendlier, and there are a hell of a lot more Fiats and Mini Coopers than in, say, Frisco. And frame shops. So many frame shops.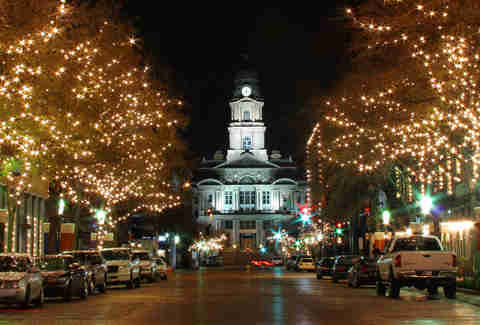 Fort Worth
Once called "The Gateway to the West" by a poor marketing intern who had to come up with a slogan to put on a tote bag to be given away at a trade show, Fort Worth is the cool cousin to the West of Dallas. They have a pretty decent college football team, world-renowned art museums, and touristy things like the Stockyards -- where you can take out-of-town relatives who like to take pictures with cattle and/or actual cowboys. But at the end of the day, they're the Costello to Dallas' Abbott; The Messina to Dallas' Loggins. Call us when you're a real star.
 
Victory Park
Victory Park brought Dallas the American Airlines Center, home to the Mavericks, Stars, and any variation of puppets/circuses/things on ice. The area now known as Victory Park was a landfill a mere twenty years ago. Now, it's the neighborhood with such cultural meccas as Hard Rock Cafe, Hooters, and House of Blues. When the West End died, its soul moseyed on down to Victory Park. But one thing West End had that Victory Park will never have? Salt water taffy. And that is the real tragedy here. Well, that and the Stars.
 
Design District
The part of Dallas that is inhabited by galleries filled with avant-garde furniture and home fittings that you cannot afford. Remember when we talked about the Park Cities and all the super rich people that live there? The Design District is where those people send their eccentric interior designers with bottomless budgets to source furnishings made entirely of whale penises. If your concept of what an interior design firm looks like was based around old reruns of Designing Women (as it should be), you are in for a rude awakening in the Design District. So. Many. Whale. Penis. Chairs.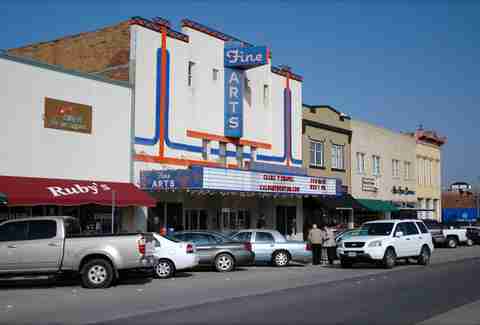 Denton
Home of University of North Texas and its renowned music program, Denton is our own little mini-Austin, without the explosive population growth and easy access to Barton Springs. Denton considers itself the live music capital of North Texas, a claim that is pretty much impossible to quantify so, sure, why not? Staying on-theme, its own cutesy slogan à la "Keep Austin Weird" in the form of "We Denton Do It." Denton: Come for the party and art school... leave before you're the person way too old to be partying with college freshmen.
 
North Dallas
Ah, the amorphous blobby part of town ambiguously referred to as "North Dallas." No one really knows what the boundaries of North Dallas truly are. Is it any part of Dallas that falls outside of the 635 loop? Is it the part of Dallas North of Park Cities? Does anyone actually care? The phrase "North Dallas" immediately conjures the mental image of rolling plains of brown and taupe apartment complexes, occasionally broken up by a Wal-Mart, Target, or CVS. Very nice, perfectly decent people probably live there and once someone actually figures out where exactly North Dallas is, we can study those people further and learn their culture and customs.
 
Everyone else
Honorable mentions go out to the comically named cities that didn't quite make the list but still hold a special place in every Dallas and Fort Worth native's heart. That means you, Dalworthington Gardens. And thank you, Pantego, for giving the world Pantera. We couldn't ever forget you, North Richland Hills, and your kind of a waterpark but really just a wave pool with a drive-in movie screen in front of it, cleverly called NRH2O. We'd be a fool not to mention you, Gun Barrel City, just on name alone. Really, there's so many and... (drowned out by Oscar play off music).
Sign up here for our daily Dallas email and be the first to get all the food/drink/fun DFW has to offer.