It doesn't matter if you're visiting for the culture and history, the air conditioning, or the chance to stare blankly at streaks of color carefully smeared on a canvas; there are plenty of museums in Dallas to take advantage of. And they're even better when they're free of charge. We've compiled a list of every free (and sometimes-free) museum in the Metroplex.
Downtown Arts District
Hours: Tue-Sun, 11am-5pm
The hub of the Arts district, the Dallas Museum of Art (or DMA) is the largest museum in the city with permanent collections ranging from African folk art to modern masters.

Fort Worth
Hours: Tues-Thurs, 10am-5pm; Fridays, noon-8pm; Saturdays, 10am-5pm; Sundays noon-5pm
Home to an incredible permanent collection of paintings from the likes of Monet, Picasso, and Miro, the Kimbell also regularly hosts some of the most high-profile exhibitions in the country. The exhibitions are generally not free, unless you are looking at the postcards in the gift shop.

Design District
Hours: Tues-Sat, 11am-6pm; Sundays, noon-5pm
Art or advertisement? That's the question that brought the large Playboy bunny statue to the Design District. The state of Texas declared it an advertisement and had it removed from the Marfa, TX, roadside. Conversely, The Dallas Contemporary appreciates pop art and had the piece installed in its parking lot.

Downtown Arts District
Hours: Tues-Thurs, 10am-9pm; Fri-Sat, 10am-6pm; Sundays noon-6pm
A surprisingly in-depth collection in a surprisingly large space. Not so surprisingly, the "feng shui" here is totally on point.

Fair Park
Hours: Tues-Fri, 11am-5pm; Saturdays, 10am-5pm
The AAM finds a refreshing balance of African American history through folk art and rotating exhibitions featuring current African American artists.

Design District
Hours: Mon-Fri, 10am-4pm
One of the best-kept secrets in the Dallas Arts scene, the Goss-Michael Foundation features some of the UK's most prominent contemporary artists. We know what you were thinking and no, unfortunately it doesn't have a Banksy.

Fort Worth
Hours: Tues-Sat, 10am-5pm; Sundays, noon-5pm
What exactly is "American Art" you ask? Well, it's everything from quaint nature scenes to pure abstraction, and the Amon Carter makes a heroic effort to hit all the high points.

Fort Worth
Hours: Mon-Thurs, 9am-5pm; Fri-Sat, 9am-8pm; Sundays, noon-5pm
If you enjoy scenes of the Old West (c'mon you're in Texas, of course you do), then the Sid Richardson Museum is a must. Cowboys, (American) Indians, prairie landscape, and all combinations of them as depicted by two greats of American art, Frederic Remington and Charles M. Russell.

Irving
Hours: Mon-Wed, 9am-5pm; Thursdays, 9am-5pm; Fridays, 9am-5pm; Saturdays, 10am-5pm; Sundays, 1pm-5pm
Never thought you would hear the words "Irving" and "Art" in a sentence together? Neither did I until I discovered the Irving Arts Center. There are four galleries, a sculpture garden, and a variety of stage plays and musicals events (the events are not free).

North Dallas
Hours: Mon-Sat, 10am-9pm; Sundays, noon-6pm
North Park Center is not your standard corridor of mindless consumerism; it's more like a shopping museum. Its dedication to creating a beautiful, yet functional shopping experience is unmatched. So next time you are racing into the Apple Store for the latest gadget, just take a minute and look around. It's well worth your time.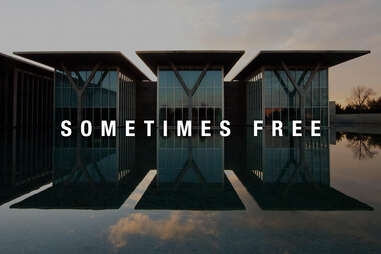 Downtown Arts District
Free hours: During 'Till Midnight events
The founding family of NorthPark Center has so much fine art that they needed to build their own museum to house it all. The well-noted Dallas skyline stands as a backdrop for the city's most impressive collection of sculpture. Pound for pound, the Nasher might be the most impressive museum in Dallas. Look out for its free 'Till Midnight events in the warm months (because it's just too darn hot during standard hours in the summer).

Fort Worth
Free hours: Every Sunday of 2015
Though only free on Sundays through the end of this year, this striking building is free to look at any time or day of the year.
Sign up here for our daily Dallas email and be the first to get all the food/drink/fun DFW has to offer.