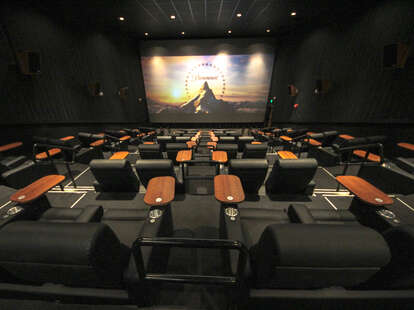 Not just what British people hilariously say when they see a "movie theater", LOOK Cinemas is also what you'll say when someone asks you the name of the new booze-and-food-filled luxe theatre on Beltline with 70ft "Evolution" screens and Dolby Atmos cinema sound
Fun fact: the two-story LED-lit sign actually uses less energy than a vibra... household dryer
Hungry? Screw Snickers; these guys're serving up anything you want off the attached Nick & Sam's Grill menu. Also: Snickers
The dining theaters are mad nice, and feature call buttons with which you can signal your own personal movie butler..
... who'll take food orders and conceal your super hero identity serve drinks directly to your seat, which features a personal swivel table and a power reclining system
Avid Beerometer reader? Grab your concessions and then immediately hit the upstairs loft theaters: they're 21 & up and thus stocked with classic 'tails and beer on tap that you can drink inside the screening room, including DEBC IPA, St. Arnold Lawnmower, and Fireman's #4
They've also got an endless supply of butter; press this button too long and it won't be long before the Brits're saying "Look! That dude is gonna be so fat, bro!"