Some say the best things in life are free (pretty sure it was Kanye, you may want to double-check). That seems questionable, as brisket and beef ribs generally are not free, and are indisputably among life's best things. That said, it's always nice to save money, then you'll be able to afford more brisket and beef ribs. It's very possible to entertain yourself in Dallas while spending nothing, here's how to do it.
Would it kill you to be a bit cultured for once? For serious though, they have some cool stuff here.

Whether you want to get your jog on or check out the butterfly and hummingbird gardens, Cedar Ridge is waiting.
Not the brightest spot in Dallas history, but a must nonetheless.
Stained glass paradise.
Read: Free food.
3.3 awe-inspiring miles of a self-guided tour through public art.
See Dallas how you were meant to, via trolley!
Another fine way to get in touch with nature.
These guys will whisk you around Dallas and the historic Oak Cliff areas to link you to the fine art, dining, and culture of Dallas.
Of the infamous Bonnie and Clyde.
Of course, you MAY want to spend some money on libations to increase your revelry.
Here you will encounter lots of joggers, bikers, dog walkers, ducks, and Dallas beauty. You can see the lake (duh), the Dallas skyline, and glimpse the arboretum as well.
There always seems to be something cool happening, and if not, there's definitely always some solid natural scenery.
Play ping-pong, check out a book, and play some putt-putt. Not simultaneously. That would be difficult.
Why pick green space or city when you can have both? Main Street Garden Park is smack in the heart of Downtown.
Why limit yourself to ONE Downtown garden? Belo Garden features plenty of native trees, gardens, and a fountain plaza.
Or walk. Or ditch the whole free thing and head to Katy Trail Ice House for drinks. Or keep up the whole free thing and stick a friend with the bill.
Built for kids, but definitely adult-approved.
From funky sculptures to graffiti art, Deep Ellum has some must-see spots.
See the planes coming and going up close and personal. And the statues!
No brainer!
A beautiful tribute honoring former free slaves from Freedman's Town in the 1850s.
It's like a sculpture museum, only outside.
Like stepping back in time -- particularly a draw if you're into architecture.
The records cost money, the shows do not.
Beer, free. This one is not complicated.
A cattle drive in suspended fashion.
Beautiful scenery, beautiful scenery everywhere!
We apparently love statues in Dallas. These are of teddy bears.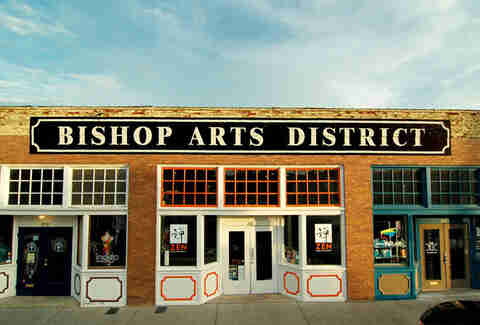 You will probably be tempted to buy something -- at least a drink -- but looking around and people-watching is free.
There is a lot up-and-coming in this area; you should take a look around and see what it's all about.
Breathtaking views are not in large supply around these parts, so here's your chance to take one in.
While this is technically free, a donation is asked for. Either way, you get a chance to do yoga with one of the better views of the skyline.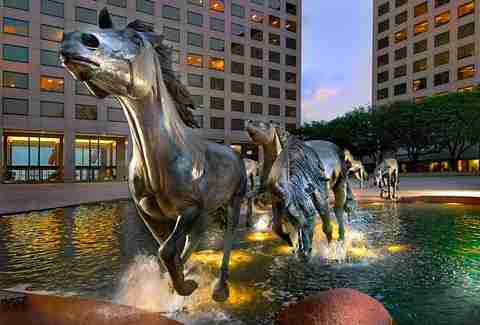 A statue of some pretty intense-looking horses galloping through puddles.
One of the most iconic buildings in Dallas. You can make-believe you're James Bond and pretend to break in using a grappling hook to go to the top... or just walk in and use the elevator, your choice.
Just some outdoor glory in good ol' Dallas.
Why go to the Arboretum and pay?
No play on words here -- just lots of cool water features.
With events ranging from up-and-coming to well-known national writers, it's always great to get in touch with your literary side.
Try out your best joke at the Tuesday open mic... or just watch others take a stab at it and then rethink the whole thing.
The biggest, baddest, free-est art festival in all of Dallas.
Makes for a great cheap date on Wednesday nights, and there's half-priced whiskey!

You don't need to pay money to feel like a smart-ass and piss off other people.

Feel fancy with classy-ass music playing around you or dive in to feel like you're at a drive-in.

The drinks cost some money, but the less you drink, the better chance you have at dominating Jenga.

Dallas may not have a subway system, but feeling the joys of being underground shouldn't cost you!

Bring blankets and bug spray, but witness any of the Bard's best plays each summer.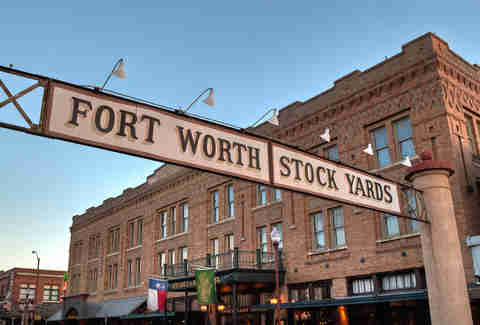 Doesn't get more Texas than that.
Grab your Chaco's and head to one of the best courses in Dallas proper.
Not free all the time, but every first Saturday you can get in for free. Plus sculptures.
You can take in all of the scenery between White Rock and Deep Ellum on one convenient trail.
The biggest, baddest, free-est food festival in all of Dallas.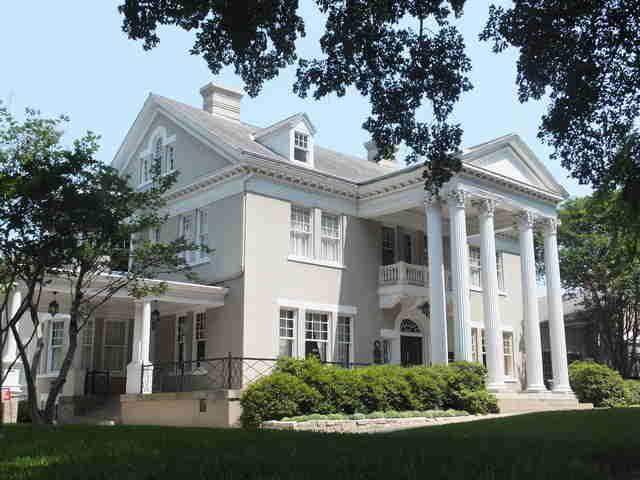 A beautiful site to be seen from Trinity Groves; you can see it when you tour Four Corners Brewery.
An amazing venue for weddings and events, but also architecturally stunning.
There's live music, art displays, and a black box theatre.
Bring blankets and bug spray, but witness any of the Bard's best plays each summer.
Sign up here for our daily Dallas email and be the first to get all the food/drink/fun DFW has to offer.
Lucas Buckels is a freelance writer in Dallas, TX. You can catch him at Double Wide singing his best Joni Mitchell on weekends. Follow @lcsbckls for updates.
Jason Moore is a Dallas transplant from Austin and truly enjoys the city. You don't have to feel sorry for him when he says he moved from there to here. You can follow his musings: @iamcalledjason.