Dating is hard enough without being hard up for places to take a date, especially when you want to be creative. Who hasn't had enough of dinner and a movie? You're in luck: Dallas happens to be jam-packed with cool activities to partake in, at every price point and to satisfy a multitude of interests, from food-making to cultural immersion. Even our sizzling craft-beer scene can do you a solid! We've got you and your next date covered with 14 great ideas for a Dallas outing that go beyond a meal and a show.
Indoor Skydiving at iFly
Frisco
Show off your daredevil side with a "jump" at this giant wind tunnel that simulates real skydiving. While you won't be able to jump as a duo in your first go-round, you can oooh, ahhh, and point at each others' skydives, as well as compare (likely hilarious) candid photos taken during your jump. Pro tip: maintaining your form is everything... and will save your arms.
Picnicking and partying at Klyde Warren Park
Arts District
The date opportunities are endless at the park on the Woodall Rodgers highway overpass. Between seasonal programming like DJ fest Beats in the Park, arts performances, a slew of fitness courses (yoga pants!), and a daily lineup of food trucks to feast from, the dates practically create themselves here -- when the weather cooperates (and, hey, if you're bundled up enough, even when it doesn't). Nothing beats a beer, a burger, and a blanket on the lawn.
A chill evening at The Wild Detectives
Oak Cliff
This cozy, wood-trimmed nook of a bookstore just off the Bishop Arts District's main drag is everything we'd expect from Spaniard owners: an effortlessly cool vibe, fantastic wine, and prime entertainment offerings -- making this a terrific date setting. Live music provides a tuneful soundtrack to the evening, and frequent author readings will make you seem all cultured and whatnot. And with a small menu offering sandwiches, craft beer, coffee, pastries, and Emporium Pies, you can kick off a full evening here with a light meal before perusing the stacks with an espresso in hand.
Geeking out to movies and food at Alamo Drafthouse
Richardson
If your date is the kind to love funky throwback events steeped in geek culture (and craft beer!), a visit to Alamo is a must. With sing-alongs, quote-alongs, and even dance-alongs -- as well as special meals, cocktails, and events surrounding big movie openings (anything LOTR-related gets major play) -- the dine-in theater has turned the film-going experience on its head. Bonus: on the occasions you're not up for movie-watching, the in-house bar, Glass Half Full, hosts a steady stream of events like Cards Against Humanity tourneys and Geeks Who Drink.
Cooking school at Central Market
Multiple locations
Fact: cooking together = sexy. Central Market provides the venue for culinary classes of all stripes, teaching everything from wine pairing and knife skills to Chinese cookery all month, every month. Hands-on classes seem to sell out more quickly than chef demos, so keep an eye on the calendar and pounce when you see a class you like. You could be sous-viding with your sweetheart before you know it, even if you can't pronounce it.
Social Science at The Perot
Arts District
If strolling through this sprawling institution of hands-on science and natural history by day isn't enough nerdy greatness, just imagine the fun to be had perusing the exhibitions by night... with a cocktail in hand. Every quarter, the museum hosts Social Science, an adults-only, after-hours event that spotlights the inner/microscopic workings of things that appeal to outgoing urbanites. We're talking examinations of gastronomy, beer-making, and the science of digital animation. All of it is set to the sounds of a local band, with eats and drinks available for purchase from the Wolfgang Puck café.
Enjoy Frank, Dallas' premiere underground dinner
Multiple locations
Want to examine your date's social finesse amid a group of lively strangers? Consider Frank a terrific test. It may take a couple tries to get picked in the email-list lotteries that decide who gets a seat at the monthly dinners, but the wait is totally worth it. MasterChef alums Jennie Kelley & Ben Starr bring together a cultured and sociable bunch for a multi-course dinner that utilizes the freshest local produce, and oftentimes goodies the chefs have brought back from their travels. The BYOB affair tends to go for around three hours, so it's definitely not first-date territory, but since you're not likely to know anyone else there but your date, it should make for some good bonding.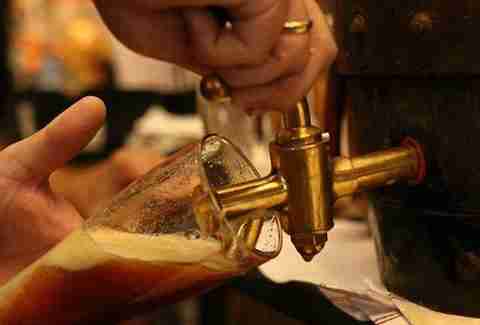 Local brewery tour
Multiple locations
Whether you're both hops heads or one is trying to convert the other to the religion of craft beer loving, a brewery tour presents a tremendous opportunity. Not only do tours offer an A-to-Z lesson in the science of beer-making and the history of the brewery, but the price of entry usually includes a couple or more pints of the house-suds to sample. Additionally, many weekend tours (some breweries also host mid-week visits) end with live music acts and layovers from popular food trucks.
Immerse yourself in local Korean culture for a day
Northwest Dallas
Feeling globally adventurous but don't want to buy airfare? Dallas has not one but two Koreatowns, packed with experiences that'll have you and your date feeling happily immersed in another culture. Start off at the traditional 24-hour Korean relaxation joint King Spa, where there's a world of jetted hot tubs and Eastern medicine-inspired sauna rooms meant to chase off toxins. Really, you could easily spend an entire day here, between the recently added water park and the hall of cushy chairs tempting you to plop in a nap. Once you're feeling detoxed, fuel up and rehydrate with Korean soups and stews at nearby eateries like Dal Dong Ne and Han Mi Ri or venture a little farther for DIY KBBQ at Zigul Zigul BBQ in Carrollton. Close out the night with karaoke and a nice variety of soju flavors at DanSungSa.
Classes at Scardello Artisan Cheese
Oak Lawn
Cheese unites people as well as it melds ingredients. So why not spend an evening learning all about formaggio in all its iterations? This Oak Lawn cheese shop throws informative fetes surrounding tastings and pairings -- and not just wines from all over the world. Recent courses include a charcuterie & cheese pairing, and a chocolate, champagne & cheese pairing. If you're trying to inspire romance, Fondue Night is not to be missed; this is another event for which you should snap up reservations as soon they open up.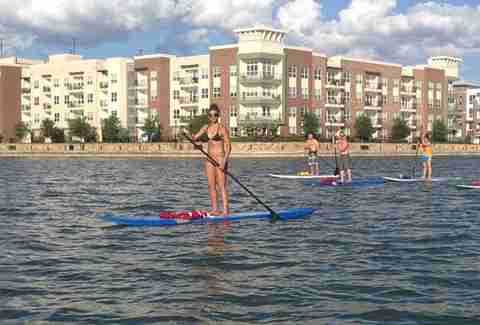 Las Colinas
Surprise, surprise -- that lake-like body of water in Las Colinas isn't just for gondolas: it's become a sporting magnet. A local company called SUP NTX (Stand Up Paddle North Texas ) hosts upright paddleboarding classes and workout sessions on the lake and also sells and rents all the equipment you'll need. Whether you pick a private or group lesson or the popular sunrise meetup, this is a fine date activity -- and endurance test -- for that significant other wannabe who can't stop bragging about his or her abs. Put those babies to the test!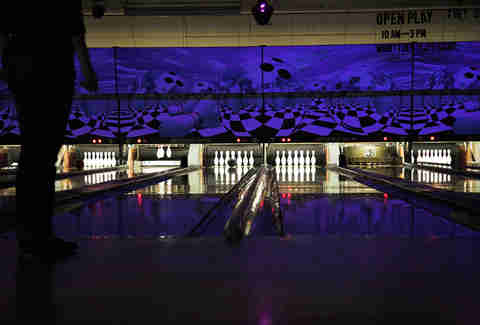 Bowling, burgers, and booze at Bowlounge
Design District
Head to this bustling bowling alley/restaurant/bar to knock down pins and knock back brews alongside burgers from Twisted Root. The atmosphere is always convivial and the music's always pumping, so it's great for a second date or even double or group dates. Also, it's good to see how a potential mate handles some friendly competition.
Deep Ellum
Nothing says teamwork like building something together with your date -- who says cheese can't be your joint construction project? In this two-hour session at Deep Ellum's Mozzarella Company, you and your date will get a tour of the cheese factory operations before diving elbow-deep in the fixings to produce mozzarella and ricotta cheese. The afternoon wraps up with a wine and cheese pairing and you getting to go home with some of the cheese you hand-made.
Sign up here for our daily Dallas email and be the first to get all the food/drink/fun DFW has to offer.