Power ranking the 5 best spots to take a dip in Dallas
www.Facebook.com/NYLODallasSouthSide
Summers in Texas tend to be really, really hot. We're talking William Thomson, 1st Baron Kelvin in a two-piece hot. As such, we've rounded up Dallas's five best spots to get a little wet and cool off, and awesomely ranked them 5 to 1.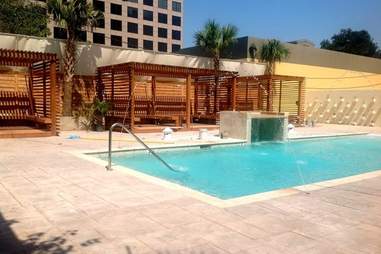 5. Sisu Uptown
2508 Maple Ave; 214.321.8765
View of the skyline? Check. Plenty of hot women? Check. Great food? Check. Cabanas for when you can't swim for 40min after eating all that great food? Check.
PegasusNews.com
4. The Pool of the Fraternal Order of Eagles
8500 Arturo Dr; 214.327.9563
Random fact you can tell people while swimming: the Eagles helped invent Mother's Day and Social Security. Also, you can get jello shots for $1 here.
TexasPool.org
3. The Texas Pool
901 Springbrook Dr; Plano; 972.881.8392
There are lots of places to swim across the state of Texas, but there aren't many places to swim in the state of Texas, so hit Plano's oft-overlooked state-shaped saltwater pool. It's members only, but open to the public -- yeah, we don't get that either.
2. Hotel Lumen's Courtyard Pool
9101 Hillcrest Ave; 214.219.2400
Fact #1: You absolutely, positively cannot hop in Lumen's across-from-SMU pool unless you're a guest. Fact #2: Fact #1 is totally false, because it's open to the public every Sunday this Summer.
1. NYLO South Side's Rooftop Pool
1325 S Lamar; 214.421.1080
This pool is only cool if you like your pools on rooftops. Infinity-style. Overlooking downtown. And equipped with a bar.