Dallas isn't quite like anyplace else, and all the unfortunate souls who don't live here owe it to themselves to make a proper visit (a four-hour DFW layover doesn't count) at least once in a lifetime for so many reasons. Here are 15 of them...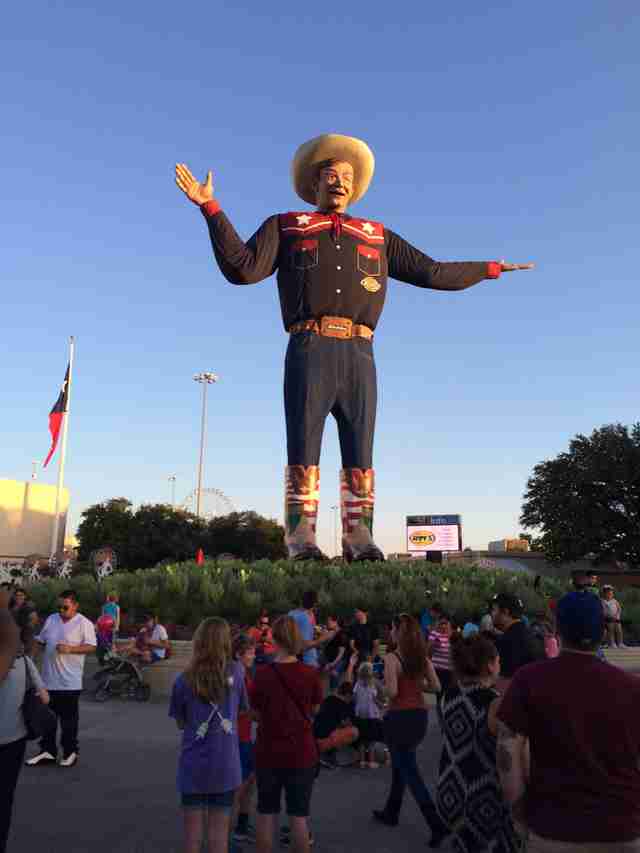 1. You get to hang out with Big Tex
Your life really is never fully complete without being able to say that you've stood in the scorching Texas sun, greasy turkey leg meat dangling from your gaping mouth, head craned skyward to listen to the dulcet proclamations of the original Golden Voice, Big Tex. Sure, he's had some setbacks -- namely the time when he burned to the ground in a horrific 2012 fire which saw an electrical fire burst forth from his mouth and consume his entire body. But like most ladies in Dallas, he had some work done and is now back and better than ever.
2. Southfork Ranch > other ranches
You owe it to yourself to make the pilgrimage out Parker to see the house and adjacent museum. The line between kitsch and genuine civic pride begins to blur when you see that iconic two-story white ranch house with cattle casually grazing in the front yard that you may know from a certain TV show named for a certain fantastic city. RIP, Big Larry.
3. They don't build stadiums like the Cotton Bowl anymore
Opened in 1930, the Cotton Bowl joins the ranks of LA's Coliseum in the pantheon of iconic, old-school, open-air stadiums of yesteryear. The site of some of the biggest World Cup matchups of 1994; the fictional Texas State Football Championship from TV's Friday Night Lights; and penultimate rock fest of the '70s and '80s, the Texxas Jam. The Cotton Bowl still plays host to the yearly Red River Rivalry between Texas and Oklahoma, as well as countless soccer matches each year. You can keep your plush, luxury seating, new Yankee Stadium. 
4. Wolfgang Puck's restaurant here rotates
It might seem prestigious to be able to brag about eating at Puck's iconic Beverly Hills restaurant, Spago. But does Spago tower 560ft in the air and slowly make a full 360-degree rotation? No, but Dallas' Five Sixty by Wolfgang Puck absolutely does. It opened as a part of the restoration of the Reunion Tower, and it's an indisputable scientific fact that food tastes better when eaten inside a rotating restaurant.
 
5. The non-rotating restaurants? Also incredible.
The burger at The Grape is as fine an example of the form as you'll encounter anywhere. Blind Butcher is a meat (and beer, and whiskey) lover's paradise. Crushcraft crushes (!) Thai street food (yes, in Dallas). This could go on for a while, but you should spend that time eating!
6. All. The. Tacos.
Tacos for breakfast? Tacos for the privilege of experiencing mouthwatering barbacoa? Tacos for... you don't need a reason, you just appreciate a damn good taco? Yeah, that's all here.
 
7. Architecture fans and Wes Anderson fans can find a common interest
Architecture and film buffs alike flock to the Gillin House, the Preston Hollow home, which was Frank Lloyd Wright's only Dallas residential project. But indie film fans also know it as the house of getaway-driver Bob Mapplethorpe from Bottle Rocket, the small Wes Anderson film that launched not only his career but also the careers of Luke and Owen Wilson. No word yet on how exactly Bob Mapplethorpe got such a great kitchen though, sadly.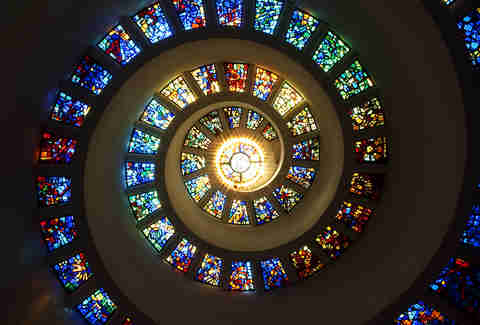 8. This stunning stained glass
From the outside, the Thanksgiving Square chapel gives the appearance of a dull, postmodern interpretation of a pencil shaving. But inside, the upward-spiraled ceiling features one of the largest horizontally mounted stained glass windows in the world. One need not be particularly religious to be taken aback by the window's beauty, particularly on a sunny day. 
 
9. Making it through even a few days of Dallas summer merits a badge of honor
If experiencing extreme weather gets the blood pumping for you, Dallas is your Mecca. Dodging cantaloupe-sized hail, frequent tornadoes, and freak ice storms is just a normal part of Dallas living. But it's the summers that really separate the men from the boys. With a heat index hanging out in the 110s most of August, Dallas summer heat is truly humbling. Sure, Arizona can try to compete with its summer high temps, but as well all know -- and let's all say it together -- it's a dry heat.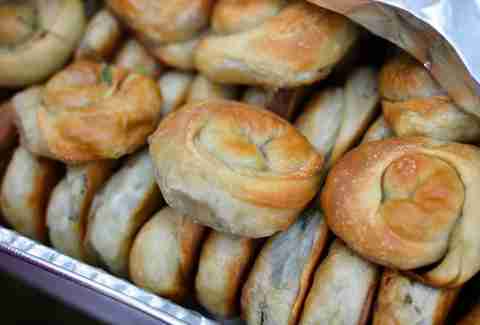 10. Amazing BBQ and vegan food coexist
While it could be argued that BBQ is the culinary cornerstone of Dallas (and Texas in general), the city also boasts one of the most unique vegetarian and vegan dining experiences in the country. Kalachandji's is housed inside an extremely ornate and gorgeous East Dallas Krishna temple and diners not only can enjoy their cruelty free meals in the tranquility of the templet's courtyard, but also classes in Ayurvedic medicine and yoga. A great place to meditate and reflect on how bad the Cowboys are playing on a cool autumn day.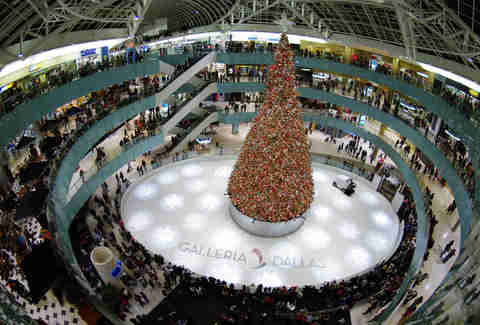 11. Ice skating at the Galleria is why there are holidays
While the mall's ice rink is open year-round, it's during the Christmas season that the rink feels the most fun. In the center is the tallest indoor holiday tree in the country (four stories or 95ft tall) and the rink is filled with novice skaters. Did you know that more skaters circle the Galleria's tree than the one in Rockefeller Center in NYC? It's true! 
 
12. You can pose for a picture with the gigantic eyeball
If you're at the Joule Hotel and couldn't take the plunge in the pool, walk across the street and make sure to get your picture taken next to "Eye," the seven-story tall gigantic, bloodshot eyeball. A sculpture by world-renowned artist Tony Tassert, it was brought to Dallas by Joule owner Tim Headington. It's definitely worth seeing, if for no other reason than seeing if you can then avoid having eyeball-related nightmares that night.
 
13. You'll pay your respects to a legendary bluesman
The undisputed king of blues is Robert Johnson, and before he sold his soul to the devil at the crossroads, he recorded some of his most iconic songs at 508 Park Ave. Eric Clapton also recorded portions of his Johnson tribute album there. The building sat abandoned for decades and narrowly missed the wrecking ball. But it was saved, and is now in the process of being renovated and restored to reclaim its history. Just don't make any deals with the devil while you're there.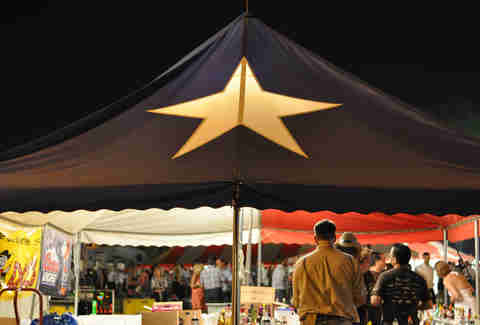 14. The Cattle Baron's Ball is... not like the others
For over 40 years, the Cattle Baron's Ball has raised money each year for the American Cancer Society. And there's nothing that Dallas loves than a good old-fashioned charity ball. But don't expect ball gowns and tuxes. Ticket prices are steep, but the atmosphere is that of a down-home party, with boots and cowboy hats practically required. And really, is there anything more Dallas than seeing billionaires wearing blue collar costumes that secretly cost more than the GDP of some small African nations?
 
15. Even bumper-to-bumper traffic presents photo ops
With rampant highway construction underway to accommodate the development boom in the city, Dallas' traffic congestion is just one notch below the very special hell that is Los Angeles traffic. However, unlike Los Angeles, springtime gridlock does offer a very special photo opportunity as the highway roadsides are filled with iconic Texas wild bluebonnets. It almost makes the hour and a half that you sit on 635 worth it. Almost.
Sign up here for our daily Dallas email and be the first to get all the food/drink/fun DFW has to offer.