Finally open in Richardson is the forever long-awaited Alamo Drafthouse, the first-ever Dallas location for the Austin-based chain, which addresses the most perilous issue facing modern movie-going: theaters that feature little or no beer.
Recommended Video
Hopsy Gives You Fresh Beer From the Tap in the Comfort of Your Own Home
Like the Alamos in Austin and Denver, they 1) don't allow kids into the theater unless it's actually for a kids movie, and 2) have a decor theme in the lobby (robots!!!!).
They recommend you show up at least a half hour before your show's supposed to start so you can enjoy pre-show tipples at their "Glass Half Full" taproom/get a good seat for Percy Jackson: Sea of Monsters 3D.
They've got almost 30 craft taps, and nearly half of those are locals.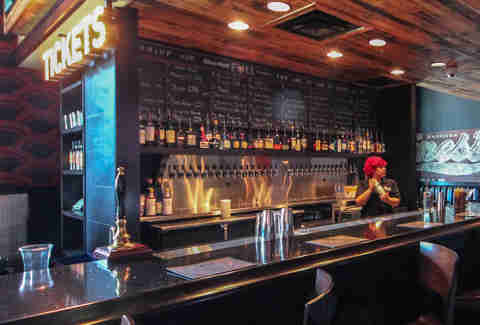 Plus a house cocktail program featuring the Full Scotch-Irish Breakfast, with rye, stout, maple, lemon curd, mole bitters, a whole egg, and what you unfortunately might do if you have too many Full Scotch-Irish Breakfasts (nutmeg).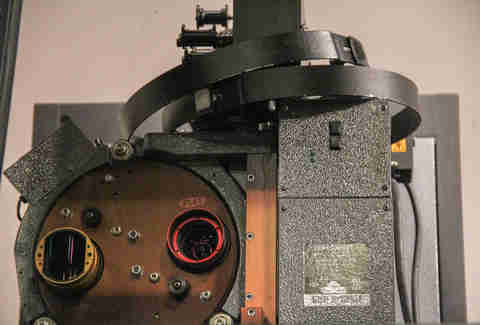 The theaters'll show new stuff (duh, Percy Jackson: Sea of Monsters 3D), but also really, really old stuff on 35mm film, including 1950s 3D movies.
Also: delivered-to-your-seat food, including a prosciutto and goat cheese sammy, or this Godfather pizza, which comes with pepperoni, green pepper, Kalamata olives, 'shrooms, pecorino, and a tendency to forget they ever made Godfather III.

See that little order card on the left? Simply write out what you want, and a server will silently (but deadly!) pick it up and bring out your food. OR, pretend you're writing an order and rat out the dude two rows in front of you that won't shut off his cell phone, then wait for this to happen: