Your 30 Dallas Commandments
And lo, Mark Cuban did drive into Dallas, wearing clothing that seemed out of place for a man driving such an expensive car. In one hand he held a Big Red, in the other he held two tablets with a series of commandments, which, if followed, would lead the people of Dallas to health and happiness. Well, maybe not necessarily health...
THOU SHALT...
1. Take advantage of patio weather
Patio weather = anything below 90 degrees. Except when there's hail.
And promise to defend its honor against foreign interlopers like In-N-Out.

3. Drive around for 15 minutes before valeting anyway
Because you don't really have a choice.

4. Roll your eyes at the valet
After they park your car 12ft from where you're standing. 

5. Keep road rage to one outburst a day
It's not easy with all those roads involving the number 35, but you can do it.

6. Know when to leave the stadium early
If you have the Rangers, Cowboys, and a beautiful day for Six Flags happening all at the same time, you have the traffic equivalent of The Perfect Storm. Don't be a hero.

7. Drink local
Between breweries like Deep Ellum, Armadillo, and Peticolas, and distilleries like Firestone & Robertson, you have no reason to do otherwise.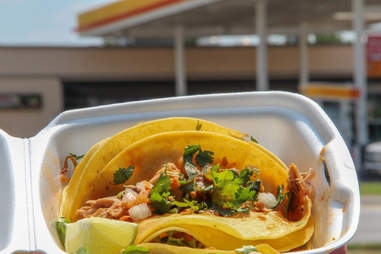 Aaron Miller
8. Eat all the tacos
Preferably from a truck, a gas station, or a building that looks like it's about to be condemned, as that is where they taste best.

9. Eat beef once a day
Said tacos are a fine delivery mechanism for this. Burgers? Sure! Brisket? Of course. Ground beef in your omelette? Why not?!

10. Overdo it on chips
Four bowls of salsa and three baskets of chips is the only way to go before your fajitas arrive. "Waiter, a to-go box please?"

11. Devote Saturdays AND Sundays to football
Generally at the expense of your health and any hope of productivity on Mondays. 
12. Visit the Highland Park lights at Christmas
If you're going to live in a city with tons of millionaires, you might as well drive around their neighborhoods in your Camry checking out the lights they paid someone to hang up.

13. Say y'all
Doesn't matter if you're born and raised or new here. We don't say "you all", "you guys", or even "you's guys". Brevity!

14. Order a Coke
Then specify the Coke to which you are referring.

15. Look puzzled when people mention your accent
What accent? American?
 
THOU SHALT NOT...

1. Take your weather complaints to social media
Yes, it's super hot in the summer and transitions into freak ice storms in winter. Everyone's dealing with it. We don't need repeated pictures of your three-digit car thermometer. 

2. Over-invest in Dallas sports
Of course you can't help but love them, but keep your guard up. They've hurt you before and they'll hurt you again. Or in the Cowboys' case, again and again and again. 

3. Drive on any road that has the number "35" in it (35E, 35W, 635) between the hours of 8am and 8pm
We know it's impossible to avoid, but still, you shouldn't.

4. Miss an exit off of the new 635
Unless you want to be lost for eternity.
5. Ride the dart after dark
This is not a good place to meet people.

6. Move to the suburbs
At least not until kids force the issue.

7. Eat at certain national Mexican food chains
Come on, this is Texas. You know you can do better. 

8. Stray from the AC in August
We're talking about survival here. Or at least avoiding pit stains. 

9. Fight in bars
Even if you're at Black Friar's or Idle Rich and there's a guy who absolutely deserves a throat punch (which there will be). 
10. Try driving when the ice hits
It's not worth it man. Hunker down and get deep into Netflix. 

11. Treat Dallas and Fort Worth as the same thing
Yes, the airport may be DFW, but locals know that the yin and yang of the two is what makes the metroplex special. 

12. Gamble on the Cowboys. 
See #2. And NFL Week 1. 

13. Covet a certain city to the South
That's not a zombie apocalypse in Austin, it's just 5pm traffic on a Wednesday.

14. Get attached to the Rangers' stadium name
It changed before you finished reading this sentence. 

15. Call it "The Big D"
For so many reasons.
 
Sign up here for our daily Dallas email and be the first to get all the food/drink/fun DFW has to offer.