Fun Things to Do in Dallas During Dry January and Beyond
Get into luxe spa days, fostering a pet, adrenaline-fueled activities, and more.
Now that we're a couple weeks into 2023, most of us have settled into a new post-holiday groove. Whether your personal forecast calls for a completely Dry January or partly dry with a chance of wet weekends, skipping out on the booze for a day, week, month, or forever can open up a whole new world of possibilities. Take alcohol out of the equation (or make it a secondary component instead of the main focus), and embark on a journey of self-improvement. Or experience everything our city offers from a whole new perspective—with a total recall of events the next morning rather than scrolling through photos to figure out where things went off the rails. Best of all, by axing all those $16 cocktails from your tab, you may discover a surplus of discretionary funds to splurge on activities that may have seemed out of reach the last time you logged into your banking app. Raise a glass of alcohol-removed bubbly or one of Katy Perry's non-alcoholic aperitifs and toast to these eight ways to have fun and ride high on a little something called life.
Go on a wellness journey (that's not inside a gym)
Various locations
Many a gym membership is purchased at the beginning of January with the intent of working out regularly and seeing a major body transformation in time for swimsuit season. But by now we all know that fitness training takes commitment and a whole lot of effort. While we're not encouraging anyone to give up on those goals, we would like to remind you that wellness experiences can be enjoyable, too. Think 90-minute massages, rejuvenating facials, and afternoons at fancy spas bouncing between the jacuzzi and sauna while sipping on green juices. For full days of indulgent relaxation and rejuvenation, book time at one of the most luxe spas in the city: The Ritz-Carlton Spa, Dallas, the Spa at Thompson Dallas, the Verandah Athletic Club & Spa, the Well & Being Spa at The Westin Dallas Stonebriar Resort & Spa, or The Spa at The Joule. For a fantastic massage without the fuss, reserve some time on the table at Vigor Massage and Personal Training or any of the four North Texas locations of either Hiatus Spa + Retreat or Woodhouse Day Spa. Spend some of your sober savings on a freshened face at Alchemy43 or Luxury on Lovers. Or book a session at StretchLab, which can work wonders on your body.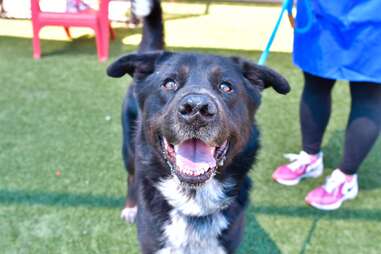 Foster an animal and teach him a few tricks
Various locations
Shelters all over the country are at full capacity and DFW's rescue organizations are no different. Every shelter desperately needs volunteers to spend quality time with their animals on-site, or even better, at your home where you can devote all the hours you would typically spend bar-hopping to bringing joy to the life of a precious pup or cuddly cat. Dallas Animal Services, SPCA of Texas, DFW Rescue Me, and Humane Society of North Texas are but four of dozens of organizations around Dallas-Fort Worth in need of people to help their efforts. Who knows, you might find a new four-legged love that would make an amazing permanent addition to your life, too. After all, patio season is right around the corner and having a cute companion by your side always makes a great conversation starter.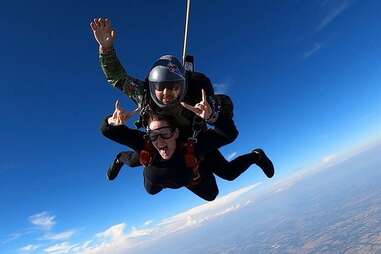 Explore the great outdoors
Various locations
Back away slowly from the treadmill and head outside to rack up some steps among some spectacular scenery illuminated by the Texas sun instead of fluorescent lights. The Katy Trail and Santa Fe Trail offer low-impact, paved routes through neighborhoods and Dallas' urban center whether you're a walker, jogger, runner, cyclist, or rollerblader. White Rock Lake also has plenty of concrete pathways, but get off the beaten path for some more rugged, unpaved trails that take you away from the crowds. Fishing, sailing, and standup paddleboarding are also options. Or to truly feel like you're worlds away from the hustle of the city, get yourself to the Trinity River Corridor, the Fort Worth Nature Center and Refuge, or the Trinity River Audubon Center for fresh-air interactions with all sorts of fantastic flora and fauna. Just make sure to fuel up appropriately and pack plenty of sunscreen.

Support the local arts scene
Various locations
As fortunate as we are to be able to spend most days outside in Texas during January without freezing our booties off, cozying up for a little culture time in a heated auditorium definitely has its allure. And now that the Nutcracker costumes have been stowed and the sets for that Charles Dickens classic have been put away until Christmas Yet To Come, our local theater groups have kicked off 2023 with a whole new slate of shows. Catch Cabaret at Arts Mission Oak Cliff, Legally Blonde at AT&T Performing Arts Center, Pinchas Zuckerman with The Dallas Symphony Orchestra, The Dimension of Death at the Eisemann Center, Disney's The Lion King at Bass Performance Hall, The Elephant Man at Theatre Three, and Four Weddings and an Elvis at Rover Dramawerks.

Volunteer your time and talents
Various locations
Everyone's a little more philanthropic during December, but nonprofit organizations don't stop needing help once the clock strikes midnight every January 1. In fact, during these peak winter months their needs often increase exponentially. North Texas Giving Day's website remains the best place to find a charity that could use your skills as a volunteer (they have more than 3,300 nonprofits listed and counting). But if browsing that list feels a little overwhelming, consider volunteering at Dallas Animal Services, North Texas Food Bank, HELP Center for LGBT Health and Welllness, Trash Free Texas, Refugee Services of Texas, and the USO Dallas Fort Worth are all great places to start.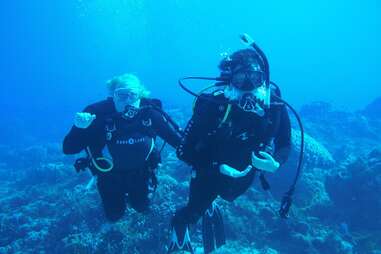 Take up a new hobby
Various locations
With all the extra money you're banking by not drinking, you should end up with a nice chunk of change that can go toward learning a new skill or nurturing an existing talent. Heck, even if you're bad at whatever you choose, getting outside your comfort zone can yield wonderful results—even if it's just making other people laugh. Take up fly-fishing in a nearby Texas State Park. Learn to two-step at the iconic LGBTQIA+ country-western bar, The Round-Up Dance Hall and Saloon. Conquer your culinary fears with cooking classes at your nearest Central Market. Become a master maker in a variety of disciplines from pottery to jewelry making at The Craft Guild. Or build up skills to make your next tropical vacation the best ever with scuba lessons from Dive West. The possibilities are practically endless, and if you rope in some friends for the fun, you'll have an even better time.
Indulge in culinary delights
Various locations
Have you ever lamented that you don't have the money to go to some of Dallas-Fort Worth's best fine dining establishments? Well, if you're not drinking, you'll have more than enough spare cash to cross a few chef's tasting menus off your bucket list. Georgie by Curtis Stone offers five courses for $145. Monarch offers guests The Royale experience for $290. The omakase experience at Namo varies in price based on ingredients, but it's a must for seafood lovers. The Mansion Restaurant showcases the best chef creations with a five-course seasonal tasting menu for $135. Experience the height of creativity at Petra and the Beast's six-course Saturday evening tastings for $135. Indulge in seven courses for $180 at Revolver Tacos' Puré Pécha tasting. Or practice your French at Saint-Emilion Restaurant where a three-course tasting will only set you back $55.