For every Troy Aikman, Emmitt Smith, and Deion Sanders, there's a Patrick Crayton. And a Roy Williams. And a (shudder) pink (vomit) Tony (fetal position) Romo. Well today, we put a freaking stop to it. These are the 10 Dallas Cowboys jerseys you're not allowed to wear anymore:
10. Patrick Crayton
When you type "Patrick Cray" into Google, the first Google autocomplete is "Patrick Crayton" and the second is "Patrick Crayton dropped pass". No, really. It is.

9. Keyshawn Johnson
Joey Galloway in 2005: 1,287 yards, 10 TDs. Guy the Cowboys traded Galloway away for: 837 yards, 6 TDs. Dude, just stop.
8. The Roys Williams
Worst.
7. Anything Jessica Simpson Wore
WHY DID YOU EVEN BUY A PINK TONY ROMO JERSEY?

6. Drew Bledsoe
Um... he had a better career than Ryan Leaf? Bledsoe's jersey belongs only in a football-themed haunted house. Also, if you run or know of a football-themed haunted house, please let us know in the comments section...
5. Julius Jones
Admit it. You thought #21 meant Deion, didn't you?

4. Quincy Carter
Admit it. You thought #17 meant Dandy Don, didn't you?
3. Pacman Jones
TNA Wrestling!!!!! For life!!!!!!

2. Terrell Owens
Fact: Ugh. Seriously?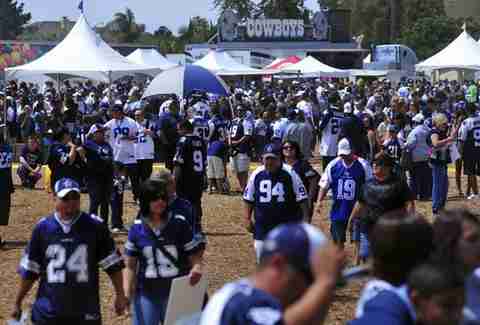 1. ANY. BLUE. JERSEY.
You know the 'Boys have a long-standing tradition of wearing blue as little as possible, right? And an equally long-standing jinx of losing whenever they do wear blue? Right???? RIGHT????!?!?!?!?