Dallas isn't as weird as Austin, and it doesn't have the coastal allure of Houston... but honestly, who cares about either of those things? With plenty of museums, green spaces, world-class restaurants, and amusement parks (not to mention pro sports teams out the wazoo), you're not exactly hurting for options when it comes to things to do in this city. In fact, it's quite the opposite: toss in the fresh new events on our radar every month, and it's practically impossible to not have multiple weekend plans. To make your choices easier (or harder, depending on how you look at it), we've gathered up some of our favorite can't-miss activities around Dallas -- some of which are totally free.
Recommended Video
Nashville Absinthe Cocktails & the Hottest Chicken (Literally)
$-$$
The Wild Detectives
Whether you're looking for a romantic date night or you just need some place to read and hangout by yourself, The Wild Detectives is the place. At this book store in the Bishop Arts District, you can shop for a new read, drink some wine, or just catch up on work (although they turn off the Wi-Fi after 6pm). The shop offers several event series as well, including author talks and live music.
Free
Downtown Dallas
In downtown Dallas, there's a giant 30-foot tall sculpture of an eyeball. It sounds basic, but everyone takes pictures with it/of it. It's unique material for your Insta, to say the least; once you're done eyeing the eyeball, take a stroll along Downtown's Main Street and hit up a bar to take the edge off the weirdness you just took part in.
Free
Uptown Dallas
The Katy Trail is the perfect spot for run, bike ride, or just a nice walk. The trail extends 3.5 miles from Highland Park through Uptown and to the American Airlines Center. If you're not sure where to park or how to access it, there's always plenty of parking off of Knox Street. If you walk far enough, reward yourself with a beer at Katy Trail Ice House. 
Free
Downtown Dallas
Located by the convention center off of Young Street, you'll find three bronze cowboys herding 40 longhorn steer. It's reportedly the second-most visited landmark in downtown (after Dealey Plaza, for obvious reason). Take a walk through the park, and take some pictures with the sculptures. Just remember you're not supposed to hop on the steers.
Free-$$
Dealey Plaza
For some people, the first thing that comes to mind when they think of Dallas is: That's the place JFK was shot. It's not the first thing we think of, but it's an important part of history that's worth exploring if you haven't already. Walk around Dealey Plaza and see where the former president was assassinated. When you're done, tour the Sixth Floor Museum -- which has numerous historical exhibits pertaining to the assassination.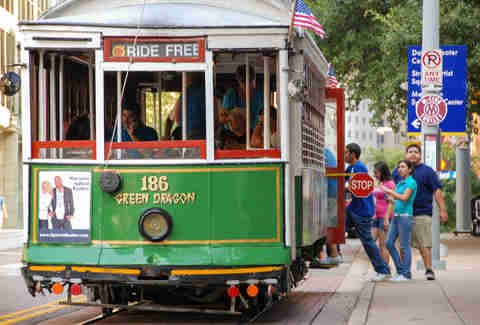 Free
Uptown Dallas
One of the best (and least expensive) ways to explore the Uptown area without having to worry about Uber rides or where to park is by riding the M-line Trolley. The tracks run from West Village through Uptown and into downtown Dallas. Go for a ride, then hop off to explore an area and wait for it to come back around. It's free, but donations are appreciated. 
Free
Plano
You can do it all at the 200-acre Arbor Hills Nature Preserve. Go for a run, take a walk, ride your bike (on-road or off), find a quiet spot to just be alone, or bring some friends and get active. There are also a ton of scenic areas throughout the park, so make sure to have your camera ready to snap a shot.
$$
Trinity Groves
Whatever your favorite type of food is, you can probably find it at Trinity Groves. Mexican, Asian, Italian, barbecue, vegan, seafood, Mediterranean, tapas? It's all there in our downtown business district's restaurant hub. Make a night out of it by having an appetizer at Tapas Castile, dinner at Souk Mediterranean Bistro & Bar, and dessert someplace else like Saint Rocco's New York Italian -- with drinks along the way, of course.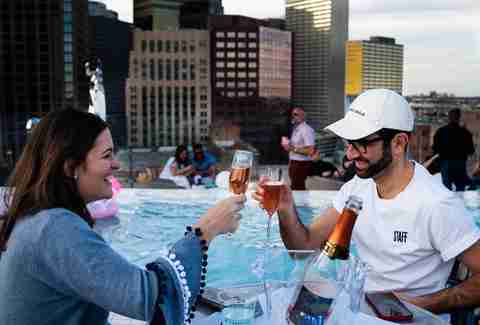 $-$$
The Statler
From the 19th floor of the Statler, you'll find awesome views of Dallas and a rooftop pool. The hotel's rooftop bar still still serves up drinks and music during the winter, but if you swing by during the summer months there's a good chance you'll run into a weekend pool party. But even in the winter, the hotel's rooftop bar is still serving up drinks and playing tunes. 
Free
Trinity River Audubon Center
South of downtown Dallas, on a former illegal dumping site, you'll find 6,000 acres of forest. Yep, right here in North Texas. Go for a walk, hike, or just spend some time outside in the sun. The center also hosts guided hikes, and regularly holds special programs like night hikes and birding lessons.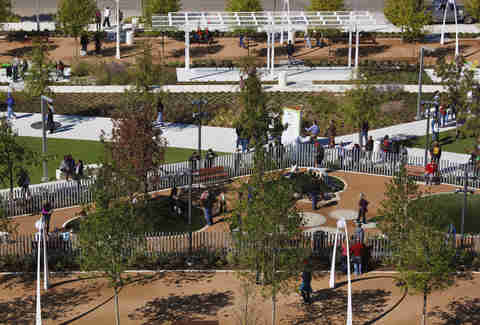 Free
Klyde Warren Park
This 5.2-acre public park sits over a major freeway -- yes, you read that correctly. There's always something to do here: check out one of the several food trucks lined up along the street, grab a book from the library, or just soak in the sun. If you plan ahead, take a look at the things going on this weekend to see if there are any special events happening there beyond the usual dancing, yoga, or workout classes you'll find.
Free-$$
Dallas Museum of Art
Across the street from Klyde Warren Park, you'll find the Dallas Museum of Art. General admission here is free, but the special exhibits will cost you. While you roam the halls of the museum, you'll feel like you're traveling the globe as it takes you across continents and time periods.
Free
Margaret Hunt Hill Bridge
If you're dying to get the perfect picture of the Dallas skyline, this is where you need to go. The bridge's steel arches also make for some great photos. When you're done, walk to Trinity Groves for some great food.
$$
Reunion Tower
Dallas law requires that all residents of Dallas must see Dallas from the observation deck of Reunion Tower at least once in their lives. That's not actually true, but it might as well be. The view from up there is incredible, and if you go on a clear day, you can see the city for miles.
Free
Chase Tower
If you don't feel like paying to see Dallas from above at Reunion Tower, head over to the Chase Tower Sky Lobby. It's not as high as the view you get from Reunion Tower, but it's free. You'll get to see Dallas from 40 stories up through floor-to-ceiling glass walls.
Free-$
White Rock Lake
From runners to bikers to casual park-goers, more than 1 million people visit this lake every year. It's 9 miles all the way around, and you'll always find something to do here. If biking isn't your thing, go for a walk. Or rent a paddleboard and paddle around the lake.
$
Nasher Sculpture Center
With sculptures inside and outside, you will: 1) Learn a lot about art. 2) Run into great opportunities for the 'Gram. This is also an insanely gorgeous as a wedding venue and was designed by the Italian architect Renzo Piano (see also: the Whitney Museum in NYC; the Shard in London; the Los Angeles County Museum of Art). The Nasher features more than 300 features made by the hands of Picasso, Matisse, Rodin, and more.
$-$$
Lower Greenville
If you're looking something that's not too much of a party scene but also not completely dull either, Lower Greenville is the perfect balance of the two. Some fun places here include: Sundown at Granada, HG Supply Co, and Beauty Bar.
$-$$
Deep Ellum
This area is one of the coolest places to spend a weekend. Why? Because we said so. You never know what you'll end up doing here. Go from a rooftop bar like Stirr with a great view of the skyline to a speakeasy like Truth & Alibi to dancing to salsa music at Cafe Salsera and end up at a Louie Louie's piano bar all in one night. Anything goes in Deep Ellum.
Free-$$
Bishop Arts District
Over the past few years, Bishop Arts District has undergone rapid transformation/gentrification. While the neighborhood isn't the same as it was 10 years ago, new artist shops, restaurants, and bars have distinguished themselves and made this a corner of Dallas certainly worth exploring and spending time in. You'll find amazing places to eat like Dallas Grilled Cheese Co and Lockhart Smokehouse BBQ, and tons of places to take pictures.
$$
The Star in Frisco
You don't have to be a fan of the Dallas Cowboys to enjoy a tour of their new state-of-the-art training facility. When you're finished there, walk around the rest of the entertainment district and shop and eat like the pros do.
$$-$$$
AT&T Stadium
Some people (wrongly) hate them, some people love them, but no matter where you stand, watching the Cowboys play a home game at AT&T Stadium is something you'll never forget. If it's not a game day, you should still swing by the stadium for a tour that takes you through the dressing rooms and out onto the field.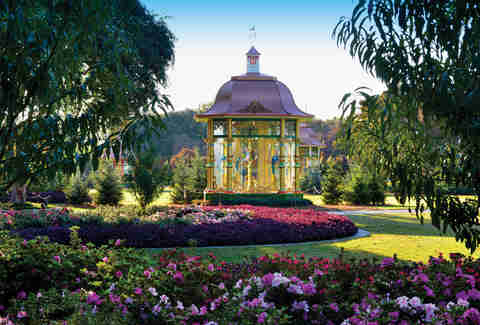 $$
Dallas Arboretum and Botanic Gardens
Take a stroll through one of the prettiest parts of Dallas. The arboretum is open all year, and it regularly features new art, flowers, and plants. If you want to make your Instagram followers jealous, this is the perfect place to start.
$$
Medieval Times Dinner & Tournament
At Medieval Times you'll feast on an 11th century–style meal (which you can eat with your hands!) and watch knights joust to earn the right to be the queen's champion. There's only nine Medieval Times locations in the US, so you have to take advantage when you can.
$$
Perot Museum of Nature and Science
With 11 permanent exhibit halls that feature sports, animals, gems and minerals, birds, dinosaurs, and more, there's something for everyone at the Perot Museum. Unlike most museums, this is one where you're actually allowed to touch most of the exhibits (but not everything, of course).
$$
LEGOLAND Discovery Center
You don't have to be a child to enjoy Legoland. What's billed as the "ultimate indoor Lego playground" features three rides, 10 build and play areas, and a 4-D cinema. You can also go on a factory tour to see the behind-the-scenes of how Legos get their colors and shapes.
$$
George W. Bush Presidential Library and Museum
Political differences aside, it's never a bad idea to visit a presidential library if and when you get the opportunity. The George W. Bush Presidential Library and Museum, next to Southern Methodist University, features thousands of artifacts from the former president's administration. Some key exhibits include "Nation Under Attack," which honors the lives lost in the September 11, 2001 attacks, and a full-size replica of the Oval Office.
$$
Six Flags Over Texas
Six Flags Dallas is a destination all its own. Ride the classic roller coasters like the Texas Giant and the Titan. Then work your way over to the new Harley Quinn Spinsanity and The Joker -- if you have the stomach for it.
$$
Dallas World Aquarium
From birds to fish to turtles, you'll find all sorts of creatures at the Dallas World Aquarium. The exhibits here will take you to see animals from different parts of the world. When you're done, go for a walk through the historic West End District.
$-$$
Uptown
Hands down, this is one of the best neighborhoods in the city when it come to nightlife, with go-to places like the pub grub-slinging Blackfriar and the sports bar and nightclub Concrete Cowboy. If the nightlife isn't your scene, come back in the morning for some of the city's A+ brunch spots.
$$
Dallas Zoo
At 106 acres, you could spend all day here and probably not see all of it. The Dallas Zoo was founded in 1888, making it the first zoo in the Southwest. The zoo features about 430 species, and that's not including fish. Be sure to check out the Wilds of Africa which was named the "Best African Exhibit in US" by The Zoo Book: A Guide to America's Best.
$$-$$$
American Airlines Center
We can't guarantee you'll see a fight when you watch the Dallas Stars play, but at any hockey game, there's always a decent chance of it. If you're in Dallas between the months of October through April, you'll find yourself in hockey season. Wear green and get ready to yell "STARS" really loud during the National Anthem.
$$-$$$
Dallas Music Hall at Fair Park
Just because we're not New York, doesn't mean incredible shows don't come to Dallas. Despite what their name implies, the great people at Dallas Summer Musicals bring amazing stage shows to Dallas year-round.
 
Sign up here for our daily Dallas email and be the first to get all the food/drink/fun DFW has to offer.