Whether riding a horse or throwing a touchdown, the first thing most people imagine when they think of Dallas is a cowboy -- and in either case, they wouldn't be wrong. This city will live up to every stereotype you've got, and then completely surprise you with a modern art installation or world-class meal that blows away everything you thought you knew about Dallas. It's a place not easily categorized, which makes it one of the most exciting places to explore in Texas (yeah, you heard that right Houston). Full of art museums, shopping destinations, professional sports teams, and even some outdoor activities, there's something for everyone to check out in Dallas.
Recommended Video
Please Don't Hang Up: The Best BBQ & Barcade in Dog-Friendly Kansas City
$-$$
The Wild Detectives
Whether you're looking for a romantic date night or you just need some place to read and hangout by yourself, The Wild Detectives is the place. At this book store in the Bishop Arts District, you can shop for a new read, drink some wine, or just catch up on work (although they turn off the Wi-Fi after 6pm). The shop offers several event series as well, including author talks and live music.
Free (though donations are suggested)
Cedar Ridge Preserve
Hills are scarce in Dallas, but you can get a true taste of the Texas Hill Country at Cedar Ridge Preserve's 600 acres of wildlife habitat. Pick one of a dozen trails within 20 minutes of Downtown, ranging from quick loops of under a mile to more exhilarating circuits up to 5 miles in length. Dogs are welcome as well, but make sure to keep your furry buddy (and yourself) hydrated.
$-$$
Globe Life Field
Even if you've been to countless Rangers games before, you'll want to make an effort to catch one at their new home, Globe Life Field. The ballpark's retractable roof guarantees a comfortable time no matter the weather, and the stadium's new open design means that even if you get up from your seat, you'll still be able to hear (and sometimes even see) the action on the field. That last part's important, because it means you can dig into the huge selection of State Fair-inspired concessions without missing a beat.
Free
Uptown Dallas
The Katy Trail is the perfect spot for run, bike ride, or just a nice walk. The trail extends 3.5 miles from Highland Park through Uptown and to the American Airlines Center. If you're not sure where to park or how to access it, there's always plenty of parking off of Knox Street. If you walk far enough, reward yourself with a beer at Katy Trail Ice House. 
Free
Downtown Dallas
Located by the convention center off of Young Street, you'll find three bronze cowboys herding 40 longhorn steer. It's reportedly the second-most visited landmark in downtown (after Dealey Plaza, for obvious reason). Take a walk through the park, and take some pictures with the sculptures. Just remember you're not supposed to hop on the steers.
Free-$$
Dealey Plaza
For some people, the first thing that comes to mind when they think of Dallas is: That's the place JFK was shot. It's not the first thing we think of, but it's an important part of history that's worth exploring if you haven't already. Walk around Dealey Plaza and see where the former president was assassinated. When you're done, tour the Sixth Floor Museum -- which has numerous historical exhibits pertaining to the assassination.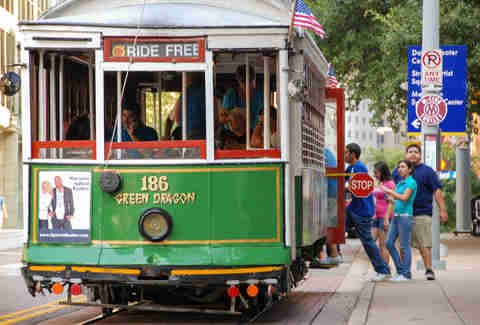 Free
Uptown Dallas
One of the best (and least expensive) ways to explore the Uptown area without having to worry about Uber rides or where to park is by riding the M-line Trolley. The tracks run from West Village through Uptown and into downtown Dallas. Go for a ride, then hop off to explore an area and wait for it to come back around. It's free, but donations are appreciated. 
$-$$
Trinity Groves
Can't decide what you're in the mood to eat? Make your way to Trinity Groves, a restaurant incubator where the options are as wide-ranging as Asian, Italian, barbecue, vegan, seafood, burgers, Mediterranean, tapas. Still can't decide? Dine your way across the globe starting with drinks and apps at Chino Chinatown. Next, head to Beto & Sons for a fresh take on Mexican, and don't miss the hummingbird cake for dessert at Cake Bar.
Retrace the steps of Bonnie & Clyde
Free
West Dallas
These infamous bank-robbing lovers called Dallas home when they weren't on the run. Bonnie Parker and Clyde Barrow are said to have met at a house on Herbert Street, behind Trinity Groves today; just a few blocks away at 1221 Singleton Boulevard stands Clyde's childhood home, where the Barrow family ran a gas station (long since abandoned and very creepy). Bonnie and Clyde are buried in Dallas as well, though in separate gravesites per Bonnie's mother's wishes. Both are open to the public.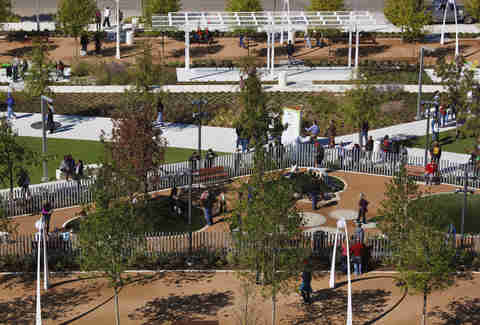 Free
Klyde Warren Park
This 5.2-acre public park sits over a major freeway -- yes, you read that correctly. There's always something to do here: check out one of the several food trucks lined up along the street, grab a book from the library, or just soak in the sun. If you plan ahead, take a look at the things going on this weekend to see if there are any special events happening there beyond the usual dancing, yoga, or workout classes you'll find.
Free-$$
Dallas Museum of Art
Across the street from Klyde Warren Park, you'll find the Dallas Museum of Art. General admission here is free, but the special exhibits will cost you. While you roam the halls of the museum, you'll feel like you're traveling the globe as it takes you across continents and time periods.
Free
Margaret Hunt Hill Bridge
If you're dying to get the perfect picture of the Dallas skyline, this is where you need to go. The bridge's steel arches also make for some great photos. When you're done, walk to Trinity Groves for some great food.
$$
Reunion Tower
Dallas law requires that all residents of Dallas must see Dallas from the observation deck of Reunion Tower at least once in their lives. That's not actually true, but it might as well be. The view from up there is incredible, and if you go on a clear day, you can see the city for miles.
Free
Chase Tower
If you don't feel like paying to see Dallas from above at Reunion Tower, head over to the Chase Tower Sky Lobby. It's not as high as the view you get from Reunion Tower, but it's free. You'll get to see Dallas from 40 stories up through floor-to-ceiling glass walls.
Free-$
White Rock Lake
From runners to bikers to casual park-goers, more than 1 million people visit this lake every year. There's a 9-mile circuit all the way around the lake, most of which can be done on a paved path separated from car traffic; rent a bike and hit the road! If biking isn't your thing, go for a walk near the Filter Building and check out the 1930s art deco boathouse.
$
Nasher Sculpture Center
With sculptures inside and outside, you will: 1) Learn a lot about art. 2) Run into great opportunities for the 'Gram. This is also an insanely gorgeous as a wedding venue and was designed by the Italian architect Renzo Piano (see also: the Whitney Museum in NYC; the Shard in London; the Los Angeles County Museum of Art). The Nasher features more than 300 features made by the hands of Picasso, Matisse, Rodin, and more.
$-$$
Lower Greenville
Except on St. Patrick's Day when this whole street turns into the biggest annual party in Dallas, Lower Greenville is the perfect balance of party scene and chill bars. Feeling low-key? Check out Truck Yard or The Libertine Bar. Trying to turn things up a lil' bit? Make your way to Wah Wah Room or the rooftop at HG Supply Co.
Sample a few local speakeasies
$-$$
Downtown
There are plenty of great rooftop bars in Dallas, but sometimes you need to forgo fresh air and have a strong drink below ground level. Take a mini speakeasy crawl through Downtown starting at Midnight Rambler beneath the Joule Hotel, then moving to Bourbon and Banter at The Statler Hotel (dial the code in the phonebooth to enter through the false wall).
$-$$
Deep Ellum
The deep end of Elm Street (Deep Ellum, get it?) is the live music epicenter of Dallas. Dozens of restaurants, music venues, and bars make up this area steeped in blues music history. Cocktail enthusiasts will enjoy HIDE, while the craft beer nerds should check out Braindead Brewing. Local and nationally renowned artists perform in Deep Ellum practically every night of the week, so see who's playing at The Bomb Factory (formerly a real bomb factory during WWII) or Three Links.
Shop local in Bishop Arts District
Free-$$
Bishop Arts District
The Brooklyn to Dallas' Manhattan, Bishop Arts District across the river in Oak Cliff has undergone a rapid transformation in recent years. Enjoy the quaint and locally focused shops like We Are 1976 and Spinster Records that line Bishop Avenue. Restaurants and bars have also made this once quiet corner of Dallas certainly worth exploring. Check out Eno's Pizza Tavern for dinner, Emporium Pies for dessert and finish the night at Revelers Hall with some live jazz.
Free
Ronald Kirk Bridge
If you're dying to get the perfect picture of the Dallas skyline, make your way to the Ronald Kirk Bridge. This cool retrofitted pedestrian park sits right next to the gorgeous Margaret Hunt Hill Bridge, and makes for some great photos. When you're done, walk to Trinity Groves for a bite to eat.
$-$$
American Airlines Center
It's an exciting time to be a Dallas Maverick basketball fan: After 21 years of greatness with Dirk Nowitzki, we are now privileged to be living in the Luka Doncic era. Go see the young phenom in action between the months of October and April, and say hey to Mark Cuban for us.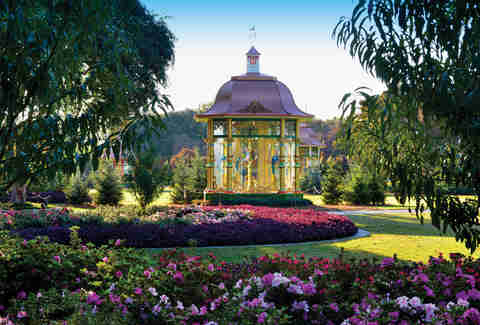 $$
Dallas Arboretum and Botanic Gardens
Take a stroll through one of the prettiest parts of Dallas. The arboretum is open all year, and it regularly features new art, flowers, and plants. If you want to make your Instagram followers jealous, this is the perfect place to start.
$$
Perot Museum of Nature and Science
With 11 permanent exhibit halls that feature sports, animals, gems and minerals, birds, dinosaurs, and more, there's something for everyone at the Perot Museum. Unlike most museums, this is one where you're actually allowed to touch most of the exhibits (but not everything, of course).
$$
LEGOLAND Discovery Center
You don't have to be a child to enjoy Legoland. What's billed as the "ultimate indoor Lego playground" features three rides, 10 build and play areas, and a 4-D cinema. You can also go on a factory tour to see the behind-the-scenes of how Legos get their colors and shapes.
$$
George W. Bush Presidential Library and Museum
Political differences aside, it's never a bad idea to visit a presidential library if and when you get the opportunity. The George W. Bush Presidential Library and Museum, next to Southern Methodist University, features thousands of artifacts from the former president's administration. Some key exhibits include "Nation Under Attack," which honors the lives lost in the September 11, 2001 attacks, and a full-size replica of the Oval Office.
$$
Six Flags Over Texas
Six Flags Dallas is a destination all its own. Ride the classic roller coasters like the Texas Giant and the Titan. Then work your way over to the new Harley Quinn Spinsanity and The Joker -- if you have the stomach for it.
$-$$
Uptown
The polished business vibe of the work week quickly fades into serious nightlife when the weekend hits in Uptown. Go-to spots like Parliament cocktail bar, Theory Nightclub, and Happiest Hour own the scene here. If the nightlife isn't your speed, come back in the morning for some of the city's A+ brunch spots.
Free
Thanks-Giving Square
The spiral Chapel of Thanksgiving is a stunning oasis hidden amid the towering skyscrapers of downtown Dallas. This quiet "spiritual center" features one of the largest installations of horizontally mounted stained-glass in the world; take a peaceful moment to yourself, then make sure to take a picture to post later.
$-$$
Cowboys Red River
Visitors who refuse to accept that most people Dallas don't wear cowboy hats and boots all the time can go to Cowboys Red River, where people actually do. This classic dancehall is everything you want Texas to be, complete with a huge wooden dance floor that encircles the bar and dance lessons to help you shake the cobwebs off.
$$
Dallas Zoo
At 106 acres, you could spend all day here and probably not see all of it. The Dallas Zoo was founded in 1888, making it the first zoo in the Southwest. The zoo features about 430 species, and that's not including fish. Be sure to check out the Wilds of Africa which was named the "Best African Exhibit in US" by The Zoo Book: A Guide to America's Best.
Dine like a Dallas Cowboy
$$-$$$
Various locations
Dallas is one of a few cities that can truly claim the steakhouse as a native cuisine -- we absolutely know how to serve a fine cut of beef (a la cart) with the best of them. For a reimagination of the steakhouse experience, try the 240-day dry-aged ribeye at Knife; for the classic white-tablecloth steakhouse, head to Del Frisco Double Eagle Steakhouse. Old school or new school, we do steakhouses right.
Go window-shopping in Downtown
$$$
Downtown Dallas
Shopping is practically a sport in Dallas, whose retail culture can trace its origins back to the original Neiman Marcus location still located on Main Street. The storefront windows are works of retail art if your wallet can't handle even the idea of walking inside. The next generation of luxury department store Forty Five Ten just across the street is also worth a look.
Sign up here for our daily Dallas email and be the first to get all the food/drink/fun DFW has to offer.