The 16 All-Time Greatest Things to Do in Dallas
Rodeos, lowriders, and artsy experiences abound in Dallas-Fort Worth.
Courtesy of Visit Fort Worth
Courtesy of Visit Fort Worth
Dallas is a trove of great things to do; a place where locals and visitors alike discover the variety of experiences across Dallas-Fort Worth. But the sheer volume of cool things to populate your bucket list can be downright overwhelming. That's why we've taken the guesswork out of building an itinerary for a perfect day, weekend, or full season of possibilities—depending on how hard you want to hit it.
If you want to catch the sunset from a boat, you're covered. How about marvel as massive longhorns march their way through the Fort Worth Stockyards? No problem. Hike through a forest or discover a scenic place to jog while working up an appetite for a fantastic meal, you guessed it—you'll find that all here. All said and done, we've curated a list of 16 all-time great things to do in Dallas to get you started (because if we told you all of our 327 favorites, you'd definitely get tired of scrolling).
Things to Do in Dallas This Fall and Winter
White Rock Lake
Immerse yourself in nature at the city's 66-acre gem overlooking the sparkling White Rock Lake. More than 100,000 pumpkins, fall blooming plants, and pumpkin-spiced goodies at Autumn at the Arboretum will soon make way for over half a million lights during Holiday at the Arboretum. Get tickets to this year's opening ceremony and be among the first to see the return of the larger-than-life 12 Days of Christmas displays and, new this year, an army of 600 nutcrackers in the elaborately decorated DeGoyler House.
Grapevine
No two visits to the wild and wonderful Meow Wolf will ever be the same, so this incredible self-guided journey through surreality can be done over and over again. Attempt to solve the mystery that greets you upon entering a family's house, or simply explore wherever fate leads you. Crawl through the fireplace, walk into the refrigerator, or slide down a chute hidden in the laundry room because you never know what awaits on the other side. Take plenty of pictures and you'll have social media fodder for weeks to come.
Grapevine
Texas has amassed some incredible wineries over the past couple of decades and North Texas rises to the occasion with its own mini wine country in Grapevine. Tour and taste your way through six wineries whenever you wish. Or join the collective of great grapers during one of their special events, including the Hallowine Trail at the end of October and holiday activations, too. You can also join the Christmas Wine Train waitlist for a truly jolly (and extremely popular) experience.
Frisco
Home to the universally known Dallas Cowboys (we're pretty sure extraterrestrials have rooted for them from other planets), AT&T Stadium will host a few more home games before this NFL season concludes. And if you miss the chance to catch the Dallas Cowboys Cheerleaders livening up the 50-yard line, the behemoth structure has plenty to offer year-round. Behind-the-scenes tours with access to the field and locker rooms, in-depth tours of the building's impressive art collection, and superstar concerts all deliver experiences beyond the usual touchdowns and end-zone victory dances.
Fort Worth
Few things feel more truly Texan than stepping back in time at the historic Fort Worth Stockyards District. There, you can witness the Fort Worth Herd in action during twice-daily cattle drives through the brick streets. Shop for boots, hats, and all types of western wear. Get your toes-a-tappin' at a live music venue. Or sit in awe as athletes show off every Friday and Saturday night for the Fort Worth Championship Rodeo at Cowtown Coliseum.
Oak Cliff
The Mata family can be heard from blocks away, and not because the individual members themselves are particularly loud. Instead, it's the collection of shiny lowriders blasting Tejano music as they parade down Jefferson Boulevard most Sunday afternoons and evenings when members of the Dallas Lowriders Club gather. Starting and ending near the historic Texas Theatre, the high-horsepower spectacle has to be seen to be believed.
Things to Do Outdoors in Dallas
White Rock Lake
On any beautiful weather day at White Rock Lake, visitors look on in jealousy as sailboats drift past on the gentle waves. Now you can be the source of that jealousy when you board the Spirit of Dallas, a beautiful sailing vessel available for afternoon, sunset, or night-sky cruises with views of downtown Dallas in the distance. Reserve the entire boat for your friends, family, or other private group. Or tag along solo and make new friends while shooting the breeze in an actual breeze.
South Dallas
Get out of the concrete jungle and into a more natural jungle (of sorts) at the 6,000-acre Great Trinity Forest and its gateway, the Trinity River Audubon Center. Take a leisurely hike on trails that cross through the largest hardwood forest in the nation, along with wetlands and prairies, home to a variety of cute but not-so-cuddly creatures. Soar through the air on zip lines at Trinity Forest Adventure Park. Or hop in a kayak and paddle your way through the scenic Dallas Trinity Paddling Trail.
Where to Eat and Drink in Dallas
Thai Street Food Market
North Dallas
Fans of Thai food find themselves in culinary heaven at the cash-only Sunday food market at the Buddhist Center of Dallas. Sample sweet or savory sticky rice, fish cakes, boat noodles, papaya salad, and any number of delicious delights prepared by temple members. Fall makes for an ideal time to visit because you can grab a spot of grass (or a table) near the koi pond and work your way through all the tasty treasures you've collected so far. It's okay to go back for seconds or thirds.
Tex-Mex Restaurants
Various Locations
In a city where BBQ has an enthusiastic following, Tex-Mex qualifies as a downright obsession. We're always happy to round up our faves, but you can also embark on your own tortilla-wrapped adventure to find your personal best list. All over the metro area, you won't have to go more than a block or two to find divine gas-station tacos, including Fuel City and Taqueria Taxco. Mom-and-pop joints serving steaming hot platters of enchiladas and cheap lunch specials include the no-frills, cash-only El Taquito Café always perform well. Or splurge at elegant restaurants taking Tex-Mex to new heights above and behind giant bowls of queso and baskets of chips, such as José, Javier's Gourmet Mexicano, and Jalisco Norte.
Mariano's Hacienda
Northeast Dallas
We didn't invent frozen margaritas here—those have likely been in circulation since the first electric blender—but Dallas is home to the world's first frozen margarita machine. An early version can be seen in the Smithsonian in Washington, DC. You can thank Mariano Martinez for this necessary innovation that has contributed to millions of cases of brain freeze for more than 50 years after he repurposed a 7-Eleven Slurpee machine in 1971 to ease the job of his bartenders. Grab a classic frozen tequila-and-lime creation at Mariano's Hacienda in Dallas, one of the must-visit stops on the Margarita Mile.
Live Entertainment and Nightlife in Dallas
Oak Lawn
Pull on your favorite boots and head to the Round-Up Dance Hall and Saloon just about any Monday, Tuesday, or Thursday (and some Saturdays). The beloved LGBTQIA+ honky-tonk welcomes queer people and allies alike for fun and entertaining dance classes for folks of all skill levels. Learn to two-step and master several boot-scootin' moves. Beginners always have a welcome place on the dance floor, and if you personally prefer to skip all those choreographed moves, sidle up to the bar, grab a draft beer in a cowboy boot glass, and observe them on from the sidelines.
Mechanical Bull Riding
Various Locations
Think you can last eight seconds on a lurching bundle of gears and metal in the shape of a bucking bull? You have plenty of places to test your skills—or find out exactly how much cushion you've got on your backside. Among the go-to spots, Rodeo Dallas, Cowboys Red River, PBR Texas: A Cowboy Bar, Punch Bowl Social, and Billy Bob's Texas have everything you need behind the bar to help you work up the nerve.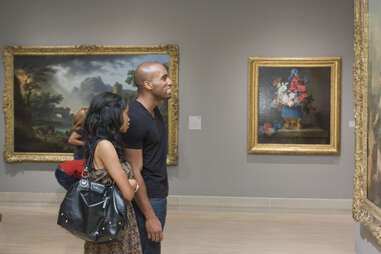 Arts & Culture in Dallas
Dallas Arts District
Dallas Arts District
We really, truly do like things big in Texas and the Dallas Arts District exemplifies a true superlative as the largest urban arts district in the United States. Covering more than 118 acres, it's home to more buildings designed by Pritzker award-winning architects than any location in the world, so the buildings themselves are masterpieces along with what's hanging or being performed inside. World-class museums, including the Dallas Museum of Art, Nasher Sculpture Center, and the Crow Museum of Asian Art await, as well as performance venues including the AT&T Performing Arts Center's Winspear Opera House, and the Meyerson Symphony Center, home of the Dallas Symphony Orchestra.
Downtown
President John F. Kennedy's assassination as he rode through downtown Dallas in the back of a convertible will forever be a tragic memory for an entire generation. The dark day that continues to fascinate history buffs (and conspiracy theorists) nearly 60 years after the event. Visit the Sixth Floor Museum, which is located within the former Texas School Book Depository building where Lee Harvey Oswald took that fateful shot, and you can examine the life, presidency, and assassination of the 35th president.
Iconic Sites in Dallas
Downtown
Look, up in the downtown sky. It's a disco ball! It's a round, digital canvas! It's Reunion Tower! The indoor/outdoor GeO-Deck sits at 470 feet elevation and gives visitors a 360-degree view of the surrounding city. On select nights, the tower offers after-hours programming, like a date-night package that includes chocolates and wine. Or head a little closer toward the clouds and have brunch or dinner at Crown Block, boasting those same killer views with steakhouse fare to match.
Steven Lindsey loves to explore, whether it's sampling the best restaurants around Dallas-Fort Worth, hot air ballooning over the Arizona desert, or climbing a pyramid in Mexico. He contributes to Thrillist and a variety of online and print publications. He also founded Travel Like An Adult. His latest venture, The Spa Daddy, offers a man's perspective on spa and wellness across the globe.