18 Actually Cool Things to Do in Dallas During Quarantine
All approved for social distancing.
Whether riding a horse or throwing a touchdown, a cowboy is the first thing most people imagine when they think of Dallas. And they're not wrong. This city will live up to every stereotype -- but then it'll completely surprise you with a modern art installation or world-class meal that changes everything you thought you knew about Dallas. This is a city not easily categorized, which makes it one of the most exciting places to explore in Texas (yeah, you heard that right, Houston), full of art museums, cool urban spaces, pocket neighborhoods, and even some underrated outdoor activities.
Granted, life is a little different right now for obvious reasons, but there's still something from everyone to check out in Dallas from a safe social distance.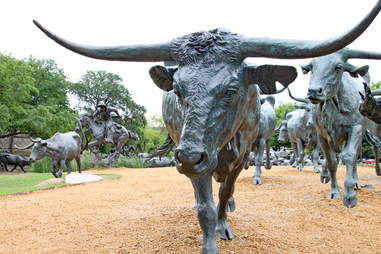 Pioneer Plaza

| Gartland/Shutterstock
Free
Downtown Dallas
Located between the convention center and city hall you'll find three bronze cowboys herding 40 longhorn steer down the trail. It's reportedly the second-most visited landmark in Downtown (after Dealey Plaza, for obvious reason). Walk through the park and take some pictures with the lifesize sculptures. Just remember, you're not supposed to hop on the steers.
Free-$$
Dealey Plaza
For some people, the first thing that comes to mind when they think of Dallas is: That's the city where JFK was shot. Although Dallas shouldn't be defined by that one moment over 50 years ago, it is still the most historically significant event to take place in the city. Take a walk around Dealey Plaza and the infamous grassy knoll to spot where the former president was assassinated in 1963. When you're done dodging the conspiracy theorists hanging around the plaza, check out the content available online from the Sixth Floor Museum to learn the full story of that time in American history.
Walk through the city's coolest urban green spaces
Free
Downtown Dallas
Dallas has made huge strides in recent years to increase the amount of green space in its urban core. Tour the parks that are making downtown a vibrant place to live starting with Klyde Warren Park, a 5.2-acre public park built over a major freeway (yes, you read that correctly). From there, walk south into downtown on Harwood Street to see Pacific Plaza and Main Street Garden Park. Finally, head west on Main Street to stare at the giant eyeball sculpture for a while and contemplate its meaning. 
Free
The Dallas Museum of Art has an awesome VR tour available for free on their website that rivals a physical trip to the museum in a lot of ways. Beyond exploring the latest exhibit, the entire DMA collection is available to be viewed online -- even the items not on display at the physical museum. Watch interviews with the artists and hear from the curators who add an entirely new dimension to art viewing experience.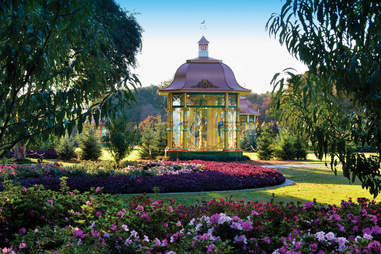 Dallas Arboretum and Botanic Gardens
Free
Dallas Arboretum and Botanic Gardens
Situated on the east bank of White Rock Lake, the Dallas Arboretum is a garden paradise at every season. See what is in bloom this spring even if you can't visit in person. The beauty of this immaculate green space shines through even when you take a virtual visit. 
$-$$
Trinity Groves
Can't decide what you're in the mood to eat? Check out the multitude of options available for pickup from Trinity Groves. Asian, Italian, barbecue, vegan, seafood, burgers, Mediterranean, tapas, even a restaurant focused solely on avocados -- it can all be found just across the river from downtown. Still can't decide? Order bites to go and dine your way across the globe starting with the house-made steamed dumpling combo from Sum Dang Good Chinese. Next, pick up some stacked enchiladas from Beto & Son for a remix of a classic Tex Mex dish. For dessert, don't miss the hummingbird cake at Cake Bar. 
$-$$
Deep Ellum
The deep end of Elm Street (Deep Ellum, get it?) is the live music epicenter of Dallas. To stay cool during the hot months ahead, swing by Double Wide for a "Yoohoo Yeehaw," where the magic of Yoohoo becomes an frozen adult beverage delivered curbside. Even though live shows may be on hold, you can still enjoy what the local venues have to offer virtually. The Bomb Factory, formerly a real bomb factory during WWII, streams a virtual dance party each Saturday night and Sons of Hermann Hall streams acoustic sets most weekends.
Dine like a Dallas Cowboy with takeout from a steakhouse
$$-$$$
Various locations
Dallas is one of a few cities that can truly claim the steakhouse experience as a native cuisine. We know how to serve a cut of beef (a la carte) with the best of them, even if that means ordering to go these days. Dallas chefs are reinventing the steakhouse at restaurants like Knife by offering a cellar full of dry aged meats like their 240-day dry-aged ribeye. Or, for a classic steak of the absolute highest quality, check out the dining options at Del Frisco Double Eagle Steakhouse. Old school or new school, Dallas does steakhouses right. 
Go window shopping in Downtown
Downtown Dallas
Shopping is practically a sport in Dallas when stores are open. The strong retail shopping culture can trace its origins back to the original Neiman Marcus location still located on Main Street. The storefront windows are works of retail art worth seeing even when the store is closed. The next generation of luxury department store Forty Five Ten is just across the street and also worth a look.
Leonhardt Lagoon

| Philip Lange/Shutterstock
Fair Park
When the State Fair of Texas isn't in full swing, Fair Park is quietly one of the nation's largest collections of 1930s Art Deco architecture. Even if you aren't an architecture buff, the gigantic murals, fountains, ferris wheel, and Cotton Bowl football stadium make it an interesting place to walk around while keeping a safe social distance. 
Sample some fine Texas barbecue
Various locations
If you visited Texas and didn't try some barbecue, did you really come here at all? Dallas hosts the full scope of Texas barbecue from Central Texas-style brisket to east Texas pork ribs. Call ahead to pick up and sample your way through the city's barbecue scene starting with Pecan Lodge in Deep Ellum for some of that aforementioned brisket. Next, head to Off the Bone in the Cedars for a few pecan smoked baby back ribs. Finish the tour at 18th & Vine for some burnt ends that are so tender that they're practically dessert.
Retrace the steps of Bonnie & Clyde
Free
West Dallas
The two infamous outlaw lovers called Dallas home when they weren't on the run from the law. Bonnie Parker and Clyde Barrow are said to have met at a house on Herbert Street, behind Trinity Groves today. Just a few blocks away at 1221 Singleton Boulevard stands Clyde's childhood home where the Barrow family ran a gas station (long since abandoned and very creepy). Bonnie and Clyde are both buried in Dallas as well, though in separate gravesites per Bonnie's mother's wishes. All of these historic sites are open to the public and easy to enjoy without interacting with anyone.
Free
Ronald Kirk Bridge
If you're dying to get the perfect picture of the Dallas skyline, make your way to the Ronald Kirk bridge. This cool retrofitted pedestrian park sits right next to the gorgeous Margaret Hunt Hill Bridge and makes for some great photos. Once you've done your Instragam duties, follow the path down between the Trinity levees to spot some native wildlife like white egrets and blue herons
$-$$
Lower Greenville
Except on St. Patrick's Day when this whole street turns into the biggest annual party in Dallas, Lower Greenville is the perfect balance of party scene and chill bars. The bar scene may be paused for now, but you can still find some of the best eats in the city along Greenville Avenue. Wabi House boasts some of the best ramen in the city and carries out easily. HG Supply Co. is a neighborhood staple that focuses on health and sustainable meals available to go until their awesome rooftop reopens.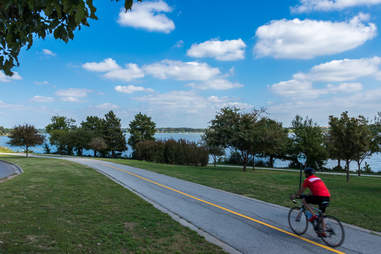 Bicyclist by White Rock Lake

| Bill Huang/Shutterstock
Free-$
White Rock Lake
From runners to bikers to casual park-goers, more than 1 million people visit this urban lake every year. It's 9 miles all the way around the lake, most of which can be done on a paved path separated from car traffic. Rent a bike and hit the road! If biking isn't your thing, go for a walk near the Filter Building and check out the 1930s art deco boathouse. 
Free
Uptown Dallas
The Katy Trail is the perfect spot for a run, bike ride, or just a nice walk. The trail extends 3.5 miles from Highland Park through Uptown and to the American Airlines Center. If you're not sure where to park or how to access it, there's usually plenty of parking at Reverchon Park adjacent to the trail. If you walk far enough, reward yourself with a margarita to go from Katy Trail Ice House. 
Shop local in Bishop Arts District
Free-$$
Bishop Arts District
The Brooklyn to Dallas' Manhattan, Bishop Arts District in Oak Cliff is going through a rapid transformation. It's a quaint area worth exploring even if most of the shops and restaurants are currently closed. Cool shops like Spinster Records are doing things like live vinyl auctions via Instagram with free local delivery. Check out Eno's Pizza Tavern for everyone's favorite to-go food (pizza, duh), and hit up the "pie thru" at Emporium Pies for the ultimate in dessert convenience to complete the Bishop Arts pie-fecta. 
$7 per person
Cedar Hill State Park
Hills are pretty scarce in Dallas but you can get a hint of the Texas hill country at Cedar Hill State Park. The park road winds through the modest hills with views of Joe Pool Lake that are quite scenic (for North Texas at least). Make sure to call ahead for a reservation and to ensure the trails are open, which close after heavy rains.There are multiple trails that range from a short 2-mile loop to a 12-mile route shared with mountain bikers. As you hike, leave plenty of distance between yourself and other park-goers as you pass them on the trails.
Sign up here for our daily Dallas email and be the first to get all the food/drink/fun DFW has to offer.