Because you'll need other things to do this fall while the Cowboys invariably disappoint you again, here are 13 ways to keep busy that you can't miss. Unfortunately, the same cannot be said for the Dallas defense with regards to open field tackles.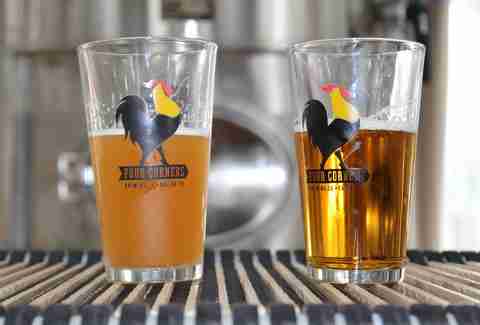 When: September 6
Where: Four Corners Brewing Co.
Grab your sweetest two-wheeled, man-powered ride and pedal on out to Four Corners Brewery for their Beers and Gears ride. When you get back from biking, Durty Laundry will serenade you while Rock and Roll Tacos will give you the sustenance you've earned as you wash it down with more beer.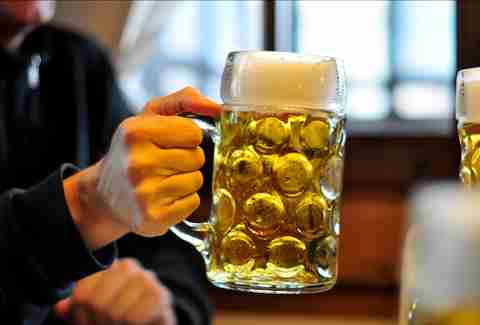 When: September 13
Where: Topgolf Dallas
Sample beers from around the world and win prizes for best German accent, best duo, and best lederhosen. The price of admission gets you eight 3oz samples, a souvenir shot glass, and some grilled brats & tots. Oh, and they have golf and stuff there, too.
When: September 13
Where: Dallas Farmers Market
Kicking off all of the great beer festivals happening in DFW this fall, Dallas Observer Brewfest is bringing in more than 120 breweries, from locals to out-of-state heavy hitters. VIP tickets are available to give you early access, catered food, and additional liquor samples. Live music will be playing, beer will be flowing, Uber will be providing safe rides... so yeah, get thirsty.
When: September 20
Where: Panther Island Pavilion
This alliterative, delicious-sounding shindig outfits you with a sampling ticket for craft beer and bourbon, and there will be BBQ from assorted smoke masters available for purchase. Enjoy live music while you bide your time with ladder golf, bags, and the like in between mouthfuls of brisket.
When: September 21
Where: Reverchon Park
Food trucks have absolutely exploded (not literally, thankfully) in the last couple of years and North Texas has fully embraced that fact. A dozen food trucks will line the streets, The Nodding Donkey will be pouring beer and wine, and you'll be feeding yourself generously.
When: September 26-28
Where: Holy Trinity Greek Orthodox Church
The Greeks just know how to celebrate. Fill up on tasty eats (mmm, gyros) and wine while dancing and laughing (maybe finish chewing first). There'll also be crafts to peruse, music to enjoy, cooking demos, and plenty of other action. More baklava? More baklava!
When: September 26-28
Where: Corner of Elm St and Good Latimer Expy
22 different acts will take the two main stages over the course of the weekend with another 60 posting up at indoor stages as well. There'll be food trucks and beer gardens aplenty as you enjoy the likes of the Local Natives, Ryan Bingham, Mutemath, Kaiser Chiefs, and more.
When: October 4-5
Where: Princeton, TX (exact location TBD)
When you were a young lad or las it was probably your dream to go to some sort of summer camp. Maybe you wanted to go to baseball camp, science camp, magic camp, or whatever else you were into. Well, you're an adult now (at least age-wise) so... Beer Camp! Drink up with homebrewers, listen to live music, and learn how to craft your own supply so you always have good beer at the ready.
When: September 26 - October 19
Where: Fair Park
Want to go to a place where a giant cowboy, a sweet car show, a carnival, and more fried foods than any human should be allowed to consume all come together? Yes, yes you do.
When: September
Where: Cold Beer Company
The owners of the Fillmore Pub have teamed up with one their managers to open up the Cold Beer Company. They have made it clear that this will not be a restaurant that happens to have a few taps, but more of a fantastic bar that also serves serious food. They're targeting a September opening, so keep an eye out.
When: Late October - early November
Where: Lone Star Taps & Caps
If you haven't been to Lone Star Beverages in Carrollton, you need to change that. Rick and Sam who run Lonestar are craft brew legends in DFW and bring in some of the best beers you can get in the city. Now, they are taking their craft beer prowess and opening up a new growler fill spot that will have 50 taps on the wall. They are keeping true to the booming local craft beer scene by reserving 10 or so taps for Dallas-based brewers, but want people here to also be able to enjoy beers not widely available -- so the other 40 will have rotating beers and ciders from all over the world.
When: November 1
Where: Outside Gilley's on S Lamar
At Untapped you can have your cake and eat it too... because Cake is headlining this fantastic beer and music fest. Look for 70+ breweries and 200+ beers, including plenty of cask and limited-release offerings. Check back for a full beer lineup later this fall.
Midnight Rambler Opening
When: Fall TBD
Where: The Joule Dallas
Midnight Rambler figures to be a major player on the Dallas cocktail scene, brought to you by the same people who launched the bar program at CBS Provisions. Expect ridiculously good bartenders making you ridiculously good drinks when they open sometime this fall.

Sign up here for our daily Dallas email and be the first to get all the food/drink/fun DFW has to offer.