Thursday, February 6th: Highly anticipated purveyor of meat treats and craft beer, The Blind Butcher, is finally opening up its doors this weekend in Lower Greenville. There have been several delays, but wait no more -- they will be ready to go at 4pm this Thursday. Brace yourself for pastrami egg rolls, bacon bratwurst, pork belly poutine, and other protein-heavy indulgences.

Continue Reading
Thursday, February 6th: Sports bar Champps has changed up its interior with 44 new 60in flat screens and added a menu with made-from-scratch goodness like burgers stuffed with caramelized onions, Vermont cheddar, and bacon. To celebrate, they're having a grand re-opening from 5:30-8pm (complete with a beer rep from Deep Ellum). Bonus: 10% of all proceeds for the night will go to Heroes on The Water, which hooks up veterans with kayak fishing outings.
Friday, February 7th and Saturday, February 8th: To balance out the universe with all of this Valentine's what have you, The Angelika is doing a late-night showing of Fight Club to help get your testosterone levels back on track. So, grab a ticket, some food, some drink -- maybe even spring for a suite -- and watch Brad Pitt beat the crap out of… himself… well his alter ego… umm... spoiler alert?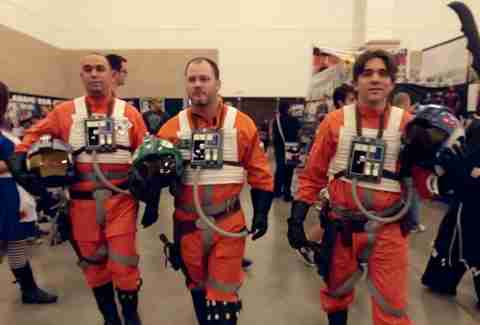 Saturday, February 8th and Sunday, February 9th: Dust off your R2D2 costume and head over to the Sci Fi Expo in Las Colinas. There will be Q&As, movie premiers, a cosplay red carpet, costume contests, and more sci-fi stuff than you can shake a light saber at. Tickets and regrestration right here