14 Things You Can Only Do in Dallas
<a href="https://www.flickr.com/photos/chigby/" rel="nofollow" target="_blank">Cindy Higby</a>/Flickr
Love Dallas or hate Dallas, you've got to love Dallas, because frankly it's the only place in America that's just. So. Dallas. Because we all have an obligation to make the most of every moment we live in this blessed city, we put together a list of stuff you can only do here -- not in Seattle, not in Chicago, just here.

1. Drink outside in 107-degree weather and not have people think you're crazy
It doesn't matter if temperatures climb over 100 or plummet below 30, no Dallasite will ever let mild discomfort force them to sit, gasp... indoors. Between Truck Yard and Chicken Scratch + The Foundry, we've also become pioneers of the trailer park school of outdoor drinking -- maybe Dallas wasn't as "laid back" as Houston before, but thanks to places like these, it's now 400x more laid back.
<a href="https://www.flickr.com/photos/delgattiimaging/" rel="nofollow" target="_blank">John Barker</a>/Flickr
2. Swim suspended over 10 stories of air while looking at a giant eyeball
The Joule Pool is the only place in the world to stare at Tony Tasset's 30ft tall "Eye" while a bunch of random Downtown people stare at your pelvis and wonder how in god's name this place's architect figured out how to keep your pelvis from crashing to the sidewalk.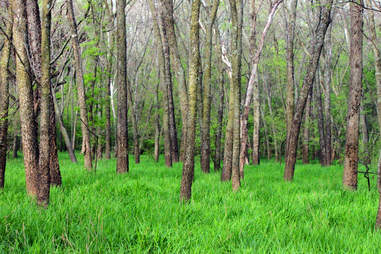 <a href="https://www.flickr.com/photos/whatknot/" rel="nofollow" target="_blank">Whatknot</a>/Flickr
3. Explore the largest urban hardwood forest in America?
No matter how many times it's confirmed that the Great Trinity Forest exists, it's still hard to comprehend that it exists.
 
...without paying San Francisco rent.
<a href="https://www.flickr.com/photos/129231629@N05/" target="_blank">TheGabeC</a>/Flickr
5. Bask in the glow of aggressively neon skyscrapers
What's that, Manhattan? Oh, you've got your classy Empire State Building? And what did you say, Chicago? Sears Tower? Ha! More like the Schmears Tower. Dallas is the Hummer-limo-filled-with-a-bachelorette-party-blasting-Ke$ha of skylines, and that's the way we like it.
 
6. Know that wherever you are, Chuck Norris was probably there too
Thanks-Giving Square. Plaza of the Americas. The corner of Griffin and Corbin. At some point every single street corner, building, bar, and home in Dallas appeared on Walker Texas Ranger. For all you know, Chuck Norris might have kicked Gary Busey's ass on the very spot you're standing right now. It's exhilarating.
<a href="https://www.flickr.com/photos/texasbackroads/" rel="nofollow" target="_blank">Nicolas Henderson</a>/Flickr
7. Go straight out after jogging
What, you're going to jog the Katy Trail, go home, shower, then come back and grab a beer at the Ice House? Don't be ridiculous. You're going to jog right up to a tap and then kick back and let the taste of beer make you forget all about the smell of you.
 
8. Drink frozens in the city where frozens were born
When Mariano Martinez invented the frozen margarita machine by modifying an old soft-serve ice cream rig, he created the panacea for every harried office worker, stay at home mom, recently single 20-something, spring breaker, oh hell just any human ever alive, really. You should be celebrating that, like, every day, at one of his restaurants, or at a fine establishment like Gloria's that honors his legacy of maximum refreshment.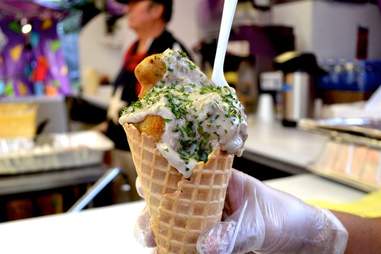 David Maez/Thrillist
9. Eat the only fried food that matters
If you aren't from Dallas, you will never understand the excitement and slightly acrid smell that fills our air for three weeks in October, when the State Fair opens for business and all your fried fantasies come true. Sure, other states have their cute little fairs. But when the national news is looking for stories where anchors can react with horror and disgust at what exactly is being deep fried this year, WE'RE NUMBER ONE! WE'RE NUMBER ONE!
 
10. Relish the most unique sports scene in America
It doesn't matter whether our teams currently suck or are amazing, because no matter what, there's nowhere else you can:
hit up a baseball game knowing there's a 60% chance that you'll be in attendance with at least one former US president.
hit up Bob's Steak & Chop House knowing there's a 10% chance you'll run into a billionaire basketball owner dying to hear about your invention of a Slip 'n Slide made out of scorpions.
watch your local sportscaster knowing that people in other countries actually care what he thinks (you go, Dale Hansen).
watch your local football team knowing that it's simultaneously the most beloved and reviled franchise in America, in a stadium the rest of the country pretends to hate but is obviously insanely jealous of, under the watchful eye of a notorious womanizer who looks suspiciously like the Lady Elaine Fairchild puppet from Mr. Rogers.
<a href="https://www.flickr.com/photos/sixesandsevens/" rel="nofollow" target="_blank">Ross Day</a>/Flickr
11. Pour one out at Bonnie and/or Clyde's grave
Only in Dallas can you pay your respects in person to the original misguided violent teenagers turned pop culture icons, Bonnie Parker and Clyde Barrow -- the couple who inspired the third best Jay Z and Beyoncé duet, behind "Drunk in Love" and "Crazy in Love."
 
12. Watch JFK in Oswald's theater seat, feel creepy, move to another seat
There aren't many working movie theater's around with the Texas Theater's history. The actual chair that Lee Harvey Oswald was captured in was removed but the spot is marked and if you get to a screening early enough, the bartender will be glad to let you know which seat is the hot seat.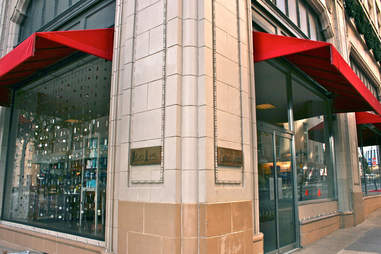 <a href="https://www.flickr.com/photos/cashonco/" target="_blank">Kellie CA</a>/Flickr
13. Shop where the Ewings shop
The flagship Neiman's is a living testament to a bygone era, when department stores were the destination and not just the doors through which you entered some suburban mall so that you could slalom through Nutty Bavarian pretzel carts trying to run into a Forever XXI to buy a dress that will disintegrate later that night when a slight breeze hits. But it's also more than that. It's a window into the possibilities of being Dallas rich, so ludicrous with your money that you'd actually consider buying a special-edition, $350,000 McLaren 12C Spider from a holiday catalog (specifically, the Neiman's 2012 holiday catalog). It's probably evil, but it's also kind of awesome.
 
14. Get roasted by Ebenezer Scrooge
In what other city can you go to a mall (NorthPark) every December and have a legendary Dickensian character hurl insults at you when all you're trying to do is find the Brookstone?