10 Things You Can Only Do in Dallas
Check all the boxes on this Dallas bingo card.
Dallas is best known for steaks and football, and those are generally accurate representations of the city. But this cosmopolitan metropolis has a lot going for it, including some only-in-Dallas experiences that are worth checking out, whether you're a visitor or a long-time resident. From exploring the impressive—and massive—arts district to visiting the famous State Fair and drinking frozen margaritas at their birthplace, these are 10 things you can only do in Dallas.
Swim in a suspended downtown pool while staring at a giant eyeball
The Joule is one of Dallas's best hotels, helped in part because of the 10th-story cantilevered pool that juts out over downtown. The suspended portion of the pool has glass siding, so you can stand at the edge, look down on the street below, and gaze at the giant eyeball in the park across the street. Known simply as The Eye, the 30-foot sculpture was created by artist Tony Tasset from fiberglass, resin, and steel and modeled after his own blue eyes.
Drink frozen margaritas at the original source
Dallas didn't invent frozen margaritas—those have likely been in circulation since the first blender—but it is home to the first frozen margarita machine. You can thank Mariano Martinez for this necessary innovation. He repurposed a 7-Eleven Slurpee machine back in 1971 to do the job, and today you can still drink frozens at Mariano's Hacienda in Dallas and at a few La Hacienda Ranch offshoots across DFW.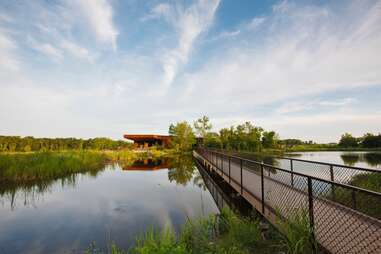 Explore the largest urban hardwood forest in the country
Think Dallas doesn't do nature? Think again. The city sports the 6,000-acre Great Trinity Forest and its gateway, the Trinity River Audubon Center. Take a leisurely hike on trails that cross through forests, wetlands, and prairies, visit an equestrian park for some horseback riding, zipline through the treetops, or embark on a guided kayaking expedition.
Visit the country's largest urban arts district
Not to be outdone, the Dallas Arts District is the largest urban arts district in America. Spanning 118 acres, it's home to more buildings designed by Pritzker award-winning architects than any location in the world, so you've got plenty to look at. But also stop into top-notch museums, including the Dallas Museum of Art, Nasher Sculpture Center, and the Crow Museum of Asian Art, and see performances at the Winspear Opera House and Wyly Theater.
Pop into bars along the Katy Trail
Look at you, going for a jog or a nice walk—well done, exercise is important. But so is the ability to take ample breaks to refuel. You can accomplish that by stopping into the Katy Trail Ice House for a cold beer and a burger. If you're jonesing for tacos and margaritas, slip off the Katy Trail next to Gloria's Uptown location, or venture onto Knox Street for a post-stroll brunch at Toulouse or Taverna.
Partake in the iconic State Fair of Texas
Occurring each fall, the State Fair of Texas is a rite of passage for locals and visitors alike. More than two million people gather over a three-week run to ride rides, play games, and cram as much fried food into their faces as possible, with new over-the-top creations making an appearance each year. Recent favorites include deep-fried charcuterie and a deep-fried lasagna roll.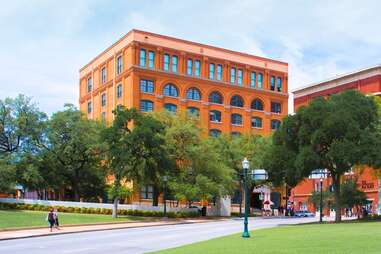 Brush up on your JFK history at the Sixth Floor Museum
JFK's assassination's in downtown Dallas was a dark day that continues to fascinate history buffs (and conspiracy theorists) nearly 60 years after the event. Visit the Sixth Floor Museum, which is located within the former Texas School Book Depository building where Lee Harvey Oswald took that fateful shot, and you can examine the life, presidency, and assassination of the 35th president.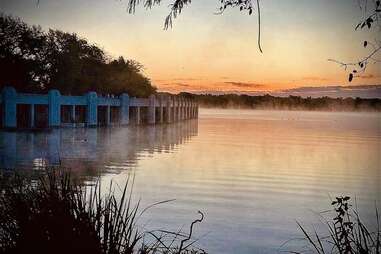 Sail a boat in city limits
Dallas is conspicuously missing a coastline, but you can still set sail in the city. To make it happen, head to White Rock Lake, a man-made reservoir covering more than 1,000 acres of East Dallas. There you can rent sailboats, take sailing lessons, or book a private sunset charter and sip drinks while enjoying the view.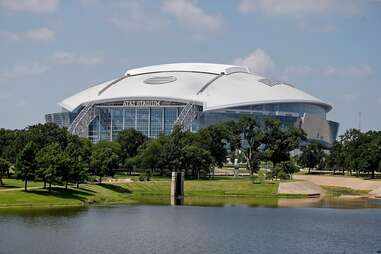 Tour the Dallas Cowboys home turf
America's team plays in one of sports' most iconic stadiums. Get an up-close look at the field and facilities by booking a tour that takes you through AT&T Stadium. Throw a ball on the field, stop into the press box and locker rooms, and peruse the collection of museum-quality contemporary art.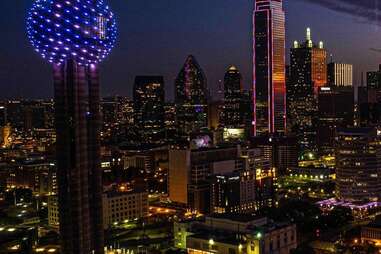 Sip bubbly in a spherical observation tower
Tucked inside Reunion Tower is the indoor/outdoor Geo Deck, which sits at 470 feet elevation and gives visitors a 360-degree view of the surrounding city. On select nights, the tower offers after-hours programming, like a date-night package that includes chocolates and wine.
Kevin Gray is a freelance writer and editor covering all things food, drinks, and travel. He's written for
The Dallas Morning News, Forbes, Liquor.com, Men's Health,
and
Wine Enthusiast
, and his extensive home bar is turning into a real
Hoarders
situation
.