Two Bit Circus Is a Carnival Fever Dream with VR Games and a Robot Bartender
The company calls itself a "micro amusement park."
The fusion of dining with entertainment continues to expand around DFW, as concepts merge food and drinks with golf, shuffleboard, pickleball, and other fun ways to pass the time. The debut of Two Bit Circus marks another entrant to this increasingly popular marketplace, combining a circus-inspired atmosphere with arcade and virtual reality games, immersive multiplayer experiences, and a kitchen and bar.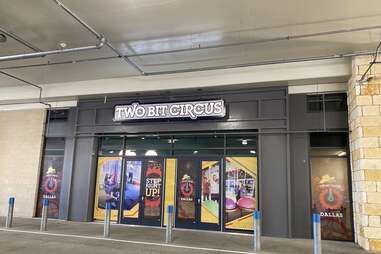 The first Two Bit Circus opened in Los Angeles in 2018. The Dallas outpost is the company's second location, and it's located in a 30,000-square-foot second-level space at the Shops at Park Lane.
Upon entering the premises, guests must sign a waiver and exchange money for a card loaded with "bits," which they'll then use to pay for games, food, and drinks.
"Two Bit Circus is for kids of all ages," says Andy Levey, the company's senior marketing director. Customers range from couples and families to coworkers coming for happy hour or teambuilding events. Many of the visuals and games skew young, but there's also a full-service bar helmed by a robot bartender (and a human barkeep), plus a rentable VIP room that offers bottle service. So, there's a little something for everyone. "We imagine that our Dallas location will mirror our LA location by becoming a party hotspot for every type of get-together, whether it's birthdays or holidays," Levey says.
Walk in to find a bright, blinking fantasy land with a midway and arcade, featuring new and classic games like Skee-Ball, Big Top Balloon Pop, and Connect 4 Hoops, wherein players shoot baskets to line up four balls in a row on a digital display. The Arena is homebase to Hologate, a virtual reality experience that sees participants don headsets and take on challenges, whether it's navigating realistic mazes or wielding a weapon to fight dragons and zombies. Many games can be played solo, but everything under the Two Bit Circus roof is engineered so that friends can join the action together.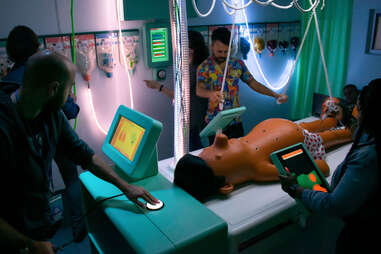 Walk to the back, and you'll see an area marked Story Rooms, with separate spaces hosting interactive multiplayer games. Dr. Botcher's Minute Medical School is like a life-size version of Operation, where hobbyist surgeons can poke and prod their bright-orange patient. Work together to keep him alive, using various "medicines" like adrenaline, chill pills, and muscle relaxers, which are really just mini whiskey bottles. There's also Space Squad, a team-based adventure that requires players to solve challenges on a spaceship bridge, taking on the roles of pilot, scientist, and engineer as the mission descends into chaos. Between all the options across the Midway, Arena, and Story Rooms, some games were brought in while many were invented in-house—which makes Two Bit Circus the only place to find them.
When you're hungry, there's an on-site restaurant serving carnival fare, like popcorn, pretzels, nachos, and loaded fries. Larger plates include burgers, pizza, hot dogs, corn dogs, and a BBQ Brisket Sandwich in a nod to the brand's first Texas location. Drinks come via the carousel-themed bar, which serves 12 draft beers, wines, and cocktails. Seven house cocktails are made by the robot bartender, while special requests require human hands.
Levey calls Two Bit Circus "the playground of the future," noting its unique fusion of old-school carnival games with modern technology and interactive theater. But while the Dallas location is open and already drawing crowds, it's not a finished product.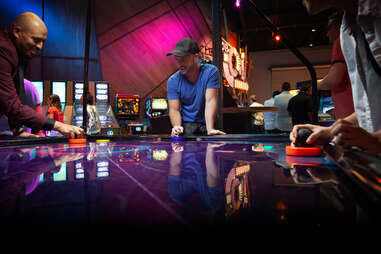 "Two Bit Circus is always evolving," says Levey. A new virtual reality experience called H.A.I.R is slated to debut later this month. It's built on the Hyperdeck, a moving platform that doubles down on the immersion factor, allowing users to feel motion and wind as they play. "We are always testing new games, experiences, and other creative concoctions for our friends and customers."
Kevin Gray is a freelance writer and editor covering all things food, drinks, and travel. He's written for The Dallas Morning News, Forbes, Liquor.com, Men's Health, and Wine Enthusiast, and his extensive home bar is turning into a real Hoarders situation.