Meat plates, booze & bowling on Park Ln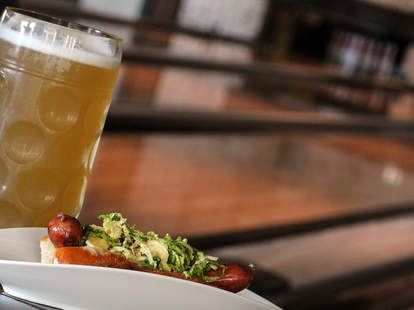 Trying to move the Dallas alley scene away from Kirstie just eating day-old bagels in them, B&B's a 15-lane, brick-laden, upscale ode of booze, food and bowling from a couple of SMU grads who saw an opening in the market and didn't spare any time before deciding to strike while the iron was hot. Not apologizing for these puns.

A separate room supports a semi-open kitchen, which puts out a Sharon Hage-constructed menu that ranges from burgers, to sammies, to meat plates, to Rudolph's sausage, so he's probably not gonna be guiding the sleigh for a while

Boozing happens by way of 35oz beer steins holding seriousness like Hacker Pschorr Wiesse Dark, and 'tails including Dr. Funk -- a Flor de Cana-, lemon-, house-made grenadine-, and absinthe-laden bevvy that might end up leaving you laying in the gutter.