Great eats, hookahs, and belly dancers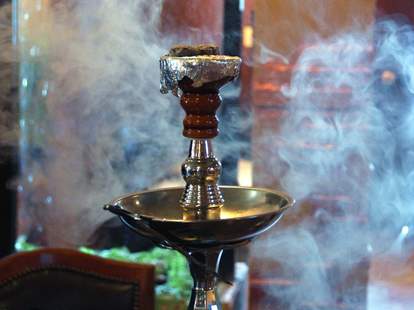 Soft opening for friends and family this weekend, a place where the smoke-shows are actually smoke, and the exotic dancers are genuinely exotic: Sanabels Mediterranean Grill And Hookah. Pass through twin glass waterfalls and you'll find an arched, couch-lined dining room leading to a fireplace'd lounge where you're free to indulge in three different types of the tobacco deliverer Schwarzenegger once tried banning in California, before he realized it wasn't charging lonely men for lovemaking services.
The Lebanese-dominated menu stretches from sambousek (deep-fried cheese pockets!), to chicken, lamb & beef kabobs, to grilled tilapia topped with mushrooms, onions, tomatoes, balsamic & a lemon wedge, aka the thing that broke apart Evan Dando's band. On weekends, they'll be pushing the chairs aside to make room for DJs, live music, and belly dancers so tantalizing, you'll be tempted to tell them all kinds of True Lies.