The CONNERSMITH gallerists get high on DC
Before Jamie Smith and Leigh Conner founded their eponymous gallery and the complimentary art fair (e)merge, the last person to consider art a vital part of DC was probably Dolly Madison. But where others saw short-termers, they saw a growing community of young collectors, and an opportunity to showcase up-and-comers in venues from their own space to The National Portrait Gallery. We asked the gallerists what inspires them most about the city that never sleeps except when Congress is in recess.
Not The Sticks: Miss Pixies
"We love cement gnomes." If those aren't your bag, the rest of MP's "furnishings and whatnots" run from tree trunk coffee tables to this old sign from the Easton Diner, whose food was far ahead of what was chilling in the Bret Easton Ellis Diner's refrigerators.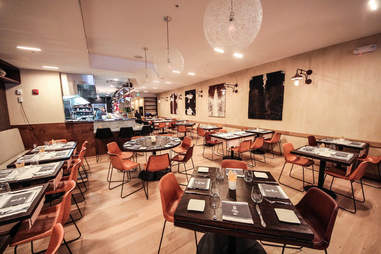 A Rating: B Too
Chef Bart Vandaele's food is superior even to Art Vandelay's latex, and his attention to detail is similarly masterful. "Flemish farm chic extends to the bathroom décor (check out the turf tiles), and Belgian artist Koen Vanmechelen's sculptures in the rare wine room." Note: the ladies want you to know that they represent Vanmechelen, and that you should order the lobster.
Got to Give It Up for: Marvin Restaurant
Nothing attracts a diverse crowd like chicken & waffles. The ones at this tribute to Cardozo High's most famous graduate (sorry, J. Edgar Hoover) pull in "every facet of DC".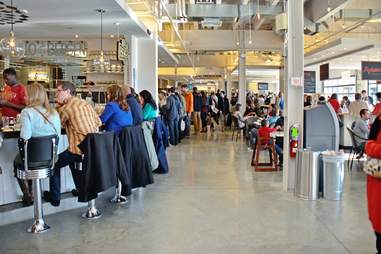 State of the: Union Market
Everything from DC Empanadas to Rappahannock Oyster Co., and they've launched a shuttle called The Roadie that runs every 20 minutes, decimating your excuses for not hitting the Market for lunch.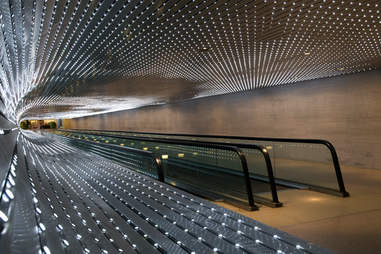 Get a Multipass to: Leo Villareal's Multiverse at The National Gallery of Art
Another CONNERSMITH client, Villareal's quirky LED cosmos has set an unmatchable standard for moving walkways everywhere. The gallerists' advice: "Sit at the café in front of the water fountain and watch for hours."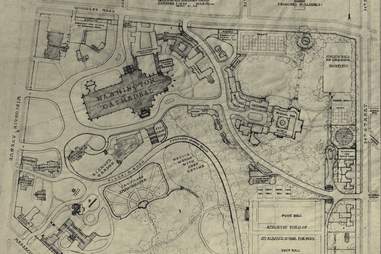 L'Enfant Not Terrible: The L'Enfant & McMillan Plans
The complimentary visions that gave DC its "broad, European, horizontal disposition" also gave the gallerists some of their favorite outdoor views, like the top of the fountain at Meridian Hill Park, the Bishop's Garden at the National Cathedral, and the National Capitol Columns at the Arboretum.
App of the World: Social Machines
Peter Corbett's iStrategy Labs is pioneering the manipulation of real-world objects through social data. If you think this project is too out-there to affect you, watch as it opens this beer cooler.