Dating in Denver can be tough. Actually, thats not true. With such a fit, beer-loving, fun-loving, and active populace you are bound to find someone. But dating in Denver on a budget, now that really is tough. Unless somebody went ahead and assembled a list of, like, 17 great Denver dates for less than $20. Oh, wait!
Taking someone to the legendary "Rockpile" doubles as a sweet date and a bucket list item (doing that two-birds-and-one-stone thing)! The prices only increase from the usual $8 price tag when the Rockies' W column increases and since that's not happening anytime soon, this date will remain a cheap one.
Okay, so the Deuce Coup and Surrey bike things are kind of dorky, but they'll only run you $20 and will give you something to laugh about while you're picnicking in the Denver sun, and drinking a couple brews that are totally 3.2.

Bars? But what about Fido? Ah, dog bars.
If you're trying to date in Denver, chances are you and that special person will have at least one four-legged plus one. Like, really good chances. So it only make sense that you and your canine companions hit someplace like the Denver Beer Co., Forest Room 5, or the dog-focused Watering Bowl (which has a massive dog park in its backyard), where you can get some drinks and they can... um, do whatever dogs do.

Seriously, there is such a thing and it is awesome. Free to play, you just have to wait your turn, meaning grab a beer or, even better, a whiskey from one of the largest selections of Colorado booze in town. Each game lasts 12 minutes and plays exactly like how you'd expect, provided you've been to college, or had like, a sweet rec room in your basement growing up.

Some pong at Ace Eat Serve is a great first date, as long as you take our advice and instead of mercilessly destroying your date, just let 'em win a few games once you snag a table at the Uptown ping-pong.

This is one movie experience that won't cost you half a paycheck for admission and snacks. 88 Drive-In in Commerce City offers up $8 tickets for double features. If you don't mind going Dutch, you can split the $30 Monday-Thursday special and get two tickets, with two drinks and a pizza.

Free outdoor movies!
We put a handy calendar together for you, so it's the least you can do!
You may have a sick 10-speed but just in case your boo doesn't, snag a B-cycle. There are stations pretty much everywhere, so you can cruise all over town, and it's only $9 to pedal all day.

If you really want to display the amount of useless info you possess, at least do it at a bar. There are over 20 pubs in Denver that host "Geeks Who Drink" trivia nights. The events are free except for the rare cover charge, leaving you $20 bucks for other non-free things. Like beer.

Not everyone has one of the best distilleries in the country in their backyard, but you do (!), so hit up Leopold Brothers, where they have $8 tours that actually allow you to drink more than if they were offered free (because of some boring legal issue). But hey, it's not like they pocket that cash anyways: they donate tour proceeds to a local charity.

Enjoy the best hour of the day: happy Hour
There are a ton of great happy hours in the city, but most of them end before a good date's really getting started. Our advice: hit Steuben's Food Service where late-night "happier" hours allow you to cash in on a $7 burger, beer, and fries deal or Tony P's where less than $20 gets you some big single slices and a pitcher of beer.
… provided you've got an extra $4, 'cause footgolf is actually $12 a person but is totally worth it! You can play at Park Hill every weekday night (except Wednesday) on the front-nine golf course while the back is reserved for the rage-quitting, sand wedge-tossing golfers. Wondering what footgolf is? It's like regular golf, but with soccer balls. Seriously.

If you have to do a farmers' market, then make it this one. The Big Wonderful goes all summer long and is always free to enter, allowing you to buy up all the craft beer, local foods, and sweet goods your $20 can handle.
Head straight for dessert
Ice cream is always a good date (unless you're going out with Lt. Dan, then it's not recommended), so take that special someone to one of the best local ice cream makers in Denver like Sweet Action, Liks, or the one and only Little Man, where a double dip doesn't go over $5.

Fancy dinners are fine and all, but both 1up locations sling 40oz of Olde English (which when combined with some OJ becomes what the Beastie Boys famously called a Brass Monkey), that you can swill while tossing a few quarters into the old-school video games.

It's not unusual for dating in Denver to revolve around your mutual love of beer, and while there are plenty of great beer bars in Denver, your one-stop shop is Falling Rock Tap House, where there are over 75+ taps and 135+ bottled and canned beers. Cheers!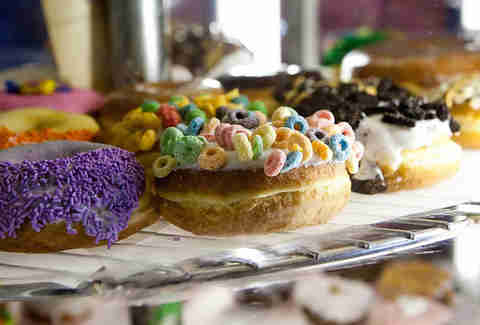 Go (do)nuts!
Consuming over 2,000 calories for less than $20 with your jelly-filled main squeeze has never felt better. Check out Portland-based monster Voodoo Doughnuts or keep it local with Glazed & Confuzed.
Sign up here for our daily Denver email and be the first to get all the food/drink/fun in town.