Everyone knows (or they should!) that Denver is number one, but that's not the only reason every other city should be jealous of the Mile High. In fact, there are at least 17 more, including our weather, our beer, and... snow parties? Yup.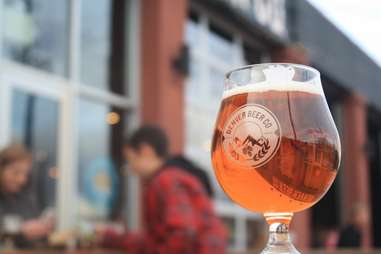 1. We're America's best beer city
Who cares what a certain lifestyle site that rhymes with "illest" says? The Great American Beer Fest, alone, which technically takes place in the convention center, but has really been taking Downtown every year since 1984, is almost reason enough to give us the top spot.

2. Denver has the best summers
We've already given you 15 reasons why Denver summers dominate all other summers, but if that's not enough for you, just look at the facts: we get, like, 300 days of sunshine! (OK, that's not technically true, but let's just round up). Our average summer temps hover around 86 degrees, and because of the altitude there's almost no humidity. All that being said, you should still pack a rain jacket.
3. But those winters though…
This is ski country after all, so sweet slopes and beautiful mountain towns are everywhere, but we've got two words for you: snow parties.

4. The American dream is still alive here
This city hasn't been totally immune to the recession that has hit the country but you wouldn't know it by the number of businesses that cut the ceremonial ribbon every year. The business climate is a hotbed for real estate firms, computer systems and video game design companies, and of course, dispensaries. The city even offers cash incentives to companies that start here and create jobs, a program that's helped put the unemployment rate below the national average.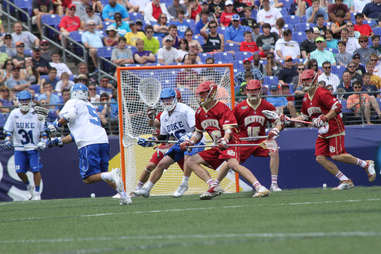 5. Sports!
Maybe your town has an NFL team, an NBA team (yes, the Nuggets count!), a baseball team, a hockey team, AND an MLS team, but does it have two pro lacrosse teams like the Colorado Mammoth and Denver Outlaws, or an arena soccer team like the Denver Dynamite? Oh, and don't forget about our Australian rules football team, the Denver Bulldogs, or the Denver Barbarians, who play rugby, which is different apparently.
6. We've got Red Rocks
Yeah, you saw this one coming. Red Rocks is the greatest outdoor music venue in the country. And don't even think to compare it to the Gorge. Just don't. Can you watch outdoor movies at the Gorge?!?!

7. There are mountains everywhere
It's a common misconception that Denver is actually in the mountains, but actually Denver is just really close to the mountains: an hour drive gets you to world-class resorts like A-Basin, Breckenridge, Keystone, and Loveland.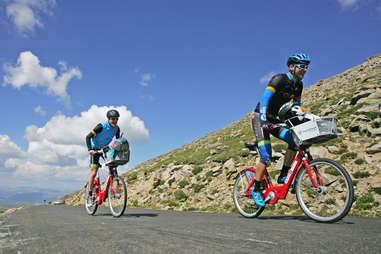 8. So. Many. Bikes.
Biking is the preferred method of transport in Denver, and whether you're pedaling to work, the park, or a pub, the Mile High makes it easy via the well-designed bike lanes that adorn the city streets or bike paths along Platte that grant fast-track travel to other 'hoods you may want to venture to. And say you don't even own a bike, Denver still has your back with B-cycle, the bike share program that has stations all over the city so even you can curse at cars for not tucking in their mirrors.

9. Our hiking > your hiking
Seriously, even our underrated hikes are rated higher than your hikes. Or they would be if that was a thing.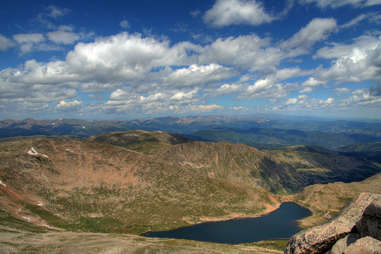 10. Everywhere you look is a postcard...
... unless you're looking East. That just looks like depression and Nebraska.

11. Marijuana is legal
Maybe it'll be legal everywhere soon, but for now, everyone else has to look up to Denver, where we've always been a Mile High. Or you could go to Washington or Oregon but see reasons 1-15.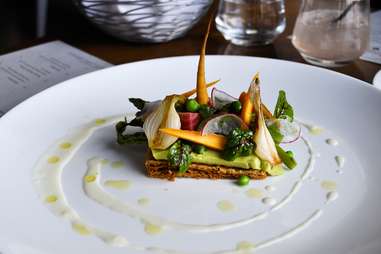 12. There's a killer food scene
It's not ALL bison meat and Rocky Mountain oysters: between all the new restaurants in the city, and a shton of sweet ethnic eats (from Vietnamese and Taiwanese to Ethiopian, Greek, and Mexican), there aren't many better places to eat.

13. And an even killer-er drinking scene
There are over 40 breweries and distilleries in the Denver area alone, which means you're probably drinking some of the best-quality alcohol in the country.
14. Everyone's in good shape...
Denver constantly tops lists of cities with America's fittest populations (it's not like it's that hard), probably because of all that aforementioned hiking... or biking... or skiing, rock climbing, kayaking, and... OK, you get the idea. Either that or it's the altitude.

15. ... and everyone's smart
Denver leads the nation in college grads making the choice to live there. The percentage increase since the year 2000 doubles other major metros like New York City and businesses are starting to take note that a young, college-educated population leads to a healthy workforce, hence the aforementioned economy. Reasons vary, from a healthy environment to start a business, to proximity to fun outdoor activities, to great work-life-beer balance because you did just graduate.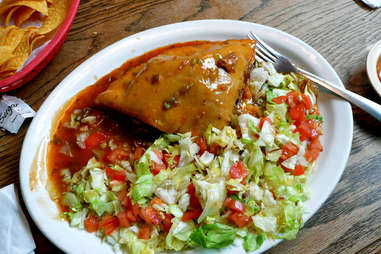 16. There's green chili on everything
You wont find a better food quirk indicative of a city than Denver's green chili... unless you're in, like, Hatch. Gross. GC is such a versatile addition to a dish, you'll find it on burgers, tacos, soups, pho, and of course, burritos. It's your duty as a Denverite to declare who's is the best, which is a pretty great duty.

17. Affordable rent
Just kidding. But hey, it could be San Francisco, or Seattle, or New York, or... you get the idea.
Sign up here for our daily Denver email and be the first to get all the food/drink/fun in town.