9 awesome things in Denver that are not actually in Denver
Photo courtesy of Boulder Dushanbe Teahouse
If you like: Bistro Vendome
You should try: Boulder Dushanbe Teahouse, Boulder
Not only does it sit right alongside Boulder Creek for optimal brunching views, the Teahouse has ties to Boulder's international sister city of Dushanbe, Tajikistan, making it a reflection of cultural diversity, international friendship, and an amazing place to destroy tea smoked duck bulgogi.
If you like: 1UP
You should try: Supernova Bar & Arcade, Colorado Springs
The best bar-cade this side of, well, Denver. Not only do they have old school games like Q*bert, Joust, and Street Fighter, they also have Taco Tuesday, and, really, everything is made better by Taco Tuesday.
Photo courtesy of Corner Bar
If you like: The Edge
You should try: The Corner Bar, Boulder
Balance out the modernity of the Four Seasons and The Edge with the Boulderado, a 105-year-old grand example featuring stained glass ceilings and cherry wood fixtures. Attached to the hotel is The Corner Bar, featuring chicken & waffles served until midnight and a prime people-watching patio.
If you like: Sand Creek Regional Greenway
You should try: The Incline, Manitou Springs
A super trail that takes the intrepid 2000ft up in only one mile of hiking, making the Incline's name well-deserved. Be sure to enjoy the scenery on your way down, because on the way up you might be more preoccupied with enjoying limited oxygen flow to your brain.
Photos courtesy of Grind Glenwood
If you like: Highland Park Tap & Burger
You should try: Grind, Glenwood Springs
The hidden burger gem's patty pros use all grass fed and finished beef from local sources and then grind (duh) it all in house. And it ain't just beef -- they process their own buffalo, lamb, pork, and chicken. Grind doesn't forget its vegetarian friends either, their black bean veggie burger with pumpkin seed salsa, while not ground from a fresh animal, is still pretty slammin'.
If you like: The Filmore
You should try: The Fox, Boulder
You know The Fillmore's one of the best places to catch live music in the state, but the The Fox is right up there with it. This venue is known for hosting top talent, like Wu Tang, Snoop Dog, and Deadmau5. But they also have a rep for helping out local bands, hosting plenty of Denver acts that go by less cool names (like The Magic Beans).
If you like: Crema Coffee House
You should try: Starry Night, Ft. Collins
The very first espresso café in Old Town, Starry Night's recent face-lift provides a swell environment to crush sweets of all kinds. Because, seriously, don't come here for the coffee -- pastry chef Jennifer Hoffman has produced some of the best baked goods in the whole town (just grab a slice of chocolate mocha to get your caffeine fix).
If you like: Meadowlark
You should try: Sundown Saloon, Boulder
Need an intimate bar to catch live music, receive knowing nods from the doormen, and enjoy great local characters? Then hit Sundown which provides that and cures Boulder's dearth of billiards (seriously why?) with free pool until 10pm. Head down those steps and you may not see the sun again for awhile.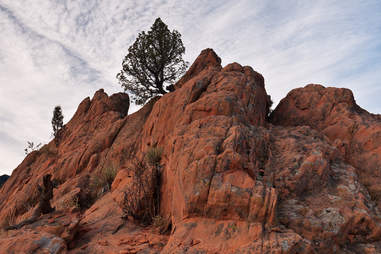 Mike Blanchard/Shutterstock
If you like: Clear Creek Bike Path
You should try: Red Rock Canyon Open Space, Colorado Springs
Multiple trails that will actually put you (and your bike) to work, Red Rock has a glut of open space, plus the views that overlook Garden Of The Gods are enough to make a grown man cry like a not very grown man. A small boy, if you will.