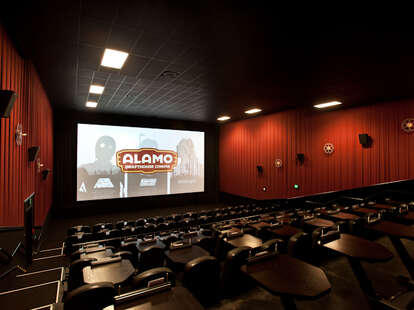 This pub-like movie theater born in Austin has enough food to make you forget the Alamo, so make you sure you have a friend take notes on exactly what Katherine Heigl's character was trying to achieve (hint: it's always a work-life balance, which can be so difficult for a high-powered attorney bridal party planner with a new baby!)
Buy your tickets online or at the box office for one of seven theaters and they'll give you an assigned seat. Get there early, as the preshow eschews ads for clips of entertaining randomness related to the movie you're seeing, instead of repeatedly solving the challenging word jumble "TMO CRUIES"
Get there really early and you'll have time to hang at Glass Half Full, a bar right inside the front doors that's cooler than 97% of Littleton's watering holes, even the ones not inside movie theaters. It's open to non-ticketholders too, and serves classic 'tails and a selection of "Beer Mix[es]", like the Suero with Avery IPA, Tabasco, lime, Worcestershire, and salt
Once the movie's playing, it's a no-talking-or-texting zone. This video of theirs went viral a few years back, and shows how serious they are about this policy. (Warning: contains explicit language, and a hilarious concept.
While the Drafthouse shows first-run movies like everyone else, their alternative programming is what sets them apart. Quote-Alongs encourage you to act out the movie (they also give out props), and for Tough Guy Cinema screenings like RoboCop, there's live pyro during the film
Once seated, write your order on a piece of white paper and stand it up vertically to alert your server. There's plenty of booze options, like 30+ taps from CO faves like New Belgium's Lips of Faith or Prost's Weissbier, or CA's Firestone Walker Union Jack IPA
Enjoy cocktails like a malted daiquiri with 8yr rum, a Reposado/ White Rascal reduction/ fresh orange El Rascal, and the Rocky Mountain Peach Whiskey/ Vanilla Porter syrup Peaches & Herb, aka a stoner's balanced breakfast
For food, there's eight different pizzas, including one topped with crimini, portobello, and oyster mushrooms, caramelized onion, garlic, and three cheeses. By the time the lights come up, you'll be lucky if you're able to emulate the men at the Alamo and make a stand
Photo by Rich Vossler