Denver Date Ideas You'll Actually (Truly) Enjoy
Think beyond "getting drinks."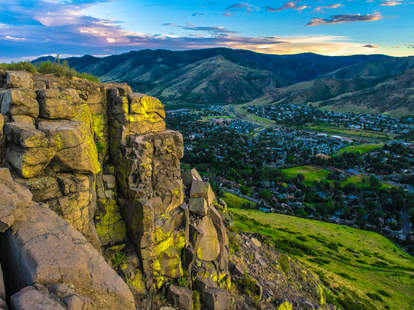 There are plenty of things to stress about in the world right now, and what to do on a date shouldn't be one of them. While date night accessories have changed a bit (don't forget your hand sanitizer and face mask), spending quality time with a special someone is as essential as ever. That's why we've rounded up 12 ideas that are fun, safe, and easy on your wallet so you can focus on the important stuff, like finally getting that haircut you've been putting off so you'll have a better shot at scoring date number two.
Pack a park picnic
Various locations
If you're just getting to know someone new, a socially distant outdoor date is the new "dinner and a movie" -- a 100% dependable, safe bet for pandemic-friendly banter with that maybe-special someone you swiped right on. Thankfully the park system has over 20,000 acres of space from city parks to mountain open space areas. Even as colder weather rolls through, our ample days of sunshine mean that park dates are an option all year long. Grab some canned wine, a couple blankets, and some picnic-ready
sandwiches
and get to know your date in the fresh Colorado air.
Get competitive with a game of putt-putt
Central Business District
Putt-putt in the Mile High got a major makeover thanks to the addition of
Urban Putt
. Now you can go for that hole in one all year long, no matter the weather, 'cause this steampunk-themed course is totally indoors. And they're taking COVID-precautions seriously, with plenty of equipment sanitizing and social distancing. Bonus: They've also got a full bar and serve dinner. Just don't get too competitive with your plus one, chief.
Test your ax-throwing skills
North Denver
Wanna feel like a badass on date night? Head to
Bad Axe Throwing
. I don't know, but there's just something about hurling large, sharp objects at a target that really ups the stakes on your bonding time. PLUS you can get some serious insight into that special someone's ability to defend you in a zombie apocalypse situation. Right now, they're only taking reservations for groups of four or more, so go double date-style, or head in during their walk-in hours.
Put your problem solving skills to the test at an escape room
Five Points
Role playing takes on a whole new meaning at
Solutions Lounge
where you'll have to work together to get out of some sticky situations. Can your skills as a team help you find the killer on the Budapest Express train, or solve a murder mystery in a Scotish mansion? Only time will tell, and there's not a lot of it. But one thing's for sure, afterwards you'll probably need a drink -- which they happily offer along with a full menu (don't miss the bacon mac & cheese).
Take a budget-friendly trip to Golden
Golden
Not quite ready for that much car time one-on-one? Take a 15-minute jaunt to Golden where plenty of low-cost options await. Start with a visit to Golden's first food hall,
Tributary
, for some oysters or a $5 gelato float, among other options. Then take a riverside stroll through town and check out the over 50 historic buildings along Washington Avenue. On your way back to Denver, take a detour up
Lookout Mountain
for some photo-worthy views of Denver in the distance.
Check out some art and see if your tastes match up
Union Station
The
MCA Denver
is smaller than the Denver Art Museum, making it perfect for date night exploration. The art changes regularly, and the rousing exhibits are guaranteed to be conversation starters. They're currently using a timed ticketing system to help limit capacity for social distancing, so be sure to reserve ahead of time. Admission is only $10, plus they do penny admission days the first Saturday of every month if you're really on a budget.
Take them to Grandma's House, obviously
Platt Park
If you don't want to scare your date off, you should probably save the trip to your actual grandma's house for later in the relationship.
Grandma's House
brewery is a totally acceptable option, however. They've also set up an awesome hidden patio out back so you can enjoy your brews in the fresh air.
Go behind the scenes at one of Denver's most iconic businesses
Chaffee Park, Boulder
Do you and your date both have a sweet tooth? The iconic
Hammond's Candies
factory offers free factory tours all day during business hours and you'll get a sweet treat to take home. Masks are required while on the tour and reservations are required to guarantee your spot.
Get some cheap laughs
DTC, Central Business District
Bond over your love (or hate) of the nightly comedy options at both metro
Comedy Works
locations. As long as you're not trying to score tickets for the big name acts, tickets here are usually $10-$20. Tables are limited right now and they're following all the required social distancing guidelines so all you need to do is loosen up and laugh. And we could all use a laugh right now.
Take them on a delicious dim sum date
Athmar Park
It's not just a feast, it's a social experiment. By the time the check comes, you'll know whether 1) you share similar tastes and 2) you're comfortable unbuttoning your pants for all the wrong reasons together. Plus dim sum is easy on the wallet. Plan on about $20/person for a serious feast. Test this theory at
Star Kitchen
.
Skip the brewery and take a whiskey tour
Overland, Baker
Denver's known for beer, but there are plenty of high-quality local distilleries. And one of the best also happens to offer tours to the whiskey-loving public. Head to
Stranahan's Whiskey
to book your experience. They're currently available by reservations only but the good news -- you'll have the tour all to yourself. Choose from the standard tour for $20 per person or opt for one of their guided whiskey tasting options.
Test your limits with indoor rock climbing
Multiple locations
Most area rock-climbing gyms offer day passes, which is a fine step when you're ready to work up a sweat together, but not yet ready for an outing that could theoretically require calling in a rescue team. Bonus: Your jokes about the relationship hitting a wall are going to kill.
Sign up here for our daily Denver email and be the first to get all the food/drink/fun in town.
Molly Martin is a freelance writer in Denver, Colorado who would never turn down a date that involves whiskey. Follow her Mile High adventures @mollydbu on Twitter and Instagram.