The weather is heating up and, occasional freakish spring snowstorm notwithstanding, that means it's hiking time! You could go and hike a bunch of 14ers or drive Rocky Mountain National Park like everyone else (seriously, those guys are everywhere), or you could check out these seven less-traveled trails that all boast unique qualities and reasonable driving distances from Denver.
Black Lake
Distance from Denver: 90 miles; 2-hour drive
The effort is worth the reward on this 9.5-miler. The hike to Black Lake starts at Glacier Gorge and is a moderate jaunt that has a midpoint at Mills Lake. This is where most call it a day, seeing as Mills is a without a doubt a beautiful site and the return hike still sits at about 2mi. You'll also notice novice hikers wielding Nikons, children scampering about, and the elderly being all elderly, hanging around Mills Lake. This should be enough for you to choke down another Cliff Bar and push yourself on to Black Lake, another 2.5mi further, to enjoy a truly rewarding piece of solitude.
Chicago Lakes Trail
Distance from Denver: 52 miles; 1-hour drive
Most people have seen the Chicago Lakes... from the safety and comfort of their cars as they drive Highway 5 to Mt. Evans. However, watching those same people from the shoreline of Upper Chicago is undoubtedly more enjoyable, because no one seems to hike these pockets of water. Grab your four-legged hiking companion, whether that be a dog or a horse (both allowed), and hit the Chicago Lakes Trail, which tops at 10mi round trip and shows off the crystal clear waters of high altitude lakes. Bonus: cell phone service is abundant, so posting your #nofilter Instagram can be... instant.
South Arapahoe Peak
Distance from Denver: 53 miles; 1.4-hour drive
This short hike of around 4.3mi ends at the summit of South Arapahoe Peak but is lined with wildflowers galore, which makes the sub-14er a side note in the journey. Warning: frolicking in flowers will ensue. Push on to the summit to relieve any uneasy feelings you're harboring about said previous frolicking.
Mt. Falcon
Distance from Denver: 27 miles; 40-minute drive
Mt. Falcon is no secret to the mountain bikers, weekend warriors with dogs, and women with sweaters wrapped around their waists who populate the trail almost every weekend. The trail is easy and lined with mountain vistas, wild flowers, a burnt-down old mansion, and a cornerstone to the summer White House. But skip that nonsense and wait for a chance to hike at night to experience what makes Mt. Falcon different. Looking out east, about three miles into the trail, you'll notice Red Rocks Amphitheater. If you're smart, it's the night of a show, and you brought blankets, some grub, and a six-pack. The booming of Red Rocks is easily heard, and few take advantage of the spectacle of a show and the flickering lights of a sleeping Denver.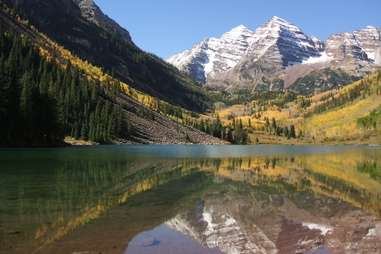 Conundrum Hot Springs
Distance from Denver: 240 miles; 5-hour drive
The Conundrum Hot Springs hike is worth everything you endure to get to the natural bodies of water set high up in the mountains outside Aspen. Yes, it is worth the three-hour drive from Denver and definitely worth the 8.5mi hike just to get to the springs to dip your weary and exhausted body in the warm pools overlooking the valleys below. Pack for a long trek, but once you reach your destination, clothing is optional -- which can be a good or a bad thing, depending on who else you encounter that day.
Sky Pond/Glass Lake
Distance from Denver: 83 miles; 2-hour drive
Leaving your car at the Glacier Gorge Trialhead might feel like you are embarking on a quest to destroy the One Ring. The trail to your destination goes beyond the tree-line where the air is thin, the terrain exposed, and risk of death is high. Okay, it is not that serious... but the trek involves moderate-to-severe inclines, which keeps most people from making the trip to both Glass Lake and the larger Sky Pond, which sit just north of 10,000ft.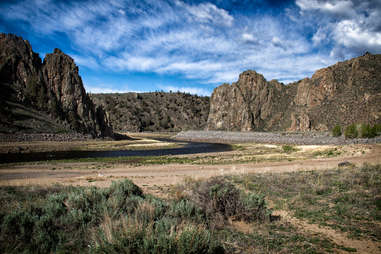 Curecanti National Recreation Area
Distance from Denver: 216.5 miles; 4-hour drive
The Curecanti National Rec Area boasts many great trails, rock climbing walls, and three reservoirs that make it a fairly popular attraction during the day, but it's when the sun goes down that the real magic happens. Get your mind out of the gutter -- the "magic" is the spectacular stargazing and night hiking that so many people miss out on. Once the sun dips over the Rockies and you put your phone away, the only light source in the area is 20mi away in the small town of Gunnison, leaving you in one of the darkest parks in Colorado.
Sign up here for our daily Denver email and be the first to get all the food/drink/fun in town.